Program Curriculum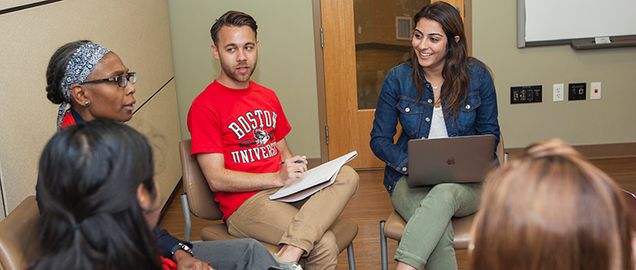 Over the course of two years of full-time study, students are required to complete:
Our program curriculum is designed to provide students with:
a foundation in general mental health
wellness
psychopathology
assessment and treatment
an emphasis in neuroscience and behavioral medicine/health psychology
the opportunity to explore and learn about specific areas of interest through our program electives
Learn more about Required Courses and Electives.
Year 1 Fall
Students are exclusively enrolled in coursework focusing on the clinical experience. Clinical coursework is front-loaded in our program to prepare students for their clinical field training, which begins either the following semester (spring) or summer. Students also participate in a process group led by a clinician in the community (i.e., not a core faculty member or instructor).
Year 1 Spring
Students complete their Practicum training (i.e., pre-internship) in either Year 1 Spring or over the summer. Emphasis is also placed on further coursework to prepare for the second field placement training (Internship), such as Psychopharmacology. This allows students to excel as members of multidisciplinary teams and credible information sources for patients/clients.
Summer
Summer courses are optional. Students may elect to take 1-2 courses, which eases up the course load from the academic year. No required courses are offered only during the summer. Students who choose to complete their Practicum training during the summer typically do not pay extra tuition for doing so.
Year 2 Fall/Spring
During year two, students take more specialized courses, some of which are electives. Clinically, students complete a year-long internship, where they gain more specialized skills working in a setting of interest.
Program Curriculum, 2019-2020
The curriculum below is that in which the typical student is enrolled. There is some variability depending on clinical site schedules and other circumstances.
Year 1 Fall
Professional Ethics and Orientation
Research & Evaluation
Counseling Techniques
Assessment
Psychopathology
Neuroscience for Mental Health Professionals
Clinical Field Research*

Year 1 Spring
Group Dynamics and Process
Social & Cultural Foundations
Theory and Practice of Child & Adolescent Counseling*
Psychopharmacology
Counseling Theory
Practicum Supervision
Year 1 Summer
Practicum Supervision
Didactic course options vary by year; recent offerings have been Addictions, and Human Growth and Development

Year 2 Fall
Human Growth & Development
Behavioral Medicine & Applied Health Psychology
Addictions
Psychological Trauma Across The Lifespan*
Internship Supervision
Year 2 Spring
Advanced Ethics and Ethical Decision-Making
Career and Vocational Counseling
Human Sexuality*
Marriage and Family Counseling*
Internship Supervision

*Program elective; students are required to take at least two elective courses