Tkacz, Jarry Culture
Dr Jarry Tkacz Celebrates his Ukrainian and Polish roots with the Pierogi or Varenky (aka "boiled little ones")
Celebrating my Ukrainian and Polish roots means cooking some of our delicious traditional foods that make the holiday season so special for me.  Our traditional version of the dumpling is called "pierogi" in Polish and "varenyky" in Ukrainian.  The Ukrainian translation literally means "boiled little-ones", which always puts a smile on my face. Who doesn't want to eat one of these delicious "boiled little-ones"? The fillings are savory – cabbage/mushroom, farmer cheese/potato, sauerkraut – and served with caramelized onions and a large dollop of fresh sour cream. My great-aunt's recipe, shared below, comes from the old country, passed down through the generations. Pictured is the newest generation in my family, carrying on the tradition and enjoying our version of the savory dumpling at the holiday table.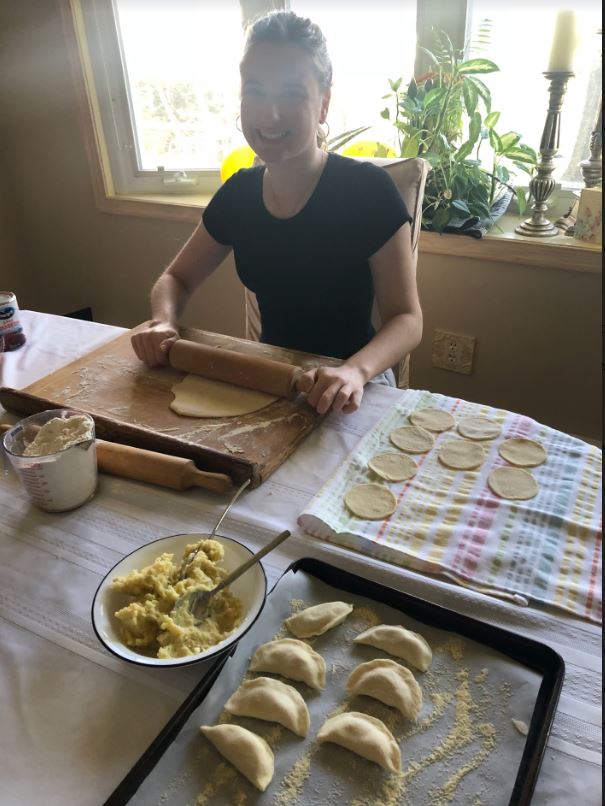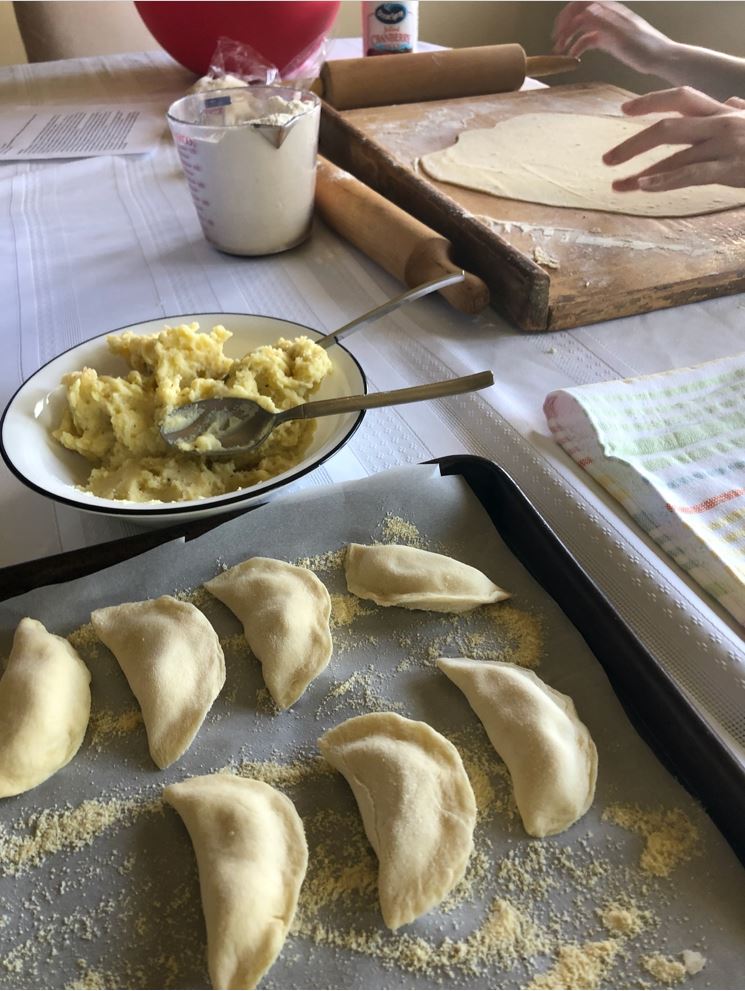 Dough (makes about 3 dozen)
– 3  cups All Purpose Flour
– 5 oz Sour Cream
– 4 Tbsp unsalted butter, room temperature
– 1 large egg, room temperature
Measure out the flour and fold in sour cream and softened butter. Mix to even consistency. Beat the egg in a measuring cup and add enough water to measure ¾ cup total. Fold egg and water into the dry mixture. Knead dough to a soft consistency. Add flour in small increments if dough is too sticky.  Place dough in a deep bowl and cover with damp tea towel.
Cabbage Filling
1 medium head green cabbage
1 medium yellow onion, chopped
4 tbsp unsalted butter
1 tbsp fresh squeezed lemon juice
Salt and freshly ground pepper to taste
Remove the outer leaves and core from the cabbage. Cut the cabbage into coarse pieces. In a large stew pot, bring water to boil with a dash of salt and cook the cabbage for about 6-8 minutes. The cabbage should be barely done, retaining some crispness. Drain, let cool and then finely chop the cabbage. In a large skillet, melt the butter and cook the onions until partially carmelized and soft. Add cabbage and cook through to blend flavors. Add fresh squeezed lemon juice. Chill thoroughly.
Making the Varenyky
 Start the water boiling in a large stovetop pot. Make sure to have counter space cleared and cleaned to make the dumplings without interruption.
Divide the dough into four sections. On a well floured working surface, roll the first section of dough until thin, about 1/8 inch in thickness. Cut this section into 3.5-4" circles (coffee mugs work well).
Fill the dough circle with a tablespoon of chilled filling. Fold the circle and pleat/pinch the sides. Repeat with other sections of dough and place dumplings in a single layer in a floured baking sheet.
Plop the dumplings a few at a time into the boiling water. If they stick to the bottom of the pot, give a quick nudge with a wooden spoon. When the dumplings rise to the top, scoop them out with a large slotted spoon and allow to cool on a buttered plate or sheet.
Time to brown and crisp the dumplings! In a large frying skillet, melt a tbsp of unsalted butter. Fry the dumplings a few at a time until the edges are brown and crisp.
Serve warm with caramelized onions on top and a dollop of fresh sour cream for dipping.