Parker, Linda Culture
Linda Parker RT  – her Italian Roots and a 60 year Christmas Eve  Tradition
The Italian Feast of The Seven Fishes
                My brother as Santa with my parents Christmas Eve 1999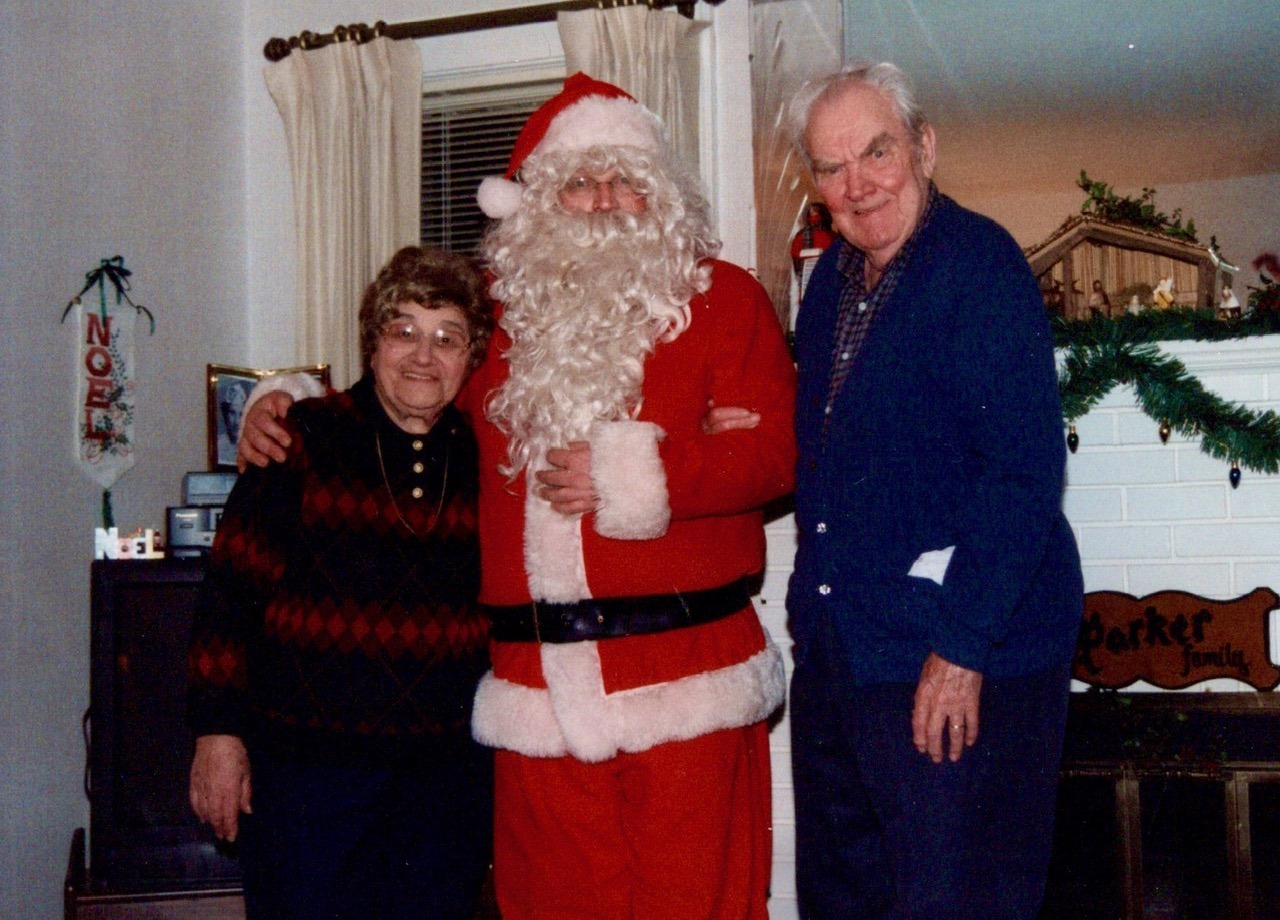 My grandparents were Italian and back in the 1960's when we were very young, my grandmother always did the traditional Italian Feast of The Seven Fishes on Christmas Eve. Friends, family and sometimes strangers gathered at her house for an evening filled with food and love and lots of different kinds of fish. As kids, we didn't appreciate the fish part of the meal. Sardines, octopus and eels are generally not appealing to a 5 year old! We did ask my Mom one year if we could have Kraft Macaroni and Cheese instead, which prompted that "mother look" and we knew never to ask again! Fortunately for us kids, the tradition of the "smelly fish" as my sister called it, dissipated, but the tradition of having family and friends for Christmas Eve dinner continues to this day. 
Grandma always felt the more the merrier and always cooked for an Army no matter how many people were coming. She was someone who talked to everyone, so she often invited strangers whom she met on the subway to Christmas Eve dinner if they had nowhere else to go. After she passed, my Mom took over the tradition and continued it for over 50 years at our home in Connecticut. She always said no one should be alone at the holidays so we never knew how many would be there. Often times my brother would call on his way over to dinner and say set 4 more places because he found people who were going to be alone. The more people at the table, the happier my Mom was because this was the true meaning of Christmas.
We had regulars who came every year with their children, whom we watched grow up. My brother often played Santa for the kids since he has always been a kid at heart! I think my parents enjoyed that part as much as the little ones. And when my brothers best friend was getting married, he told his wife to be, that Christmas Eve would always be at the Parkers or the wedding was off…..and indeed they have been there every year!
After my Mom passed, my brother took over the celebration at his house in Connecticut. Unfortunately this year due to Covid, there was a pause in the tradition with only my brothers best friend and his wife still there. However, the one thing Covid cannot take away are the wonderful memories of the love of family and friends in a tradition that started over 60 years ago.