Women's Professional Development Committee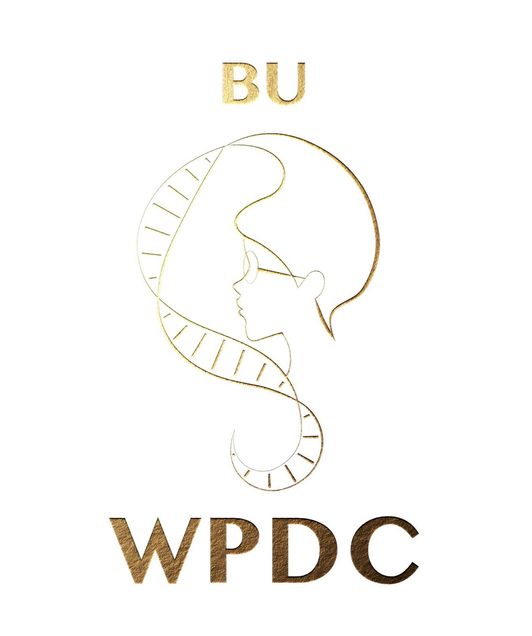 Our Mission
The Mission of the WPDC is to provide a supportive space to host professional development opportunities for graduate-level women in science at Boston University. We strive to establish and cultivate a network of exemplary mentorship with women in a variety of scientific careers.
Students and faculty of all genders are welcome to join our network!
Our Vision
Our Vision is to connect women in the early stages of their graduate careers with Boston-area professionals in STEM. We hope to support our members as they explore their career interests and options and eventually become successful mentors themselves. With a supportive network of female leaders in their fields willing to share their experiences with our generation of professionally-trained women scientists, our expectation is that forging these relationships will inspire our members to navigate and prepare for possible career paths in an informed and educated way.
We collaborate with GWISE (Graduate Women in Science and Engineering), GMSSO (Graduate Medical Sciences Student Organization), BU's BEST (Broadening Experiences in Scientific Training), and other student organizations at Boston University to provide a supportive space to host networking, mentorship, and professional development opportunities for women in science.
Founded in 2018 by Dr. Sanae ElShourbagy Ferreira (now alumna and Advisor for BU WPDC) while completing her Ph.D., BU WPDC continues on with the leadership of remarkable and passionate individuals on the committee's Executive Board.
---
Upcoming Events & Opportunities
SheInspires Lunch Series 
We hold monthly lunches throughout the year where different female professors, researchers, and BU alumni share their experiences working as women in STEM fields and provide insight to graduate students on navigating careers in a supportive, small-group setting.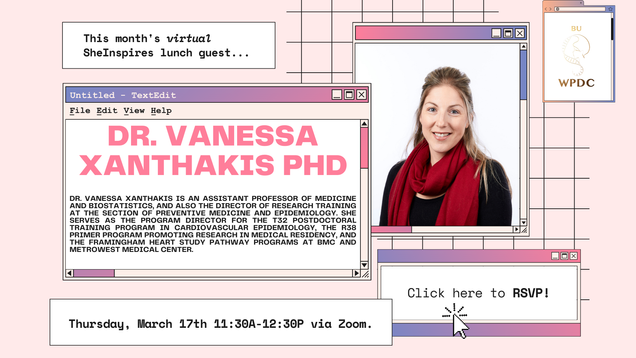 Is there an inspiring woman in a scientific field you'd love to hear speak at one of our SheInspires Lunches? Email us your suggestions at buwpdc@bu.edu!
Workshop Series
Each month we hold a professional development workshop to help students build and sharpen professional, as well as personal skills. We hope these workshops will help prepare students to achieve their personal and professional goals. Workshop topics vary based on student interest.
Stay tuned for our upcoming WPDC workshops!
WPDC Calendar
Check out our calendar for more upcoming events!
We can't wait to see you at our next event! 
---
Conference Support Resources
Check any of the following to see if you are eligible to apply for financial support to attend a  conference: GMS, GSO, SPH, GWISE.
---
Resources Supporting Women in STEM
Visit our Resources Supporting Women in STEM page to find information regarding: membership opportunities, conferences to attend, outreach opportunities, mentoring resources, publications and podcasts on women in STEM, and social and professional networking opportunities in Boston and beyond.
Subcommittees:
1) Public Relations and Marketing
Chair: Kiloni Quiles-Franco and Kara Farquharson

2) Community Liaison 
Chairs: Katharine Babcock, Kylie Moore and Margaret Downs

3) Event Management
Chairs: Senegal Carty, Lauren Barber, Ioanna Yiannakou and Vrinda Dambal

For students, led by students! 
To join our mailing list or to become a faculty mentor , please contact us at buwpdc@bu.edu.
To join a WPDC Subcommittee, please fill out this interest form.
Connect with BU WPDC
Check us out on Facebook and Twitter  for information on club activities, upcoming events, photos from past WPDC events, and resources to support the professional development of graduate-level women in STEM 
Join the BU WPDC LinkedIn group to stay connected, initiate conversations, and share resources on professional development.