Admissions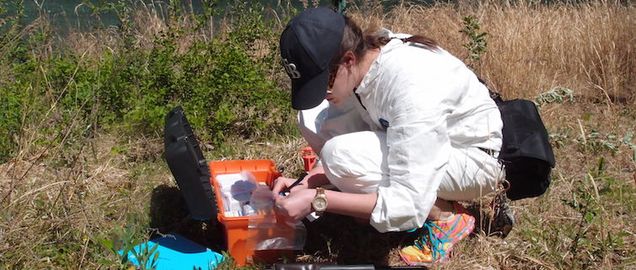 Application Deadline and Program Schedule
The MS in Biomedical Forensic Sciences is currently accepting online applications through the Graduate Medical Sciences Admissions Office. Priority for admission into the program is given to applicants who submit a complete application by March 1. Completed applications received on or after March 2nd are considered as they are received. To be considered for September enrollment, applications must be received no later than July 31.
Students admitted into the program must begin their course of study in the fall semester. Students who wish to begin classes during the spring or summer semesters may do so as a non-degree student only and apply for admission into the program for the following fall. Individuals interested in completing single courses may register as a non-degree student. Please contact bmfs@bu.edu for more information.
Apply now through our online application portal.
Admission Requirements
To be eligible for admission to the Biomedical Forensic Sciences program, individuals must:
Possess a Baccalaureate Degree from an accredited university.

It is preferred for applicants to have a bachelor's degree in a natural science.
Students whose baccalaureate degree is

not

in a natural science must have completed all of the following courses:


| | |
| --- | --- |
| 1 semester | General Biology |
| 1 semester | Cell/Molecular Biology |
| 2 semesters | General Chemistry |
| 2 semesters | Organic Chemistry |
| 1 semester | Biochemistry |
| 1 semester | Chemistry Lab |
| 1 semester | Biology Lab |

Other recommended courses include advanced topics in DNA and/or Genetics and advanced topics in Chemistry.
Optional: Submit results from the GRE Graduate Record Examination (General Test Only) or the Medical College Admission Test.

Our GRE institution code is 3087.

Submit a Personal Statement and Other Documents. As part of the application package students are asked to submit:

A personal statement
Three letters of recommendation from university faculty members who know the student well or from research/laboratory supervisors/investigators
A CV highlighting research, laboratory and academic accomplishments and skills (strongly encouraged)
International Applicants
The BMFS program welcomes applications from qualified international students. To ensure a successful transition into our graduate program, international students whose first language is not English may be required to enroll in a 6-week intensive English program offered in the latter half of the summer by the Center for English Language & Orientation Programs (CELOP).  Students who participate in CELOP programs in the summer prior to matriculation benefit from the opportunity to become acclimated to their new environment, learn useful study habits, and polish their English language before beginning their master's level studies.
As part the admissions process, international applicants must include with their application:
Official results of the Test of English as a Foreign Language (TOEFL).

All non-native English speaking applicants must send TOEFL scores, administered by the Educational Testing Service (ETS). The ETS Institution Code for the Division of Graduate Medical Sciences is 3087.
For the internet-based test the scores on the individual sections should be, at a minimum: Reading 21; Listening 18; Speaking 23; Writing 22.

A World Education Services (WES) transcript evaluation report that converts international transcripts to a U.S. education equivalency.

The course-by-course evaluation provides a comprehensive record of an applicant's academic history and must be received by the Admissions Committee prior to application review. Please request that the WES report be sent to:
BMFS Program Administrator, Patricia Jones
72 East Concord Street Room R806
Boston, MA 02118

Official documentation of financial resources equivalent to a minimum of one year of study at Boston University.

For graduate international students studying at the Boston University Medical Campus during the 2023-2024 academic year, first year tuition and living expenses are estimated by the International Students and Scholars Office (ISSO) to be $97,397. This documentation is required alongside your application to be eligible for review.
An International Student Data Form and a Financial Sponsorship Certification for International Students must also be submitted to the Division of Graduate Medical Sciences Office.

Visit the 

BUMC Student Financial Services Website

 for direct costs (tuition & fees) and an estimate of indirect costs (room & board) using the 

Cost of Attendance Calculator

.
For more information, contact us at bmfs@bu.edu