News and Upcoming Events
TTPAS featured in the BU Med School Campus + Alumni magazine – Click Here
Seminar Series:

Boston University Transformative Training Program in Addiction Science
UPCOMING SEMINARS
To be Announced



PAST SEMINARS:
March 24th, 2017 at 3:00 pm
Vivek Kumar, PhD, Associate Professor
The Jackson Laboratory
presented:"Forward genetic approaches to dissection of reward pathways in mice"

* * *

February 3rd, 2017
Josiah Rich, MD, MPH, Professor of Medicine and Epidemiology
The Warren Alpert Medical School
Brown University
presented: "A strategic approach to opioid overdose in Rhode Island"

* * *

December 16, 2016
S. Barak Caine, PhD, Associate Psychologist, Director, Neuroscience & Behavioral Pharmacology Laboratory, McLean Hospital
Associate Professor of Psychology, Department of Psychiatry, Harvard Medical School
presented:"Dr. Jekyll and Mr. Hyde: How the normal brain becomes the addicted brain"

* * *


October 14, 2016
Gary Kaplan, Professor of Psychiatry and Pharmacology & Experimental Therapeutics Boston University School of Medicine Director of Mental Health, VA Boston Healthcare System
presented:"Accumbal Plasticity in Opiate Reward and its Extinction"

* * *

September 30, 2016
Neema Yazdani, PhD Candidate in Bimolecular Pharmacology , TTPAS Trainee
presented: "Neurobiological mechanisms of hnRNP H1 in methamphetamine addictive behaviors"
* * *
April 29, 2016
Richard Sherva, Ph.D., Assistant Professor,
BU School of Medicine, Biomedical Genetics
presented: "Genetic association studies in illicit drug dependence, new pathways and shared risk with other psychiatric disorders." 
* * *
March 11, 2016
Alexander Walley, MD, MSc, Clinical Addiction Research and Education Unit Section of
General Internal Medicine, BU School of Medicine, Boston Medical Center
presented: "Approaches to addressing the overdose crisis in Massachusetts"
* * *
February 26, 2016
Laura Holsen, Ph.D., Assistant Professor of Psychiatry, Harvard Medical School
presented: "The role of ghrelin in reward signaling and addictive behaviors"
* * *

January 8, 2016 
John Kelly, Ph.D., Elizabeth R. Spallin Associate Professor of Psychiatry-Harvard Medical School
Director-MGH Recovery Research Institute
presented:"Addiction Recovery Support Services: Rationale and Science"
* * *
December 18, 2015
Camron Bryant, Ph.D., Professor of Pharmacology and Psychiatry
Boston University School of Medicine
presented: "Gene mapping, genome editing, and -omics approaches to addiction traits: Moving from discovery to mechanism
* * *
November 20, 2015
Kathleen Kantak, Ph.D., Professor, Director Laboratory of Behavioral Neuroscience Department of Psychological and Brain Sciences, Boston University
presented: "Cocaine Abuse Risk Associated with ADHD Medications: Insights From an Animal Model of ADHD"
* * *
October 9, 2015 at 3:00 pm
Ksenija Marinkovic, Ph.D., Associate Professor of Psychology
San Diego State University
presented: "Population health and substance use care: parallel or converging trajectories?"

***
September 18, 2015
Marc Gourevitch, MD, MPH, Professor and Chair, Department of Population Health
NYU School of Medicine
presented: "Population health and substance use care: parallel or converging trajectories?"


***

May 22, 2015
Peter Friedmann, MD, Professor of Medicine, Professor of Health Services, Policy and Practice
Brown University
presented: "Opioid Use Disorders in Criminal Justice Populations"


***
April 10, 2015
Richard Saitz, MD, MPH
Boston University School of Public Health
presented: "Integrating substance use and other health care: Lessons from failures"

***
February 27, 2015
Sandro Galea, MD, MPH, DrPH
Boston University School of Public Health
presented: "Integrative Genetics and Genomic Strategies for the Classification of Psychiatric Disorders"

***

January 23, 2015
Elissa Chesler, Ph.D, Associate Professor
The Jackson Laboratory
presented: "Integrative Genetics and Genomic Strategies for the Classification of Psychiatric Disorders"

***
November 21, 2014
Klaus Miczek, Ph.D
Tufts University, Sackler School of Graduate Biomedical Sciences
presented: "Social Stress, Alcohol and Cocaine: the Role of CRF-Dopamine Systems"

***
June 13, 2014
Clarissa Parker, MD, Assistant Professor of Psychology and Neuroscience
Middlebury College
presented: "GWAS of behavioral traits and gene expression in mice: Implications for addiction"

***
April 4, 2014
Michel Stein, Professor of Medicine and Professor of Health Services, Policy & Practice
Professor of Medicine, Brown University
presented: "Smoking Cessation in Addiction Treatment Programs"

* * *
March 21, 2014
Linda Dwoskin, Ph.D, Associate Dean for Research, Endowed Professor in Pharmaceutical Education
University of Kentucky, College of Pharmacy
presented: Discovery of Novel Medications for Nicotine and Methamphetamine Abuse"

* * *
January 18, 2014
James Sargent, MD, Professor of Pediatrics; Professor of Community and Family Medicine
Co-Director, Cancer Control Research Program
Norris Cotton Cancer Center, Geisel School of Medicine at Dartmouth
presented:"Exposure to alcohol brands in movies and cable television programs and their relation with teen drinking"
 
* * *
December 12, 2013
Roger Weiss, MD, Professor of Psychiatry, Harvard Medical School Chief
Division of Alcohol and Drug Abuse McLean Hospital
presented: Treatment of Prescription Opioid Dependence"

* * *
November 22, 2013
George Uhl, MD, PhD, Associate Professor of Neurology, Department of Neuroscience
The John Hopkins University
presented:"Addiction Genetics: postGWAS studies in humans and mouse models"

**************************************************************************************************************
N E W S
* * * * *
October 2016
Cytoplasmic FMR1-Interacting Protein 2 is a Major Genetic Factor Underlying Binge Eating
TTPAS members are co-authors: Neema Yazdani, Jiayi Wu, Dr. Evan Johnson, and Dr. Pietro Cottone.
http://dx.doi.org/10.1016/j.biopsych.2016.10.021
https://www.eurekalert.org/pub_releases/2016-10/bumc-grf102616.php
Eating disorders are heritable and lethal neuropsychiatric disorders, yet their genetic basis remains poorly understood. We developed a mouse model of binge eating in collaboration with Dr. Pietro Cottone (TTPAS Faculty Member) with the primary goals of facilitating genetic association studies in humans and directly probing the relevant molecular adaptations in the brain that mediate genetic susceptibility to and persistence of compulsive binge eating. There are two main findings to our study. First, we identified cytoplasmic FMR1-interacting protein 2 (Cyfip2) as a major genetic factor underlying binge eating in mice. To our knowledge, this represents one of the first examples of a genome-wide significant genetic factor to be identified for binge eating in model organisms or humans. Second, we identified a network of downregulated genes involved in myelination that was associated with binge eating. This observation suggests that decreased myelination is a neuropathological consequence of binge eating. To summarize, our findings implicate both a genetic risk factor and a novel therapeutic avenue to pursue which we hope will ultimately help to save lives and restore healthy eating behaviors.
* * * * *
March 2016
Dr. Lindsay Farrer and Dr. Rick Sherva identify genes associated with risk of cannabis dependence:
Genome-wide Association Study of Cannabis Dependence Severity, Novel Risk Variants, and Shared Genetic Risks
Importance  Cannabis dependence (CAD) is a serious problem worldwide and is of growing importance in the United States because cannabis is increasingly available legally. Although genetic factors contribute substantially to CAD risk, at present no well-established specific genetic risk factors for CAD have been elucidated.
Objective  To report findings for DSM-IV CAD criteria from association analyses performed in large cohorts of African American and European American participants from 3 studies of substance use disorder genetics.
*Please click on the title above for the full article

* * * * *

TTPAS trainee Neema Yazdani Receives NIDA NRSA Predoctoral Fellowship Award from NIH
Neema Yazdani, a Ph.D. graduate student in the Program in Bimolecular Pharmacology at Boston University, has been awarded a Ruth L. Kirschstein NRSA Predoctoral Fellowship (F31) from National Institute on Drug Abuse of the National Institutes of Health. The title of his proposal is "Functional mechanisms of Hnrnph1 in methamphetamine addictive behaviors." His training under this award includes characterizing differences in methamphetamine (MA) reward and volitional administration in Hnrnph1+/- mice through behavioral assessments including conditioned place preference (CPP) and operant oral self-administration. He will also investigate the neurobiological mechanisms underlying reduced MA sensitivity and reward in my Hnrnph1+/- mice using brain tissue immunohistochemistry, RNA-seq, and in vivo micro dialysis.
*Please click on the title above for the full article

* * * * *
TTPAS trainee Neema Yazdeni and his co-mentors Dr. Camron Bryant and Evan Johnson report findings from a study of  [get from Neema ] in PLos Genetics.

* * * * *
February 2016
Language of addiction itself can hurt, advocates say
Windia Rodriguez remembers the sting of the words hurled at her during a hospital stay a few years ago. "Crackhead.'' "Addict.'' Especially, she recalls the scorn in the voices that pronounced her "just an addict."
"They treated me like I was beyond hope," Rodriguez said.
But she found hope, and these days, free of drugs for four years, Rodriguez makes a point of adding two words to the standard salutation in her 12-step group. "I'm an addict," she says, "in recovery."
In so doing, Rodriguez, a Boston resident and regional coordinator for the Massachusetts Organization for Addiction Recovery, quietly adds her voice to those of researchers and advocates who want to rewrite the lexicon of addiction.
These advocates seek to excise language that blames or disparages the patient and replace it with medical terms free of judgment. They assert that commonly used words — "junkie," "abuser," even "substance abuse" and "addict" — can discourage people from seeking help, induce health professionals to treat patients harshly, and exacerbate the stigma that bedevils people suffering from drug addiction.
"The biggest thing we trade in is hope," said Dr. Barbara Herbert, Massachusetts chapter president of the American Society of Addiction Medicine, a confederation of doctors and other medical workers. "Our biggest enemy is hopelessness. That's why I think language matters a lot."

*Please click on the title above for the complete article.

* * * * *
December 11, 2015
Researchers Identify Gene Possibly Linked with Methamphetamine Addiction
A new study sheds light on the significance of a potential genetic risk factor for drug addiction and possibly other neuropsychiatric disorders. Both genetic and environmental factors are known to influence susceptibility to substance use disorders. However, the genetic basis of these disorders is largely unknown.
Researchers at Boston University School of Medicine (BUSM) have for the first time identified a gene that is casually associated with the behavioral stimulant response to the drug methamphetamine. The gene, known as heterogeneous nuclear ribonucleoprotein H1 (Hnrnph1) has never been previously implicated in the behavioral effects of psychostimulants such as amphetamines or cocaine.
*Please click on the above title for the complete article.
Additional reporting on this study:

* * * * *

The article by a student from the Burroughs Welcome Fund Transformative Training Program in Addiction Science class, Neema Yazdani, published on Research Gate:
Hnrnph1 Is A Quantitative Trait Gene for Methamphetamine Sensitivity

"Both genetic and environmental factors can powerfully modulate susceptibility to substance use disorders. Quantitative trait locus (QTL) mapping is an unbiased discovery-based approach that is used to identify novel genetic factors and provide new mechanistic insight into phenotypic variation associated with disease. In this study, we focused on the genetic basis of variation in sensitivity to the acute locomotor stimulant response to methamphetamine which is a behavioral phenotype in rodents that is associated with stimulated dopamine release and activation of the brain reward circuitry involved in addiction. Using brute force monitoring of recombination events associated with changes in behavior, we fortuitously narrowed the genotype-phenotype association down to just two genes that we subsequently targeted using a contemporary genome editing approach. The gene that we validated–Hnrnph1 –is an RNA binding protein that did not have any previously known function in psychostimulant behavior or psychostimulant addiction. Our behavioral data combined with our gene expression results provide a compelling rationale for a new line of investigation regarding Hnrnph1 and its role in neural development and plasticity associated with the addictions and perhaps other dopamine-dependent psychiatric disorders."
*Please click on the above title for the complete article.
* * * * *
March 7, 2014
GENOME-WIDE STUDIES IMPLICATE CALCIUM SIGNALING AND NEURONAL POTASSIUM CHANNEL FUNCTION GENES IN ADDICTION TO COCAINE AND OPIATES Dr. Lindsay Farrer, Professor and Chief of the Biomedical Genetics division and Director of TTPAS, and his colleagues reported in several recently published papers the discovery of multiple genes associated with risk of addiction to cocaine, opioids, and alcohol. Although it has been recognized for several decades that there is a strong heritable component of addiction to many drugs, robust evidence for contribution of specific genes has been meager, especially for dependence on cocaine or opioids. Dr. Farrer has been studying genetic factors predisposing to substance dependence for more than 15 years in collaboration with other researchers at Yale University and the University of Pennsylvania.
African American (AA) and European American (EA) families and unrelated individuals (> 10,000 individuals in total) were recruited and screened for numerous substance dependence diagnoses, including opioids, cocaine, alcohol, and nicotine. Recently, Dr. Farrer and Dr. Richard Sherva, a BUSM faculty member in the Biomedical Genetics division, directed genome-wide association analyses using detailed standardized psychiatric interview and demographic data, and genotypes for several million single nucleotide polymorphisms (SNPs) obtained from approximately 5,700 study participants.
In the study focused on opioid dependence, published in Biological Psychiatry (http://www.sciencedirect.com/science/article/pii/S0006322313008263), genome-wide significant evidence of association was identified in the AA group with a SNP in the KCNG2 gene which encodes a neuronal voltage gated potassium channel (figure 1).
Figure 1: Association results from the KCNG2 gene on chromosome 18 with opioid dependence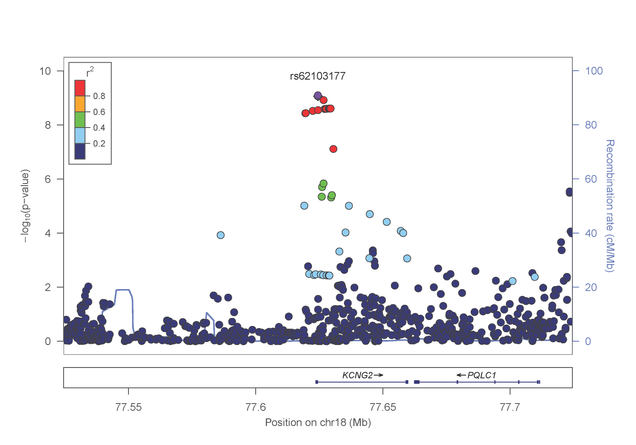 Several genes with the strongest evidence for association are clustered in biological pathways involved in the regulation of calcium and potassium levels and synaptic long term potentiation in neurons (figure 2).
Figure 2: The role of genes identified in GWAS of AA subjects in the canonical pathway "synaptic long term potentiation."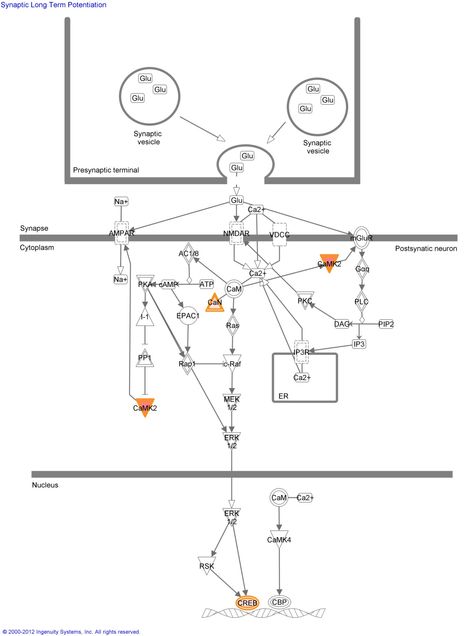 In a separate paper published in Molecular Psychiatry (http://www.nature.com/mp/journal/vaop/ncurrent/pdf/mp201399a.pdf), the investigative team reported a genome-wide significant association between risk for cocaine dependence and a SNP in FAM53B, a gene involved in regulating cell proliferation (figure 3). This finding was evident in both AA and EA samples. Intriguingly, several of the most significantly associated genes cluster in pathways related to calcium/potassium signaling.
Figure 3: Association results from the FAM53B gene on chromosome 10 with cocaine dependence.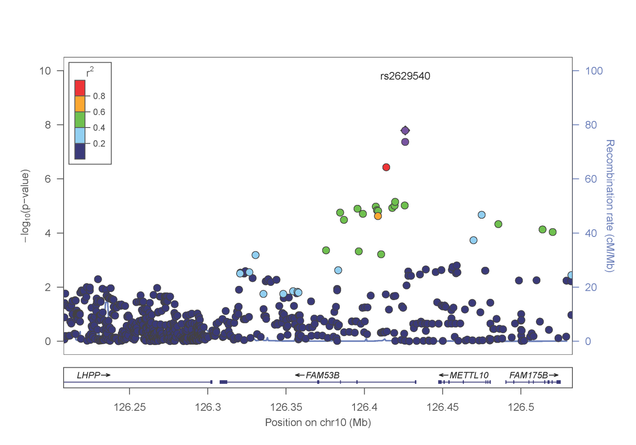 Most recently, Dr. Farrer, Dr. Sherva and their collaborators, identified association of alcohol dependence with several previously reported mutations in alcohol metabolizing enzymes. Importantly, the most significant findings were observed with two distinct non-synonymous (.i.e., predicted to be functionally relevant) mutations in the alcohol dehydrogenase 1B gene (ADH1B) that are population-specific (figures 4 and 5).
Figure 4: Association results within the alcohol metabolizing gene cluster on chromosome 4 in AAs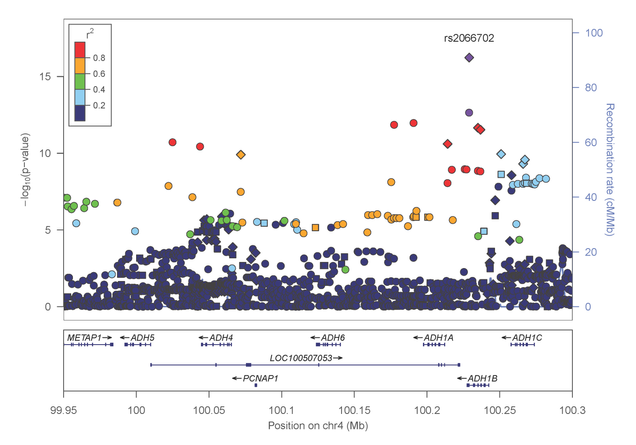 Figure 5: Association results within the alcohol metabolizing gene cluster on chromosome 4 in EAs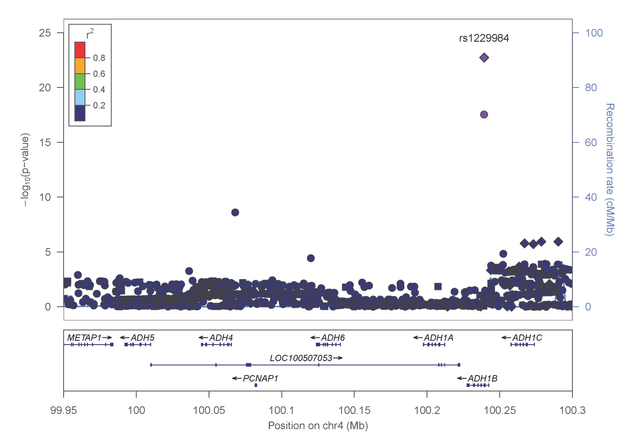 Novel associations were also identified in one small intergenic region on chromosome 2 in both the EA and AA cohorts, and population-specific significant associations were identified with markers located on chromosomes 5, 9 and 19. These findings were also published in Molecular Psychiatry (http://www.nature.com/mp/journal/vaop/ncurrent/full/mp2013145a.html). These results reveal several interesting facts about addiction. First, certain risk variants are population-specific while others are shared among individuals of AA and EA ancestry. Second, the genetic susceptibility to substance dependence is likely mediated by proteins involved in both the metabolism of substances as well as those involved in brain development, learning, and neuronal excitability. Finally, some genes appear to alter an individual's risk for dependence on a specific substance, while others act as determinants of general substance dependence susceptibility.
____________________________________________________________________________
November 2013
The Addiction Puzzle Series in Boston Drug or alcohol addiction affects nearly 23 million Americans and costs the United States an estimated $428 billion each year. Modern science has dispelled many misconceptions about the disease and scientists are working hard to find effective treatments. At Boston University, more than 100 researchers have been awarded over $130 million in addiction-related research and services grants since 2006, and faculty currently direct over 50 funded addiction-related research projects. Please click here for the complete series information. **************************************************************************************************************
P A S T    E V E N T S
Addictions and Gender
Wednesday, April 24, 2013 Research Symposium Bakst Auditorium, BU School of Medicine
New research with human and nonhuman participants has confirmed that gender differences are manifested differently in the addictions. For more information on the event- click here! * * * Thursday, February 14, 2013 Research Seminar : Transdisciplinary Research in Addiction Science Keefer Auditorium, BU School of Medicine was open to all BU faculty, staff and students Although much has been learned about the behaviors and biochemical imbalances associated with addictions, research leading to effective treatments has been slow.  Addiction researchers using clinical and epidemiological approaches usually do not collaborate with those conducting basic research in cells and animal models because they do not share the same language, skill sets or perspective. By comparison, there are areas in which a new generation of bilingual scientists has emerged, such as breast cancer and cardiovascular disease, and not surprisingly these are the areas where the most dramatic clinical progress has been made. This seminar will focus on strategies for studying addictions and other complex diseases that integrate population, computational and basic science approaches.