News and Upcoming Events
TTPAS featured in the BU Med School Campus + Alumni magazine -
Click Here
Seminar Series:
Boston University Transformative Training
Program in Addiction Science

UPCOMING SEMINARS:
November 21, 2014 at 3:00 pm
BU School of Medicine, Room E201
Klaus Miczek, Ph.D. to present:
"Social Stress, Alcohol and Cocaine: the Role of CRF-Dopamine Systems"
Tufts University, Sackler School of Graduate Biomedical Sciences

PAST SEMINARS:
June 13, 2014 at 3:00 pm
BU School of Medicine, Room E201
Clarissa Parker, M.D. presented:
"GWAS of behavioral traits and gene expression in mice: Implications for addiction"  
Assistant Professor of Psychology and Neuroscience
Middlebury College
***
April 4, 2014 at 3:00 pm
BU School of Medicine, Room E201
Michael Stein, M.D. presented:
"Smoking Cessation in Addiction Treatment Programs"  
Professor of Medicine and Professor of Health Services, Policy & Practice
Brown University, Center for Alcohol and Addiction Studies
* * *
March 21, 2014 at 3:00 pm
BU School of Medicine, Room L201/203
Linda Dwoskin, Ph.D. presented:
"Discovery of Novel Medications for Nicotine and Methamphetamine Abuse"  
Associate Dean for Research
Endowed Professor in Pharmaceutical Education
University of Kentucky, College of Pharmacy
* * *
January 18, 2014 at 3:00 pm
James Sargent, M.D., presented:
"Exposure to alcohol brands in movies and cable television programs
and their relation with teen drinking"
Professor of Pediatrics; Professor of Community and Family Medicine
Professor of The Dartmouth Institute
Co-Director, Cancer Control Research Program
Norris Cotton Cancer Center, Geisel School of Medicine at Dartmouth
* * *
December 12, 2013 at 3:00 pm
Roger Weiss, M.D., presented:
"Treatment of Prescription Opioid Dependence"
Professor of Psychiatry, Harvard Medical School
Chief, Division of Alcohol and Drug Abuse
McLean Hospital
* * *

November 22, 2013 at 3:00 pm
BU School of Medicine, Room L201/203
George Uhl, M.D., Ph.D. presented:
"Addiction Genetics: postGWAS studies in humans and mouse models"  
Associate Professor of Neurology, Department of Neuroscience
The John Hopkins University
**************************************************************************************************************
N E W S
 March 7, 2014
GENOME-WIDE STUDIES IMPLICATE CALCIUM SIGNALING AND NEURONAL POTASSIUM CHANNEL FUNCTION GENES IN ADDICTION TO COCAINE AND OPIATES
Dr. Lindsay Farrer, Professor and Chief of the Biomedical Genetics division and Director of TTPAS, and his colleagues reported in several recently published papers the discovery of multiple genes associated with risk of addiction to cocaine, opioids, and alcohol. Although it has been recognized for several decades that there is a strong heritable component of addiction to many drugs, robust evidence for contribution of specific genes has been meager, especially for dependence on cocaine or opioids.
Dr. Farrer has been studying genetic factors predisposing to substance dependence for more than 15 years in collaboration with other researchers at Yale University and the University of Pennsylvania. African American (AA) and European American (EA) families and unrelated individuals (> 10,000 individuals in total) were recruited and screened for numerous substance dependence diagnoses, including opioids, cocaine, alcohol, and nicotine. Recently, Dr. Farrer and Dr. Richard Sherva, a BUSM faculty member in the Biomedical Genetics division, directed genome-wide association analyses using detailed standardized psychiatric interview and demographic data, and genotypes for several million single nucleotide polymorphisms (SNPs) obtained from approximately 5,700 study participants.
In the study focused on opioid dependence, published in Biological Psychiatry (http://www.sciencedirect.com/science/article/pii/S0006322313008263), genome-wide significant evidence of association was identified in the AA group with a SNP in the KCNG2 gene which encodes a neuronal voltage gated potassium channel (figure 1).
Figure 1: Association results from the KCNG2 gene on chromosome 18 with opioid dependence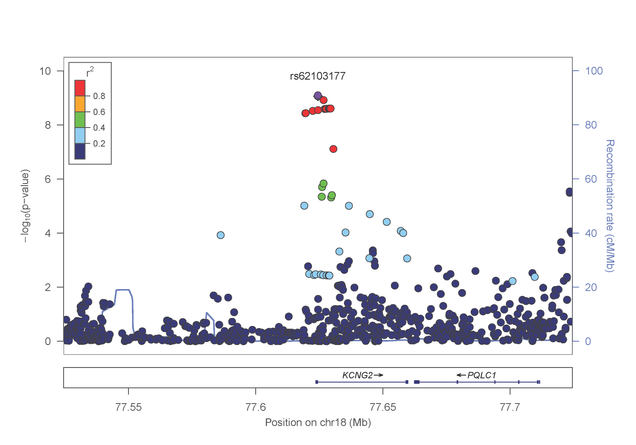 Several genes with the strongest evidence for association are clustered in biological pathways involved in the regulation of calcium and potassium levels and synaptic long term potentiation in neurons (figure 2).

Figure 2: The role of genes identified in GWAS of AA subjects in the canonical pathway "synaptic long term potentiation."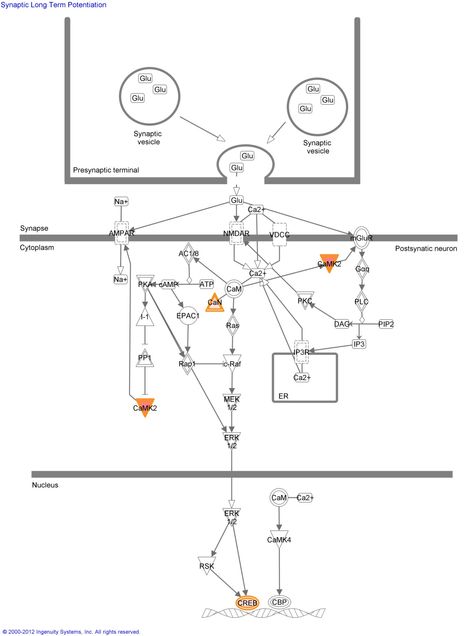 In a separate paper published in Molecular Psychiatry (http://www.nature.com/mp/journal/vaop/ncurrent/pdf/mp201399a.pdf), the investigative team reported a genome-wide significant association between risk for cocaine dependence and a SNP in FAM53B, a gene involved in regulating cell proliferation (figure 3). This finding was evident in both AA and EA samples. Intriguingly, several of the most significantly associated genes cluster in pathways related to calcium/potassium signaling.
Figure 3: Association results from the FAM53B gene on chromosome 10 with cocaine dependence.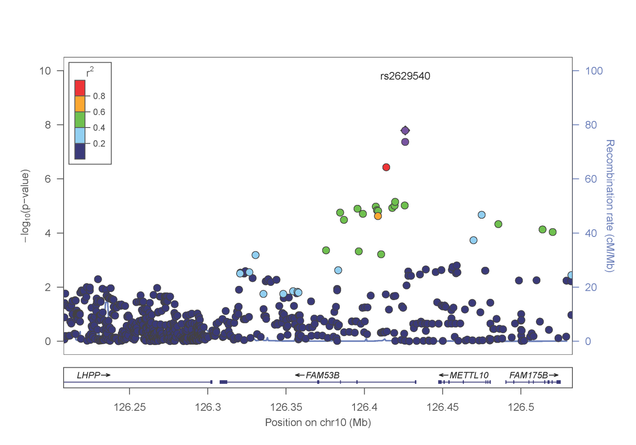 Most recently, Dr. Farrer, Dr. Sherva and their collaborators, identified association of alcohol dependence with several previously reported mutations in alcohol metabolizing enzymes. Importantly, the most significant findings were observed with two distinct non-synonymous (.i.e., predicted to be functionally relevant) mutations in the alcohol dehydrogenase 1B gene (ADH1B) that are population-specific (figures 4 and 5).

Figure 4: Association results within the alcohol metabolizing gene cluster on chromosome 4 in AAs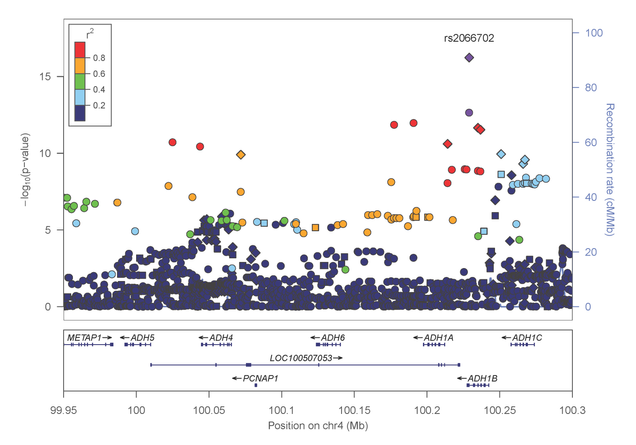 Figure 5: Association results within the alcohol metabolizing gene cluster on chromosome 4 in EAs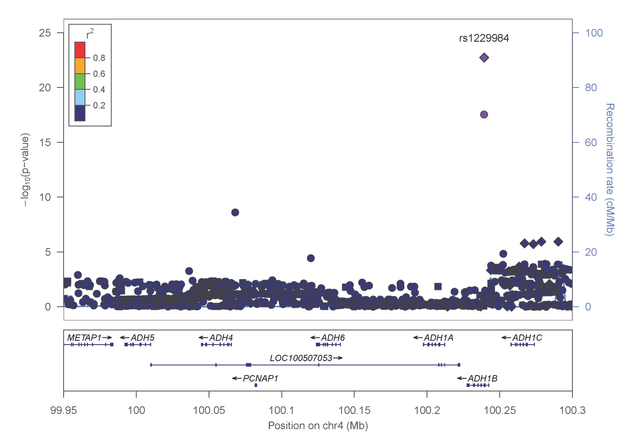 Novel associations were also identified in one small intergenic region on chromosome 2 in both the EA and AA cohorts, and population-specific significant associations were identified with markers located on chromosomes 5, 9 and 19. These findings were also published in Molecular Psychiatry (http://www.nature.com/mp/journal/vaop/ncurrent/full/mp2013145a.html).
These results reveal several interesting facts about addiction. First, certain risk variants are population-specific while others are shared among individuals of AA and EA ancestry. Second, the genetic susceptibility to substance dependence is likely mediated by proteins involved in both the metabolism of substances as well as those involved in brain development, learning, and neuronal excitability. Finally, some genes appear to alter an individual's risk for dependence on a specific substance, while others act as determinants of general substance dependence susceptibility.
____________________________________________________________________________
November 2013
The Addiction Puzzle Series in Boston
Drug or alcohol addiction affects nearly 23 million Americans and costs the United States an estimated $428 billion each year. Modern science has dispelled many misconceptions about the disease and scientists are working hard to find effective treatments. At Boston University, more than 100 researchers have been awarded over $130 million in addiction-related research and services grants since 2006, and faculty currently direct over 50 funded addiction-related research projects.
Please click here for the complete series information.
**************************************************************************************************************
P A S T    E V E N T S
Addictions and Gender
Wednesday, April 24, 2013
Research Symposium
Bakst Auditorium, BU School of Medicine
New research with human and nonhuman participants has confirmed that gender differences are manifested differently in the addictions. For more information on the event- click here!
* * *
Thursday, February 14, 2013
Research Seminar : Transdisciplinary Research in Addiction Science
Keefer Auditorium, BU School of Medicine was open to all BU faculty, staff and students Although much has been learned about the behaviors and biochemical imbalances associated with addictions, research leading to effective treatments has been slow.  Addiction researchers using clinical and epidemiological approaches usually do not collaborate with those conducting basic research in cells and animal models because they do not share the same language, skill sets or perspective. By comparison, there are areas in which a new generation of bilingual scientists has emerged, such as breast cancer and cardiovascular disease, and not surprisingly these are the areas where the most dramatic clinical progress has been made. This seminar will focus on strategies for studying addictions and other complex diseases that integrate population, computational and basic science approaches.