News and Upcoming Events
TTPAS featured in the BU Med School Campus + Alumni magazine – Click Here
Seminar Series:

Boston University Transformative Training Program in Addiction Science
UPCOMING SEMINARS – TBA
PAST SEMINARS
May 25th, 2018 at 3:00 pm
Renato Polimanti, PhD, Assistant Professor, Division of Human Genetics-Psychiatry
Yale University School of Medicine
presented: "Alcohol and Tobacco use disorders: from the genome to the microbiome"
* * *
April 13th, 2018 at 3:00 pm
Henry R. Kranzler, M.D., Professor of Psychiatry
Director of the Center for Studies of Addiction
University of Pennsylvania Perelman School of Medicine
presented: "Identifying Genetic Moderators of Medications to Treat Alcohol Use Disorde
* * *
March 30th, 2018 at 3:00 pm
Julia Cohen-Gilbert, PhD, MPH, Instructor in Psychiatry, Harvard Medical School
Assistant Neuroscientist, McLean Hospital
presented: "Alcohol and the adolescent brain: insights from neuroimaging"

* * *
January 19th, 2018 at 3:00 pm
Abby E. Rudolph, PhD, MPH, Assistant Professor, Epidemiology
Boston University School of Public Health
presented: "Examining the social context of injection drug use: Social proximity vs. geographic proximity to others who inject drugs"

* * *

December 1st, 2017 at 3:00 pm
R. Kathryn McHugh, PhD, Assistant Professor of Psychology
Harvard Medical School
presented: "The Co-occurrence of Anxiety and Substance Use Disorders"
* * *
August 11th, 2017 at 3:00 pm
M. Imad Damaj, PhD, Professor of Pharmacology and Toxicology
Virginia Commonwealth University
presented: "Behavioral and Molecular Plasticity During Adolescence in Mice: Studies With Nicotine"
* * *
June 23rd, 2017 at 3:00 pm
Lindsay Farrer, PhD, Chief, Biomedical Genetics
BU School of Medicine
presented: "Genetics and Personalized Treatment for Substance Use Disorders"

* * *
March 24th, 2017 at 3:00 pm
Vivek Kumar, PhD, Associate Professor
The Jackson Laboratory
presented:"Forward genetic approaches to dissection of reward pathways in mice"

* * *

February 3rd, 2017
Josiah Rich, MD, MPH, Professor of Medicine and Epidemiology
The Warren Alpert Medical School
Brown University
presented: "A strategic approach to opioid overdose in Rhode Island"

* * *


**************************************************************************************************************
N E W S
June 2017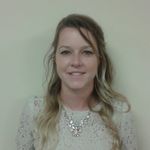 Kelli Tahaney, a student in the Clinical Psychology Doctoral Program and a TTPAS trainee, has been awarded the following fellowship F31:
Addressing Problem Drinking from the Bottom-Up: An Investigation of the Neural and Behavioral Effects of Cognitive Bias Modification
The goal of this project is to better understand the mechanisms of Cognitive Bias Modification (CBM) as an intervention component for heavy/at-risk drinkers who are interested in changing their alcohol use. Specifically, the project will use cognitive tasks and neuroimaging pre- and post-CBM to assess neurocognitive changes in cue-reactivity and appetitive bias toward alcohol. Behavioral outcomes will also be assessed to determine how these mechanisms may be associated with changes in drinking behavior.
Kelli Tahaney: "As a student in TTPAS, I've been able to complete additional training opportunities and coursework that complement those of my home program and that were essential in developing this project. Because of TTPAS I've been introduced to many accomplished addiction researchers in various programs throughout BU. This fellowship award wouldn't have been possible without the expertise, mentorship, and support of these TTPAS faculty members who I continue to work with."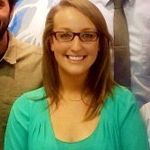 Cassie Moore, a TTPAS trainee and a GPN student awarded research grant to study neurobiological overlaps in compulsive eating behavior and drug addiction
Cassie Moore, a fourth year Ph.D. student in the Graduate Program for Neuroscience (GPN) has been awarded a Ruth L. Kirschstein NRSA Predoctoral Fellowship from National Institute on Drug Abuse (NIDA F31) of the National Institutes of Health.
Her proposal, titled CRF modulation of reward function in compulsive eating, aims to investigate underlying neurobiological mechanisms of compulsive eating behavior and examine potential overlaps with drug addiction. Her training under this award includes using viral and transgenic tools (viral-mediated gene knockdown, Cre recombinase-driver animals) in a unique combination with clinically relevant animal models (palatable diet cycling, intra-cranial self stimulation, and intravenous drug self-administration).
Cassie is co-sponsored for the award by Dr. Pietro Cottone, Associate Professor of Pharmacology and Psychiatry and Director of the Laboratory of Addictive Disorders and Dr. Klaus Miczek, Professor of Psychology at Tufts University. Cassie is a current graduate student in the joint program of Neuroscience and Biomolecular Pharmacology, as well as in the Transformative Training Program in Addiction Sciences (TTPAS).
Cassie Moore: "I am incredibly grateful to the TTPAS program for its training and support these past few years. Being a part of TTPAS has allowed me to engage with students and faculty from across many different disciplines in addiction science, helping to shape me into a more well-rounded scientist a fact that I stressed in my F31 proposal, and no doubt helped to secure my award. I was first introduced to my co-sponsor for this grant, Dr. Klaus Miczek, when he was invited to speak at our TTPAS Seminar Series. At that time, I had the opportunity to have lunch with him and to talk at length about my research and training in the program. There have been many invaluable and exciting opportunities presented to me through participating in the TTPAS program, and I would like to thank the directors, Dr. Farrer and Dr. Saitz, as well as all of the faculty members for their support."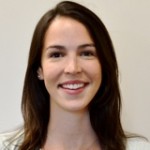 Emily Oot, a TTPAS trainee and a graduate student in BUSM's Behavioral Neuroscience PhD program, has received a national research service award to study risk factors for the initiation of alcohol and drug use during early adolescence
The proposed project, Identifying neurobiological predictors of alcohol use onset during adolescence, responds to the need for a better understanding of the characteristics present prior to initiation of alcohol use that may represent risk factors for use onset during adolescence. Early initiation of alcohol use is considered one of the most important risk factors in the later development of alcohol and substance use disorders, but it is not yet well understood when initiation of use is driving neurobiological changes that account for this increased vulnerability, and when initiation is largely a proxy for pre-existing traits and neurobiological patterns, which may actually be responsible for the risk. The present prospective study therefore aims to identify those neurobiological and behavioral markers that exist prior to the initiation of alcohol use and may confer risk for earlier use onset. Specifically, the study will rely on analysis of functional connectivity data from a hippocampus-mediated spatial memory task and a frontally-mediated response inhibition task, in order to test the importance of hippocampus-PFC integration in informing adaptive decision-making and reducing risky behaviors. Adolescents are being enrolled into the study prior to the initiation of alcohol or other drug use at 13-14 years old for a baseline scanning visit, and are being followed for two years via annual visits and quarterly surveys to assess initiation of alcohol and substance use and other risky behaviors. Data collected will provide a foundation for informing neurobehavioral targets and strategies for prevention and intervention efforts in maladaptive alcohol and substance use.
Emily Oot: I'm very grateful for the academic training TTPAS has provided, as well as for the opportunity to engage with other impressive students and faculty working in a wide variety of addiction disciplines, both of which have helped prepare me to take on the project I proposed in the grant. Also, without the TTPAS funding I received I would not have had the independence or the flexibility to participate in collaborative research with the two mentors who ultimately served as my co-sponsors on this application (Dr. Marlene Oscar-Berman and Dr. Marisa Silveri), or to get involved with the Adolescent Study in Dr. Silveri's lab at McLean Hospital, which serves as the parent study for the project. I feel very fortunate to have benefited from all the additional opportunities the TTPAS program provides, and to have this F31 now to be able to devote the second half of my graduate career to a project I'm very excited about.
For more information on this award, please click on the following link: https://www.eurekalert.org/pub_releases/2017-06/bumc-bms061217.php
* * * * *
October 2016
Cytoplasmic FMR1-Interacting Protein 2 is a Major Genetic Factor Underlying Binge Eating
TTPAS members are co-authors: Neema Yazdani, Jiayi Wu, Dr. Evan Johnson, and Dr. Pietro Cottone.
http://dx.doi.org/10.1016/j.biopsych.2016.10.021
https://www.eurekalert.org/pub_releases/2016-10/bumc-grf102616.php
Eating disorders are heritable and lethal neuropsychiatric disorders, yet their genetic basis remains poorly understood. We developed a mouse model of binge eating in collaboration with Dr. Pietro Cottone (TTPAS Faculty Member) with the primary goals of facilitating genetic association studies in humans and directly probing the relevant molecular adaptations in the brain that mediate genetic susceptibility to and persistence of compulsive binge eating. There are two main findings to our study. First, we identified cytoplasmic FMR1-interacting protein 2 (Cyfip2) as a major genetic factor underlying binge eating in mice. To our knowledge, this represents one of the first examples of a genome-wide significant genetic factor to be identified for binge eating in model organisms or humans. Second, we identified a network of downregulated genes involved in myelination that was associated with binge eating. This observation suggests that decreased myelination is a neuropathological consequence of binge eating. To summarize, our findings implicate both a genetic risk factor and a novel therapeutic avenue to pursue which we hope will ultimately help to save lives and restore healthy eating behaviors.
* * * * *
March 2016
Dr. Lindsay Farrer and Dr. Rick Sherva identify genes associated with risk of cannabis dependence:
Genome-wide Association Study of Cannabis Dependence Severity, Novel Risk Variants, and Shared Genetic Risks
Importance  Cannabis dependence (CAD) is a serious problem worldwide and is of growing importance in the United States because cannabis is increasingly available legally. Although genetic factors contribute substantially to CAD risk, at present no well-established specific genetic risk factors for CAD have been elucidated.
Objective  To report findings for DSM-IV CAD criteria from association analyses performed in large cohorts of African American and European American participants from 3 studies of substance use disorder genetics.
*Please click on the title above for the full article

* * * * *

TTPAS trainee Neema Yazdani Receives NIDA NRSA Predoctoral Fellowship Award from NIH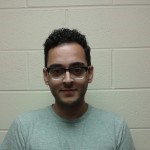 Neema Yazdani, a Ph.D. graduate student in the Program in Bimolecular Pharmacology at Boston University, has been awarded a Ruth L. Kirschstein NRSA Predoctoral Fellowship (F31) from National Institute on Drug Abuse of the National Institutes of Health. The title of his proposal is "Functional mechanisms of Hnrnph1 in methamphetamine addictive behaviors." His training under this award includes characterizing differences in methamphetamine (MA) reward and volitional administration in Hnrnph1+/- mice through behavioral assessments including conditioned place preference (CPP) and operant oral self-administration. He will also investigate the neurobiological mechanisms underlying reduced MA sensitivity and reward in my Hnrnph1+/- mice using brain tissue immunohistochemistry, RNA-seq, and in vivo micro dialysis.
*Please click on the title above for the full article.

* * * * *
February 2016
Language of addiction itself can hurt, advocates say
Windia Rodriguez remembers the sting of the words hurled at her during a hospital stay a few years ago. "Crackhead.'' "Addict.'' Especially, she recalls the scorn in the voices that pronounced her "just an addict."
"They treated me like I was beyond hope," Rodriguez said.
But she found hope, and these days, free of drugs for four years, Rodriguez makes a point of adding two words to the standard salutation in her 12-step group. "I'm an addict," she says, "in recovery."
In so doing, Rodriguez, a Boston resident and regional coordinator for the Massachusetts Organization for Addiction Recovery, quietly adds her voice to those of researchers and advocates who want to rewrite the lexicon of addiction.
These advocates seek to excise language that blames or disparages the patient and replace it with medical terms free of judgment. They assert that commonly used words — "junkie," "abuser," even "substance abuse" and "addict" — can discourage people from seeking help, induce health professionals to treat patients harshly, and exacerbate the stigma that bedevils people suffering from drug addiction.
"The biggest thing we trade in is hope," said Dr. Barbara Herbert, Massachusetts chapter president of the American Society of Addiction Medicine, a confederation of doctors and other medical workers. "Our biggest enemy is hopelessness. That's why I think language matters a lot."

*Please click on the title above for the complete article.

* * * * *
December 2015
TTPAS trainee Neema Yazdani and his co-mentors Dr. Camron Bryant and Evan Johnson report findings from a study in PLos Genetics:
http://journals.plos.org/plosgenetics/article?id=10.1371/journal.pgen.1005713Â
* * * * *
Researchers Identify Gene Possibly Linked with Methamphetamine Addiction
A new study sheds light on the significance of a potential genetic risk factor for drug addiction and possibly other neuropsychiatric disorders. Both genetic and environmental factors are known to influence susceptibility to substance use disorders. However, the genetic basis of these disorders is largely unknown.
Researchers at Boston University School of Medicine (BUSM) have for the first time identified a gene that is casually associated with the behavioral stimulant response to the drug methamphetamine. The gene, known as heterogeneous nuclear ribonucleoprotein H1 (Hnrnph1) has never been previously implicated in the behavioral effects of psychostimulants such as amphetamines or cocaine.
*Please click on the above title for the complete article.
Additional reporting on this study:
* * * * *
March 7, 2014
GENOME-WIDE STUDIES IMPLICATE CALCIUM SIGNALING AND NEURONAL POTASSIUM CHANNEL FUNCTION GENES IN ADDICTION TO COCAINE AND OPIATES Dr. Lindsay Farrer, Professor and Chief of the Biomedical Genetics division and Director of TTPAS, and his colleagues reported in several recently published papers the discovery of multiple genes associated with risk of addiction to cocaine, opioids, and alcohol. Although it has been recognized for several decades that there is a strong heritable component of addiction to many drugs, robust evidence for contribution of specific genes has been meager, especially for dependence on cocaine or opioids. Dr. Farrer has been studying genetic factors predisposing to substance dependence for more than 15 years in collaboration with other researchers at Yale University and the University of Pennsylvania.
African American (AA) and European American (EA) families and unrelated individuals (> 10,000 individuals in total) were recruited and screened for numerous substance dependence diagnoses, including opioids, cocaine, alcohol, and nicotine. Recently, Dr. Farrer and Dr. Richard Sherva, a BUSM faculty member in the Biomedical Genetics division, directed genome-wide association analyses using detailed standardized psychiatric interview and demographic data, and genotypes for several million single nucleotide polymorphisms (SNPs) obtained from approximately 5,700 study participants.
In the study focused on opioid dependence, published in Biological Psychiatry (http://www.sciencedirect.com/science/article/pii/S0006322313008263), genome-wide significant evidence of association was identified in the AA group with a SNP in the KCNG2 gene which encodes a neuronal voltage gated potassium channel (figure 1).
Figure 1: Association results from the KCNG2 gene on chromosome 18 with opioid dependence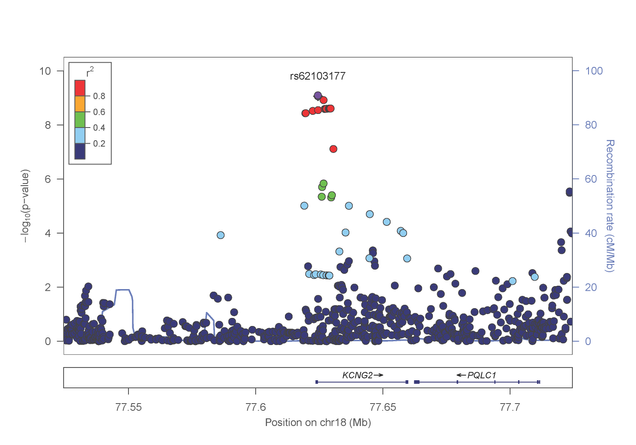 Several genes with the strongest evidence for association are clustered in biological pathways involved in the regulation of calcium and potassium levels and synaptic long term potentiation in neurons (figure 2).
Figure 2: The role of genes identified in GWAS of AA subjects in the canonical pathway "synaptic long term potentiation."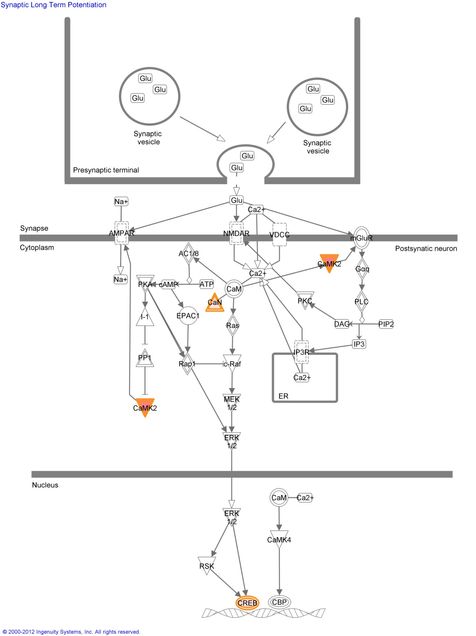 In a separate paper published in Molecular Psychiatry (http://www.nature.com/mp/journal/vaop/ncurrent/pdf/mp201399a.pdf), the investigative team reported a genome-wide significant association between risk for cocaine dependence and a SNP in FAM53B, a gene involved in regulating cell proliferation (figure 3). This finding was evident in both AA and EA samples. Intriguingly, several of the most significantly associated genes cluster in pathways related to calcium/potassium signaling.
Figure 3: Association results from the FAM53B gene on chromosome 10 with cocaine dependence.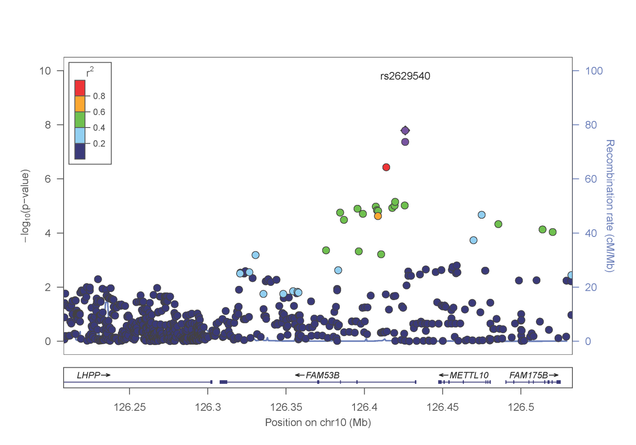 Most recently, Dr. Farrer, Dr. Sherva and their collaborators, identified association of alcohol dependence with several previously reported mutations in alcohol metabolizing enzymes. Importantly, the most significant findings were observed with two distinct non-synonymous (.i.e., predicted to be functionally relevant) mutations in the alcohol dehydrogenase 1B gene (ADH1B) that are population-specific (figures 4 and 5).
Figure 4: Association results within the alcohol metabolizing gene cluster on chromosome 4 in AAs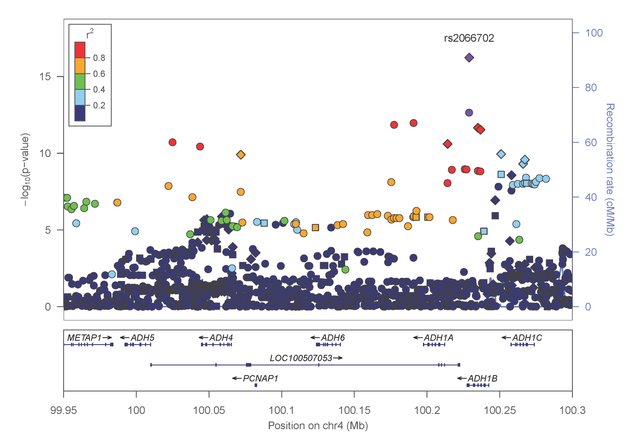 Figure 5: Association results within the alcohol metabolizing gene cluster on chromosome 4 in EAs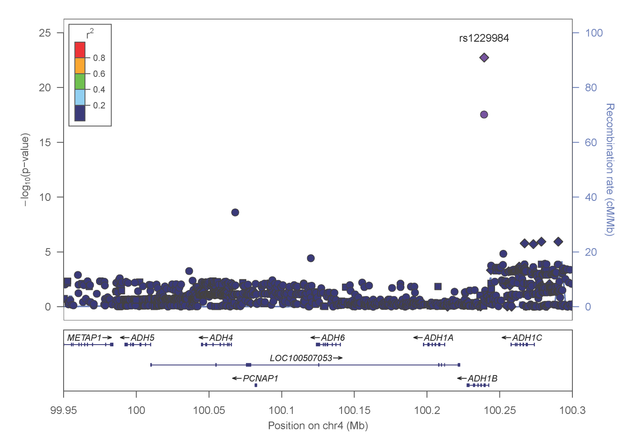 Novel associations were also identified in one small intergenic region on chromosome 2 in both the EA and AA cohorts, and population-specific significant associations were identified with markers located on chromosomes 5, 9 and 19. These findings were also published in Molecular Psychiatry (http://www.nature.com/mp/journal/vaop/ncurrent/full/mp2013145a.html). These results reveal several interesting facts about addiction. First, certain risk variants are population-specific while others are shared among individuals of AA and EA ancestry. Second, the genetic susceptibility to substance dependence is likely mediated by proteins involved in both the metabolism of substances as well as those involved in brain development, learning, and neuronal excitability. Finally, some genes appear to alter an individual's risk for dependence on a specific substance, while others act as determinants of general substance dependence susceptibility.
* * * * *
November 2013
The Addiction Puzzle Series in Boston Drug or alcohol addiction affects nearly 23 million Americans and costs the United States an estimated $428 billion each year. Modern science has dispelled many misconceptions about the disease and scientists are working hard to find effective treatments. At Boston University, more than 100 researchers have been awarded over $130 million in addiction-related research and services grants since 2006, and faculty currently direct over 50 funded addiction-related research projects. Please click here for the complete series information.
* * * * *
April 24, 2013
Addictions and Gender Research Symposium 
New research with human and nonhuman participants has confirmed that gender differences are manifested differently in the addictions. For more information on the event- click here! * * * Thursday, February 14, 2013 Research Seminar : Transdisciplinary Research in Addiction Science Keefer Auditorium, BU School of Medicine was open to all BU faculty, staff and students Although much has been learned about the behaviors and biochemical imbalances associated with addictions, research leading to effective treatments has been slow.  Addiction researchers using clinical and epidemiological approaches usually do not collaborate with those conducting basic research in cells and animal models because they do not share the same language, skill sets or perspective. By comparison, there are areas in which a new generation of bilingual scientists has emerged, such as breast cancer and cardiovascular disease, and not surprisingly these are the areas where the most dramatic clinical progress has been made. This seminar will focus on strategies for studying addictions and other complex diseases that integrate population, computational and basic science approaches.