Graduate Medical Sciences Student Organization
The Graduate Medical Sciences Student Organization (GMSSO) represents 900+ students from over 30 different PhD and Master's degree programs & departments within the Division of Graduate Medical Sciences. Our purpose is to bring students together from all departments and programs of the Graduate Medical Sciences to share ideas, address concerns and pursue common student issues with a combined voice.
Each program has two official voting representatives and we encourage everyone to attend monthly meetings and events. Come join your awesome student body, give your program a voice, and get involved in the local community!
Our Three Pillars this Year:
Diversity & Inclusivity
Community & Service
Health & Wellbeing
Our Key Initiatives:
Increase community involvement and unification at BUMC.
Provide group volunteer outreach opportunities in our neighborhood.
Provide professional development opportunities that prepare GMS students for their future endeavors.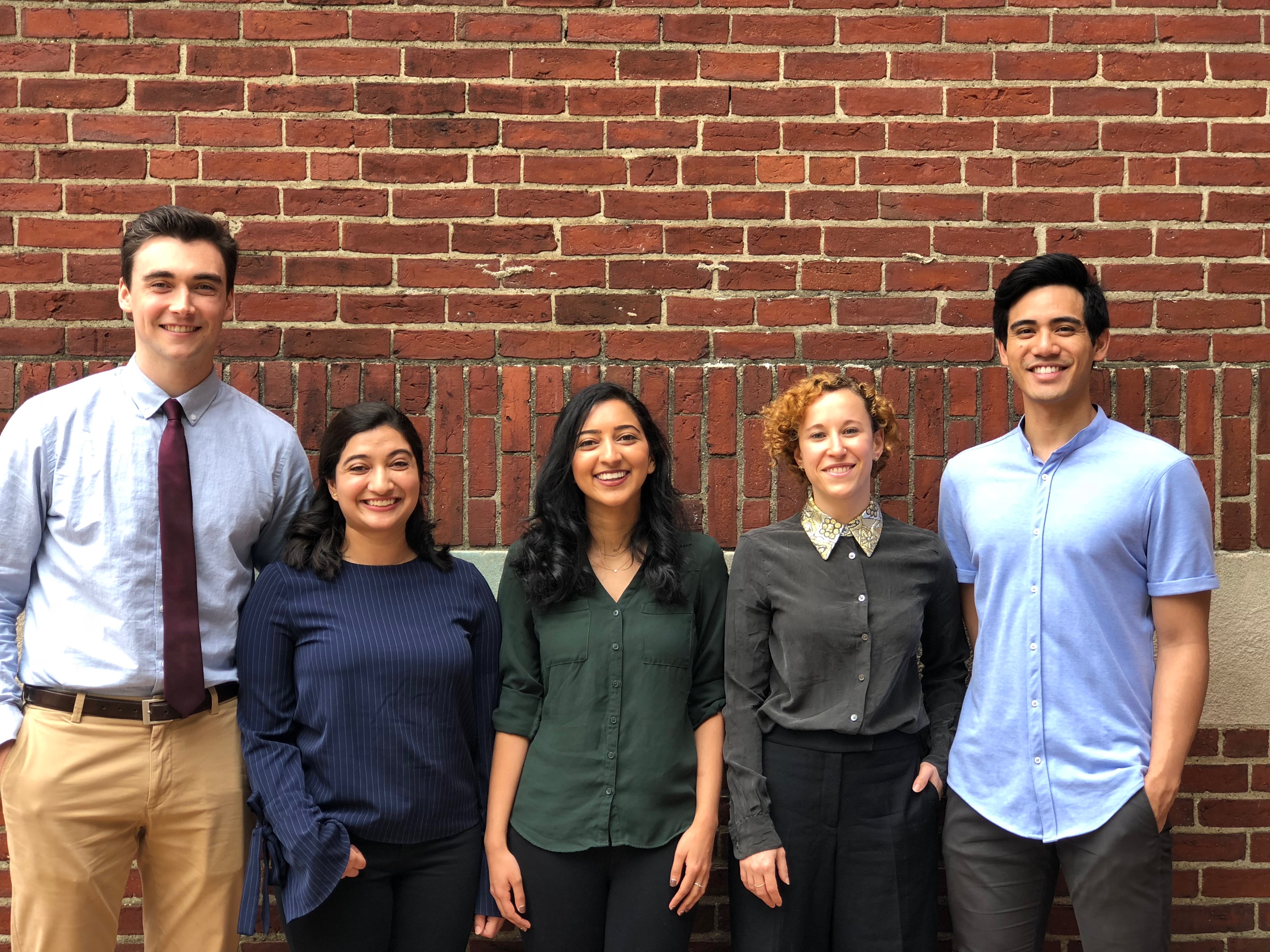 Our 2018-2019 Executive Board (from left to right):
Kevin Quindlen (Vice President), Neya Vishwanath (Treasurer), Anna Nidhiry (President), Ali Greenberg (Public Relations), and Matt Diamse (Secretary)
Contact us:
Email us: gmsso@bu.edu
Like us on FB: http://www.facebook.com/BostonUniversityGMSSO
Follow us on Instagram: @bu_gmsso
Please do not hesitate to contact us with ideas or suggestions about possible outreach initiatives, fundraisers, or community building programs in addition to any questions or concerns regarding student life at BU!
---

Upcoming events and opportunities: 

GMSSO Flannel Friday Happy Hour with SPH Student Senate, Friday, November 9, 5:30 PM, CITY WINERY
To register for FREE 
click here
 and for updates check out our 
Facebook event
. The first 100 students will receive a 
free drink 
and there will be 
food
 provided for all attendees as we mix and mingle!

BUMC Blood Drive co-sponsored by GMSSO & the Dental School, Friday, November 16, 11 AM-4 PM, Hiebert Lounge, L-Building, BUSM
Join GMSSO and the Dental School for the BUMC Fall Blood Drive. All presenting donors will receive a free Red Cross T-shirt! To register 
click here!

Boston Healthcare for the Homeless Collaboration: We will be setting up volunteer shifts for GMS students for the year. Details and form coming soon!