Graduate Medical Sciences Student Organization
The Graduate Medical Sciences Student Organization (GMSSO) represents 900+ students from over 30 different PhD and Master's degree programs & departments within the Division of Graduate Medical Sciences. Our purpose is to bring students together from all departments and programs of the Graduate Medical Sciences to share ideas, address concerns and pursue common student issues with a combined voice.
Each program has two official voting representatives and we encourage everyone to attend meetings. Come join your awesome student body, give your program a voice, and get involved in the local community!
Our Key Initiatives this year:
Promote Wellness in GMS and surrounding community.
Increase community involvement and unification at BUMC.
Provide group volunteer outreach opportunities in our neighborhood.
Provide professional development opportunities that prepare GMS students for their future endeavors.
Upcoming events and opportunities: 
We are accepting applications for the GMSSO 2018-2019 Board until April 15. 
Applications are open for all positions (President, Vice President, Secretary, Treasurer, Public Relations).
This is a great, low commitment way to gain valuable leadership experience!
Feel free to email us if you have any questions about the application process, or the responsibilities that come with each role. Applications will close
April 15th

.
Next Student Body General Meeting is APRIL 18 4-5 pm in L201
Wellness Finale – recharge for the final strrrrretch of the semester! 
Don't miss this FINALE event for the #WellnessChallenge 2017-2018! Join us for a phenomenal event featuring a 
dynamic duo
of special wellness experts. 
Special guest Sara Divello, a national best-selling author, speaker, yoga instructor will lead a relaxing brief mindful yoga practice, suitable for all experience levels. She's experienced, delightful, and teaches locally so you can continue to connect with her as well @saradivello and at saradivello.com. She led an amazing session last semester, and we are thrilled to welcome her back! 
Special guest
Heather Costa
, founder of local Revolution Health Kitchen (formerly Revolution Juice), will chat about applied nutrition with practical, helpful tips for healthy eating in graduate school, including topics like eating on a budget, quick nourishing and filling recipes, the best places to shop for food in Boston, and making leftovers you want to eat. For more information, see Revolution Health Kitchen or connect on Instagram @revolutionjuice. 
We'll be serving up nourishing treats from Revolution Health Kitchen!
Some of you are SO close to completing the 
#WellnessChallenge, so keep submitting your entries
 so that you make sure to attend this event and get the last point needed to collect your YETI! It's not too late to complete the challenge. You all are doing GREAT. 
As a reminder, here's how you can still submit entries for #WellnessChallenge credits:
MEET:

Attend the Wellness Finale, and our final GMSSO meeting of the year! Next

Wednesday, April 18 at 4pm in room L201.

This will be your LAST possible entry for the

#

WellnessChallenge 2017-2018

.

FOOD

: Like to cook and experiment with healthy meals? Share a photo of your favorite healthy meal and the recipe and we will share it on our Instagram and Facebook page. Our favorites will get featured in the GMS Newsletter! Tag us on Instagram @bu_gmsso in your Instagram Story or Post if you're already sharing it publicly, or send us an email to

gmsso@bu.edu

with a photo + recipe if you're not active on social media. You may submit a screenshot of something you already posted as well!

FITNESS

: Complete the GMS Steps

Challenge

! Commit to your cardiovascular health — and take the stairs every day while you're on campus for 1 week. Honor system….then email us

gmsso@bu.edu

with the subject "GMS STEPS

CHALLENGE

COMPLETED!" If you do this one multiple weeks, you can get a point per week.

MEDITATION

: Download the free app, INSIGHT Timer – Meditation App (

Google Play

,

itunes

), and explore meditations. Send us a screenshot of your profile to

gmsso@bu.edu

after you've tried it out, and you'll get credit.

YOUR CHOICE

:

Maybe you couldn't make one of our group events… yet…so here's an open-ended chance to get

#

WellnessChallenge

credit.

Wellness

, health, and fitness look different for everyone. We want you to share what works for you – whether that is a photo (your FitBit, being active, a great new class), short video, paragraph, poem, piece of interpretive art – let us know what

wellness

means to you. Send it on over to

gmsso@bu.edu

.
Boston Healthcare for the Homeless Collaboration:
Based on feedback from you and the Healthcare for the Homeless Program – we are increasing available shifts! Volunteer sign ups are now open for lunch AND dinner shifts
 Monday-Friday (11-2pm and 4-7pm)
. Spots are limited – please sign up
here. 
We are launching a Women's Professional Development Committee to support the professional growth of women on the Medical Campus. We are collaborating with GWISE, Graduate Women in Science and Engineering, to provide a space to host support, networking, mentorship, and professional development opportunities for women in science.
Our first initiative is to establish SheInspires brown bag lunches, where you will be able to hear from women mentors in science, advocacy, healthcare, public health to be inspired for your own careers and also to network with each other.
Email us for more information on how to get involved and/or be part of the leadership subcommittee to help initiate this exciting new venture!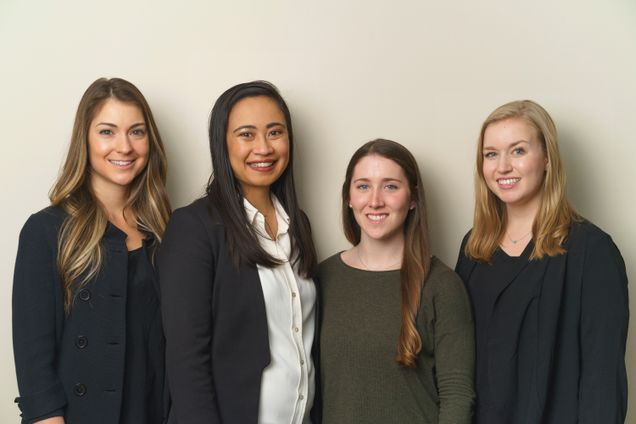 Our 2017-2018 Executive Board, from left to right:
Hanna Cacace (President), Sanae Ferreira (Public Relations), KatharineVallès (Vice President), Laura Petishnok (Treasurer)

Please do not hesitate to contact us with ideas or suggestions about possible outreach initiatives, fundraisers, or community building programs in addition to any questions or concerns regarding student life at BU!
Email us: gmsso@bu.edu
Like us on FB: http://www.facebook.com/BostonUniversityGMSSO
Follow us on instagram: @bu_gmsso