News and Upcoming Events
Congratulations Xia Yearwood-Garcia, winner of the 2016 NEAFS Collegiate Poster Competition!
At the 42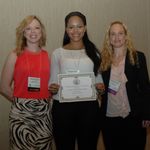 nd annual meeting of the Northeastern Association of Forensic Scientists in Atlantic City NJ, Xia was awarded a certificate for the best student poster by NEAFS board members.  The poster summarizes Xia's thesis research entitled "Changes in the Probability Distribution of the Number of Contributors when Signal Thresholds are Applied to Complex DNA Mixtures".
Fall 2016 Seminars:
Claude Mallet, Ph.D.
Senior Scientist, Waters Corporation
October 4th, 10:00am-1:00pm, Room L214
"How to Craft Optimum LC/MS/MS Methods for the Analysis of a Target Analyte in Complex Matrices"
Angi Christensen, Ph.D
Forensic Anthropologist, Federal Bureau of Investigation
October 12th, 1:00pm-2:00pm, Room L1004
"Forensic Anthropology at the FBI Laboratory"
Peter Cummings, M.D.
Boston University School of Medicine, Dept. of Anatomy & Neurobiology
October 26th, 4:00pm-5:00pm, Room L1004
"Frankenstein's Monster: Grave Robbing, Dismemberment, the Quest to Build the Perfect Human"
Sean D. Tallman, Ph.D.
Boston University School of Medicine, Program in Forensic Anthropology
November 4th, 2:00pm-3:00pm, Room L1004
"Evaluating and Refining Asian Sex and Ancestry Assessment Methods in Forensic Anthropology"
Thomas P. Ward, M.D.
Retinal Specialist, Consulting Ophthalmologists, PC
November 18th, 12:00pm-1:00pm, Room L1004
"Forensic Ophthalmology and the Pathology of Shaken Baby Syndrome"
Congratulations to our newest members of Delta Delta Epsilon, the national forensic science honor society, May 2016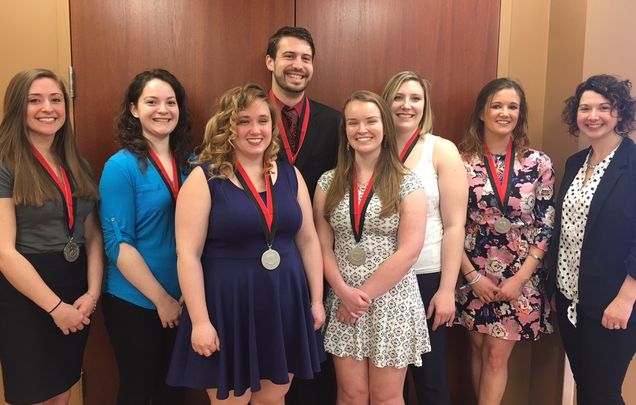 Spring 2016 Seminars:
02/29/16 – "Computational Methods for the Interpretation of Forensic DNA Samples" presented by Harish Swaminathan, Ph.D. 2pm-3pm in L-311
03/01/16 – "Clandestine Laboratories and the Role of the Chemist" presented by Jamie Foss. 12pm-3pm in E-111
03/03/16 – "The Power of Partitioning: Bio-Rad QX200 droplet digital PCR system" presented by Jessie Jeyapalan, Ph.D. 10am-11am in L-1004
03/18/16 – "Forensic Urine Drug Testing" presented by Sean Kocur.  2pm-3pm in L-1004
04/27/16 – "The Conviction of Innocent People: What Goes Wrong and Why" presented by Denise McWilliams, Esq. 4pm-5pm in L-1004
Congratulations Kayleigh Rowan, winner of the 2013 NEAFS Collegiate Poster Competition!
Congratulations to Destiny Costly, recipient of the Robert L. Johnson Academic Scholarship
The Robert L. Johnson Academic Scholarship is sponsored by the Johnson-Whyte Memorial Foundation Fund which was established to fund scholarships and research grants. This scholarship was established in memory of Robert L. Johnson of the U.S. Secret Service. Mr. Johnson was instrumental in the formation of the International Association for Identification (IAI) Latent Print Certification Board and served as its first Chairman. He was an active member of the IAI for 18 years and was serving as the 2nd Vice President of the IAI at the time of his death. The purpose of this scholarship is to promote the advancement and growth of Forensic Identification as a profession by offering financial grants for college scholarships and other educational and research projects consistent with the purposes of the IAI.
BMFS Student Kayleigh Rowan awarded the Cartha Deke DeLoach Scholarship from the J. Edgar Hoover Foundation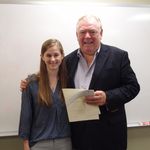 The J. Edgar Hoover Foundation is dedicated to the service of others and in promoting education and excellence in scientific research.  Ms. Rowan's research focuses on understanding the impact of uncertainty in measurement and the impact on forensic DNA interpretation.
Kayleigh received the Cartha "Deke" DeLoach Award from William Branon, chairman of the board and director of The J. Edgar Hoover Foundation in a ceremony at the School of Medicine in August 2013.