M.S. Genetic Counseling Program
Boston University School of Medicine
Division of Graduate Medical Sciences
Thank you for your interest in the Master of Science Program in Genetic Counseling at Boston University School of Medicine. This program is provided through the Division of Graduate Medical Sciences and has received Full Accreditation from the Accreditation Council for Genetic Counseling (ACGC). Applications are available at www.bu.edu/gms/admissions/. For additional information on the genetic counseling profession, please visit the website for the National Society of Genetic Counselors (www.nsgc.org). For questions regarding the BU Genetic Counseling Program, please contact MaryAnn Campion at 617.638.7170 or email gcprog@bu.edu.  If you live in New England or will be in the area, you are welcome to schedule a date/time to visit and learn more about the campus and program.
In addition, if you are a potential applicant in the Boston area and would like to increase your exposure to genetic counseling, please contact MaryAnn Campion (maryann@bu.edu) about enrolling in our Genetic Counseling Seminar (2 credits), which will be offered in the fall and spring semesters on Thursdays (3:00-4:50pm).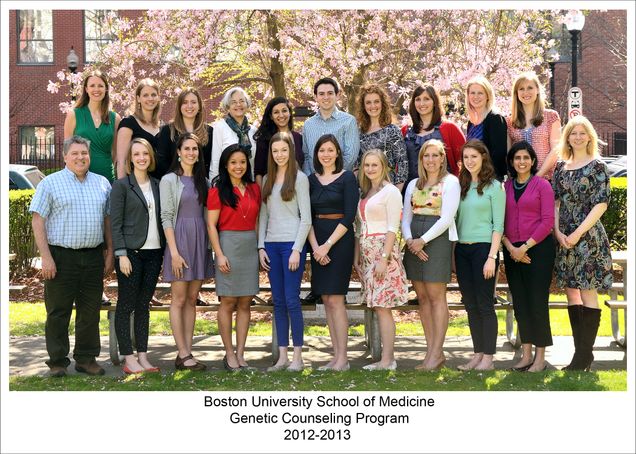 Introduction
The BU Genetic Counseling Program Mission Statement is as follows: The BU Genetic Counseling Program is committed to providing high-quality training through dynamic coursework, dedicated mentoring, diverse fieldwork, and innovative research to develop motivated genetic counselors to meet the needs of an expanding landscape in genetics and genomics.
The primary objective of the Master of Science Degree Program in Genetic Counseling is to educate graduate students in the core concepts of human genetics and counseling. Our focus is to provide students with the appropriate knowledge, experience, and mentoring to become competent, sensitive, and motivated genetic counselors. This is accomplished through a variety of educational experiences including course work, clinical training, research project preparation, and supplementary activities such as case conferences, grand rounds, journal clubs, and seminars. Located in the heart of Boston, the Genetic Counseling Program at Boston University provides a dynamic and enriching environment for genetic counseling students.
Boston University's medical school and teaching hospital offer access to tremendous resources for clinical experience and laboratory genetic services, making this the first program of its kind to be located within an academic medical center in New England. This program also has the unique appeal of including courses in the Mental Health and Behavioral Medicine Program and the Medical Sciences Program. In addition, elective courses are available through several other BU schools and departments, including the Mental Health Counseling & Behavioral Medicine Program and the School of Public Health.
The Human Genome Project and related advancements have led to an increasing demand for genetic expertise in a variety of medical specialties. Over the past ten years, the number of genetic counselors working in New England has doubled, with over 90 genetic counselors currently working in the greater-Boston area alone. In addition to the traditional clinical settings of prenatal, pediatric, adult, and cancer genetics, many genetic counselors are entering the field through clinical laboratories, research, and industry. As the biotechnology sector continues to expand, more employers will be specifically recruiting individuals with advanced degrees in genetic counseling. Recent statistics suggest that the number of students graduating with a degree in genetic counseling is less than the number of genetic counseling positions available in the workforce, with over 90% of graduates having secured a position within three months of graduation. Therefore, the Genetic Counseling Program at Boston University was designed to help fill a nationwide gap in the provision of genetic counseling services by preparing students to enter the field in a variety of settings.
We are committed to creating a culture and climate that demonstrates the BUSM belief that diversity adds value to intellectual development, academic discourse, patient care and research. We believe in fostering a diverse University community, where differing views can be expressed freely within a supportive and respectful environment. Diversity is multidimensional and may encompass life experience, gender, sexual orientation, race, national origin, ethnicity, physical ability, spiritual beliefs, and intellectual approach. We believe that diversity is essential to the development of future leaders in healthcare and research to serve our community, nation and world.