Admissions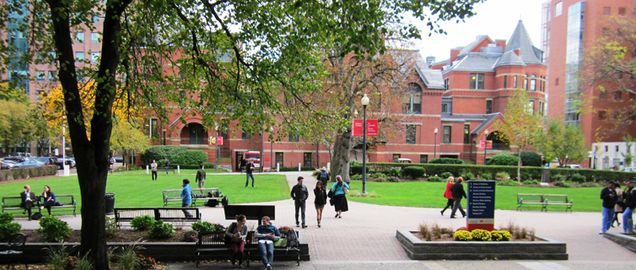 Applications:
The Fall 2023 application is closed. The fall 2024 application will open September 1, 2023.
Begin the online application. The application deadline is December 15, 2022.
Prior to beginning your application, please carefully review the instructions and requirements below.
An application fee waiver for Boston University is available based on financial need through GMS (application HERE).
Please complete the required registration for National Matching Services, Inc. at the following site: https://natmatch.com/gcadmissions/. Match fee waivers are available through the Association of Genetic Counseling Program Directors (application HERE)
Invitations for admission interviews will be extended by February 1st. Virtual interviews will be held in late February, throughout March, and early April for all applicants.
Match day rankings due to National Matching Services, Inc. prior to April 11, 2023.

All interviewed candidates will be notified of their status on the BU Genetic Counseling Program admission through National Matching Services on April 19, 2023.

We anticipate to offer admission to 13 students for the incoming Class of 2025.
Warren Alpert Foundation AID-GC Scholarship Application
COVID-19 Updates
---
We understand the tremendous disruption the COVID-19 pandemic has created for society at large, and remain committed to ensure every completed application receives an individualized, holistic review. In response to this unprecedented time, our program has made the following adjustments for program admissions:
Pass/fail grades will be accepted for pre-requisite coursework due to COVID-19.
GREs are not required. We appreciate the time spent for those applicants who have already taken this exam. However, to ensure equity for all we respectfully request you do not submit your score reports or include information about GREs on your application as this information will not be taken into account for your application review.
If the experiences you hoped to gain have since been canceled due to COVID-19, please know there are many ways to still stay connected to the genetic counseling profession through virtual events, podcasts, review of the Journal of Genetic Counseling, materials available on the National Society of Genetic Counseling website, and a number of books, blogs, film and more where you can learn about the field and the lived of experiences of individuals and families. We will be posting additional information on our Student Webinar page for virtual events taking place across the country.
Instructions and Requirements
---
A candidate must submit the following to satisfy the application requirements for admission into the BU MS in Genetic Counseling program:
A baccalaureate degree from an accredited institution with fulfilled prerequisites
Transcripts from every post-secondary institution attended
Three letters of recommendation
Personal Statement 
Resume/CV
Personal experiences relevant to genetic counseling
The application for the Boston University Genetic Counseling Program is completed online through the standard system used by Graduate Medical Sciences following the links above. You will have the opportunity to add documents (such as your unofficial transcripts, personal statements, and resume/CV), and electronically notify those you request a letter of recommendation from. As a reminder, please do not add any GRE scores to your application as the portal will ask if you plan to add any, or not. Many demographic questions in part one of the application are asked due to reporting requirements for grants for Graduate Medical Sciences as a whole. Unfortunately, our program is not able to adjust the wording or adjust response choices as grant reporting requirements on a national level are beyond our control. If you have any questions or concerns as you work through the application portal, please email gcprog@bu.edu for assistance.
BA degree, Transcripts and Prerequisites
Letters of Recommendation
Personal Statement
Resume/Curriculum Vitae
Personal Experiences
TOEFL or IELTS Scores