Course Options for the PHSS Track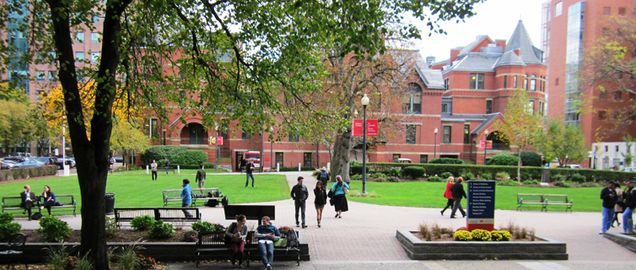 The MACCP program requires seven elective courses.
Three must be offered by MACCP. For the track in Public Health, you must take the two related MACCP electives (Epidemiology for Social Scientists and Program Evaluation for Social Scientists)
Your fourth elective must be either one of the MACCP offerings, or chosen from courses offered by other programs in the Division of Graduate Medical Sciences.
The remaining three electives can be in MACCP or GMS.
You can also opt to take these other electives at the School of Public Health (SPH), or other schools and colleges at BU.
Finally, you can opt to integrate selected dimensions of your Public Health training into your thesis research question and study design. You can ask an SPH faculty member to be one of your thesis advisors (contingent on their availability).
The following are examples of skills-related courses:
Epidemiology
GMS MA 677: Epidemiology for Social Scientists (MACCP): This course will introduce epidemiologic theories and methods to students in the social sciences and humanities. We will systematically analyze the field of epidemiology and ways practitioners leverage epidemiologic approaches in health arenas. We will examine core concepts such as causality, associations, confounding and interactions, and review epidemiologic study designs, as a way to critically engage with epidemiologic quantitative analysis aimed toward specific public health objectives. Students will learn to recognize the assumptions, disciplinary power, and actions that epidemiologists take to achieve their mission and vision for health and wellbeing. (3 cr.)
Biostatistics
GMS MS 700 – Elementary Biostatistics for the Biomedical Sciences. Topics include collection, classification, and presentation of descriptive data; the rationale of hypothesis testing; experimental design; t-tests; simple correlation analysis; and analysis of contingency tables. Special attention is directed to the ability to recognize and interpret statistical procedures in articles from current literature. (2 cr.).
GMS AN 712 – Biostatistics. This course will provide you with a working understanding of experimental design and statistical analyses that are appropriate for various types of relatively small sample based experiments such as those used in the biological, medical, pharmacological, psychological, and social sciences in general. (4 cr.)
Program Evaluation
GMS MA 676: Program Evaluation for Social Scientists (MACCP): The course will introduce students to the theory of program evaluation and the evaluation methods and techniques used in the broad field of public health from a utilization-focused perspective. Students will grapple with the underlying assumptions of evaluation, including its potential benefits and consequences. They will develop a practical, comprehensive understanding of the phases of program evaluation, from planning to method and measures selection, to data collection and analysis. The emphasis will be on small-scale and community-based programs, as opposed to large-scale or demonstration programs. Students will be exposed to the ways in which anthropologically trained evaluators can raise awareness about underlying cultural assumptions that influence the development and implementation of programs and services. They will learn strategies for making these cultural assumptions apparent and central to the assignment of values, resources, activities. Through experiential learning, students will gain hand-on experience with evaluation by developing plans, including key questions, logic models, data collection instruments, and reports. (3 cr.)
Program/Project Management
MET AD 642 – Project Management: The course explores modern project management by providing an enterprise-level, experiential view of the discipline focused on connecting projects to the organization's mission, vision, and values. The theme of the course is applying key project management tools and techniques, through case-based group work. Groups select, plan, report, and then present on their project's scope, schedule, cost, risk, quality, and communications elements using tools such as the WBS, network diagram, PERT estimate, Gantt chart (including the use of MS Project), risk register, and heat map. Students also gain familiarity with important new concepts in project management: Agile frameworks, sustainability thinking, and Benefits Realization Management, all of which will be important for their success not only in other graduate courses, but as they lead projects for their organizations. The course is aligned with the latest PMBOK Guide from the Project Management Institute.
MET AD 643 – Project Communications Management. This course examines the behavioral aspects of working effectively in the project domain. We examine current philosophies of work around enhanced leadership, communication, conflict management, and negotiation skills, and the ability to organize, manage, and to produce efficient delivery from teams. Good leadership is an important element when applied to project management, and this course identifies various styles of communication and conflict resolution that leaders can use. The course also addresses more contemporary issues in PM, including resolving ambiguity and complexity, the use of improvised working styles, sustainable PM, and issues around power and politics within the project.
MET AD 645 – International and Advanced Project Management. This capstone course provides an opportunity to integrate skills and knowledge, review state-of-the-art issues, and produce deliverables required for successful project management. Students learn advanced simulation tools and techniques that can reinforce project planning and control skills, and enrich leadership skills as they pertain to change-control and decision-making. A key focus of this course is on the development and delivery of project quality management and applying a quality framework to ensure customer satisfaction. Within this topic students learn: quality planning, quality assurance, and quality control. Students also master state-of-the art topics such as: Outsourcing and virtual project management?including global project management practices to overcome national boundaries, geographic distances, and cultural diversity?project portfolio management, and aligning projects to business strategy for optimized enterprise success and PMBOK practices applied in the organization.
MET AD 646 – Program Management Prereq: MET AD642. Programs and projects deliver benefits to organizations by enhancing current capabilities or developing new capabilities for the organization to use. This course will provide a detailed understanding of program management and will present concepts that promote efficient and effective communication and coordination among various groups. Students will understand PMI? program management processes and use tools that automate and enforce processes for managing scope changes, risk, quality, issues, schedules, resources, releases, and costs. You will learn how to design a program and manage program costs, risk, and communication within the context of Project Portfolios. This course is targeted to senior executives, portfolio managers, program managers and their team members, members of a PMO, customers/stakeholders, educators, and consultants. This course introduces processes and knowledge areas from three new PMI standards: Program Management standard, OPM3, and Portfolio Management.
MET AD 647 – Project and Program Governance. Prereq: MET AD642. This is a comprehensive course on project and program monitoring, evaluation, and governance. Students will also understand enterprise wide-project interdependencies and determine the optimal pacing for a program to enable appropriate planning, scheduling, executing, monitoring, and controlling of the projects within a program in the future. It covers governance and evaluation methods that will be useful at various levels of large projects, including government and nonprofit organizations. This course will help project and program managers, analysts, consultants, educators, and managers in government, nonprofit, and private institutions to assess program results and identify ways to improve program performance. Other topics include: evaluation for small nonprofit organizations; assessing and improving planning, implementation and effectiveness; governance methodology and models; using evaluation tools and applications to assess factors linking projects under one program and provide the best allotment of resources between those projects; monitor complex, multi-project programs, and drill into current project details; enable collaboration and stakeholder alignment throughout a project life-cycle. Other topics include: creating a transparent and accountable organization with well-defined roles and one that is based on transparency, resource allocation and decision making and enterprise project management.
MET AD 649 – Agile Project Management: Prereq: MET AD642. The course provides an understanding of how new Agile principles and practices are changing the landscape of project management. The course is designed to give project managers fresh new insight into how to successfully blend Agile and traditional project management principles and practices in the right proportions to fit any business and project situation. The course provides a deep understanding of Agile project management principles and practices in order to see them as complementary rather than competitive to traditional project management. Topics include: Agile fundamentals, principles, and practices; roots of Agile in TQM and Lean Manufacturing; adapting an Agile approach to fit a business environment; planning and managing an enterprise-level Agile transformation; scaling agile to an enterprise level using enterprise-level Agile frameworks and Agile Project Management tools. 4cr.
MET AD 742 – Program and Project Management. This survey course provides an integrative approach to project management focusing on the skills that are fundamental to successful completion of projects. The course covers the project management life cycle, project selection and alignment with organizational strategy, project definition, risk analysis, work break down structure, activity scheduling, and resolving scheduling conflicts. The course examines the concepts and applied techniques for cost effective management of both long-term development and short term projects. The content covers planning, scheduling, organizing, and controlling projects, for example, product development, construction, information systems, new businesses, and special events. Management principles and methodology are provided as they apply to projects, with special focus on leadership, teaming, and coordinating individual and group efforts. MS Project will be introduced in this course to provide hands-on practical skills with the above topics. Mastery of key tools and concepts introduced in this course could give you a significant competitive advantage in the marketplace.
SPH PM 733 – Health Program Management. This course associates the role of a leader and manager in provider and payer health care settings with real-world business knowledge and skills. It aims to better equip present and future health care managers in order to lead, plan effectively, anticipate challenges and marshal resources. Students will gain an appreciation for the complexities of management and leadership in challenging health care situations. Concepts will be discussed briefly with the greater emphasis on the development of the critical thinking skills necessary to succeed in today's changing health care environment. This course will make significant use of case study and requires class participation. Topics include differentiating leadership from management, patient and process flow, the importance of organizational culture, and managing change. In addition, one session is devoted entirely as a workshop on provider-payer health care negotiations.
SPH PM 790 – Pro-seminar: Tools for Project Management, Communication, and Budgeting. Researchers and research professionals are routinely called upon to ensure research project success through the application of many professional skills beyond data collection, management, and analysis. In this course, students will learn and apply concepts and tools relevant to research project management, budget development, research team management, and the communication of research results to various audiences. Students will work together to apply each skill to a real research project, and will present their work to the rest of the class.
Other Related MACCP Electives
GMS MA 622 Religion, Culture, and Public Health: This medical anthropology course will explore relationships between religion, culture, and health in the context of public health projects. We will examine historical developments, examples of faith-based public health organizations, and current research on "religious health assets," both locally and internationally. Students will design and conduct qualitative research projects on the culture of a faith-based health organization. 3 cr.