Graduate Outcomes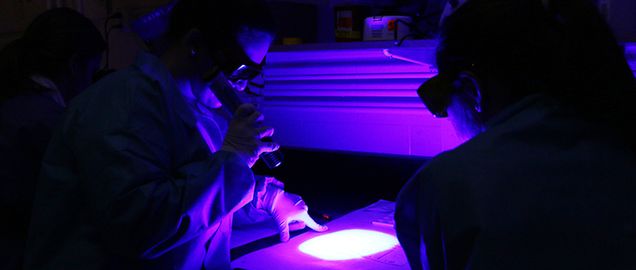 Upon graduation from the Forensic Anthropology program, students will have successfully completed the following learning outcomes:
an awareness of the history and development of the forensic sciences in general and forensic anthropology in particular
a working knowledge of the biology of bone and its associated tissues as it applies to forensic anthropology
knowledge and skills in topics that represent the core of forensic anthropology:

osteology
field methods
mapping and GIS
excavation methods
grave exhumation
mortuary science
taphonomy
comparative anatomy
medicolegal principles
crime scene investigation techniques
expert witness skills
practical experience in public speaking and presentation of their ideas and research

skills in basic scientific method, biostatistics, experimental design, time-management, library skills, annotated bibliography, report writing, professional skills, oral presentations and thesis writing
each student will design, plan, execute a research experiment and then write a thesis. Students are encouraged to publish thesis work and to present it at a professional society meeting.
Employment and Educational Opportunities for Graduates
Each student is encouraged to discuss future plans that extend beyond Boston University with the faculty with an eye toward finding relevant work experience or in applying for further education at other institutions.
Upon completion of this program students will be qualified to continue their education in a PhD program in Anthropology or pursue employment in a variety of settings. Potential employment opportunities for graduates include State Medical Examiners Offices, Government or Private Crime Laboratories, State or Federal Law Enforcement Agencies or academic settings.
Recent alumni have been accepted into PhD programs, medical school, law school, joined the FBI Academy, State Police Academies, and various other associations.