Curriculum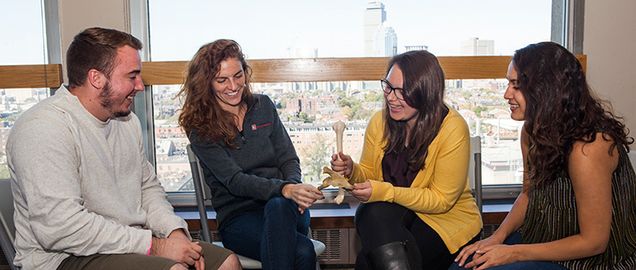 The MS in Forensic Anthropology Program offers a variety of courses in forensic anthropological techniques and procedures, taphonomy, human anatomy, osteology, pathology, human remains recovery, death investigation, experimental design and statistics, expert witness testimony and crime scene investigation.
Classes are lecture and laboratory based with opportunities for internships and directed studies. Students complete a graduate level research project that culminates into a full-length thesis.
Completion of this program will prepare students to continue their graduate education in a doctoral program and/or work in a wide variety of settings including medical examiners or coroners' offices, crime laboratories, state and federal agencies and international organizations.

Required Courses
History, Methods and Theory in Biological Anthropology (3 cr)
Human Anatomy and Osteology (4 cr)
Professional Skills and Thesis Research Development (3 cr)
Special Topics in Forensic Anthropology: Outdoor Crime Scene Awareness (3 cr)
Taphonomy (3 cr)
Forensic Anthropology Techniques (3 cr)
Research in Anthropology (variable cr)
Mortuary Archaeology (3 cr)
Advanced Osteology (4 cr)
Expert Witness Testimony (2 cr)
Applied Forensic Anthropology (3 cr)
Experimental Design for Forensic Anthropology (2 cr)
Elective Courses in Forensic Anthropology
Bioarchaeology (2 cr)
Zooarchaeology (4 cr)
Field Methods in Forensic Anthropology (3 cr)
Forensic Pathology (2 cr)
Advanced Crime Scene Investigation (2 cr)
Elective courses in Anthropology and Archaeology
Students are strongly encouraged to complete selected courses in the departments of Anthropology and Archaeology on the Charles River Campus.
Elective Courses In Biomedical Forensic Sciences
Students may complete certain courses in the Biomedical Forensic Sciences program.