Admissions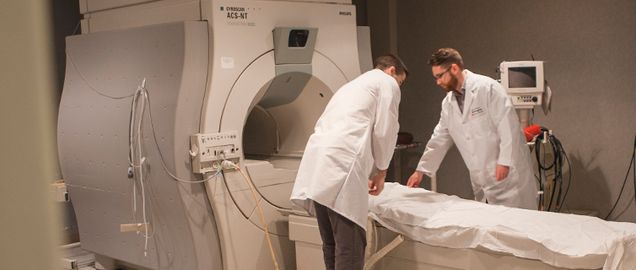 The goal of the Master of Science in Bioimaging program is to train professionals in all aspects of bioimaging from theory to practice. This field has become a major tool in clinical medicine and biomedical research. The acceleration of imaging technology has been remarkable, particularly in areas of MRI, CT, and PET. The demand for individuals who are skilled in the background, mechanics, operations, and interpretation of imaging techniques in a research or medical setting is growing at accelerated rates.
This multidisciplinary program has been developed by the Departments of Radiology and Anatomy and Neurobiology with contributions from the Department of Physiology and Biophysics and is the first of its kind in the United States.
Program Structure
The required core and elective courses of the Program are conducted at Boston University School of Medicine and Boston Medical Center. The degree is awarded by the Division of Graduate Medical Sciences of Boston University School of Medicine.
Faculty members include prominent members of the Departments of Radiology, Anatomy & Neurobiology and Physiology & Biophysics, as well as outside experts in industry, academia, government, and private imaging centers.
How to Apply
Learn more about Admission Requirements for the Master of Science in Bioimaging.
Information Sessions
For more information about the program, or to visit the campus, learn about the Master of Science in Bioimaging's Open Houses and Info sessions.