2023 Outstanding Student Achievement Award: PhD Research Category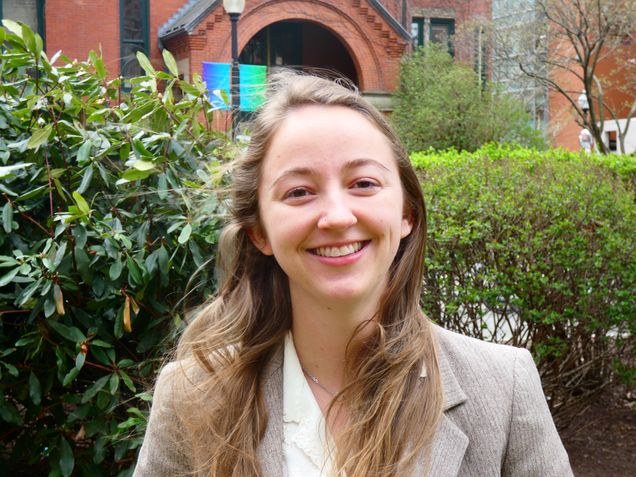 Claire Burgess '23

Molecular & Translational Medicine
Program in Biomedical Sciences
---
Claire Burgess will officially graduate in May 2023, leaving behind a tremendous research impact on the Boston University Chobanian & Avedisian School of Medicine.
Burgess, a PhD student in the Graduate Medical Sciences Program in Molecular & Translational Medicine (MTM), is a 2023 winner of the GMS Outstanding Student Achievement Award in the PhD Research category.
Burgess matriculated into the PhD umbrella Program in Biomedical Sciences in 2017, following her graduation from Sewanee: the University of the South that year. She currently works in the lab of Darrell Kotton, MD, the director of the Center for Regenerative Medicine (CReM) and David C. Seldin Professor of Medicine at Chobanian & Avedisian SOM.
During her time in the Kotton Lab, Burgess has discovered two different methods for generating human alveolar epithelial type I cells (AT1s) from pluripotent stem cells (iPSCs). These cells, which form the majority of the gas exchange surface of the lung, had no previous human in vitro culture model, and they are difficult to access from primary tissue.
These difficulties limited scientific understanding of lung epithelial diseases like acute respiratory distress syndrome (ARDS), idiopathic pulmonary fibrosis (IPF) and chronic obstructive pulmonary disease (COPD).
"AT1s have the largest surface area and are one of the most topologically complex cells, as well as one of the thinnest," Burgess said. "They're difficult to isolate because they get shredded in the process. There weren't any good culture model systems for these cells, and so we didn't know a lot about them."
Burgess' research has contributed to the Kotton Lab's discovery of how to grow iAT1s from different genetic backgrounds in 3D organoids, as well as in 2D air-liquid interface cultures. The lab has completed a provisional patent application for these lentiviral and media-based methods.
"Being able to generate [iAT1s] from iPSCs, not only have we managed to make a model for these cells, so that we can understand how they're affected by smoke exposure or viral infections […], but we've also been able to understand a little bit more about their development and the signals that are involved in differentiation, and how that might be perturbed in different disease states like IPF and COPD," Burgess said.
Burgess and the Kotton Lab have also demonstrated the role of nuclear YAP/TAZ signaling in the differentiation of human type I cells. She has generated a reporter iPSC line to track and purify these iAT1s, which she has shared with academic and industry-based labs across the country, like the Chobanian & Avedisan SOM Varelas Lab and labs at the BU Charles River Campus, Massachusetts General Hospital, Massachusetts Institute of Technology and Novartis.
In 2021, Burgess was awarded an F31 National Research Service Award through the National Heart, Lung and Blood Institute of the National Institutes of Health for her research. The project, "Generation of human alveolar epithelial type I cells from pluripotent stem cells," is currently posted on bioRxiv. Burgess successfully defended her dissertation on February 9, 2023.
For Burgess, working alongside Kotton, principal investigators and post-doctoral fellows in the CReM has given her valuable insight into how her research could be applied in a clinical setting and in fighting disease in the future. The past five years have also exposed Burgess to an area of research "that's completely different from [her] experiences in undergrad and any prior research that [she had] done."
"It's a really wonderful, collaborative environment with a lot of different experts in a lot of different areas," Burgess said of the CReM. "I think choosing a lab based on the people is really important, and choosing a PI  and an environment that's going to be able to help you grow is more important than the specific research that you're doing."
Burgess credits Kotton, her direct PI, as a "wonderful mentor" who "puts a lot of thought into each person and how to best help them specifically grow and learn." She also spoke highly of her work with Jay Mizgerd, ScD, director of the Pulmonary Center, and David Center, MD, Associate Provost of Translational Research and director of the Clinical and Translational Research Institute, as well as many of the PIs and post-doctoral fellows at the CReM.
Following graduation in May, Burgess will remain at BU in the Kotton Lab to complete paper revisions. She plans to apply for positions within the biotechnology industry. Of her Outstanding Student Achievement Award, Burgess said that she is "very grateful."
"I've been doing this research for five years, so the successes come spaced out with as many if not more failures," Burgess said. "When you condense all the successes into a single paragraph [for the award application], it suddenly seems very impressive. It's funny to be able to look at that paragraph and think, 'Wow, I really have done a lot.'"