Alumni Spotlight: Gabriel Chavez (OHS '22, GSDM '26)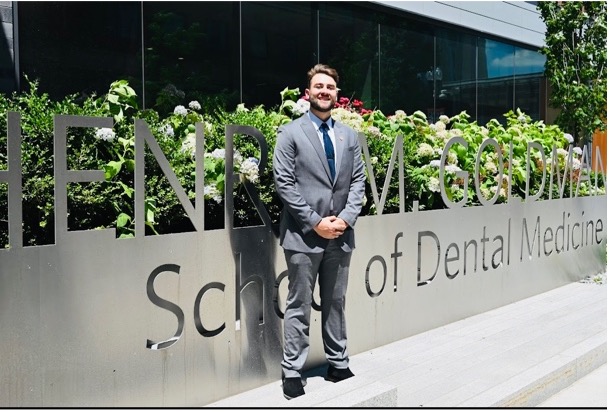 Gabriel Chavez is a May 2022 graduate of the MS in Oral Health Sciences program at GMS. He is currently a first-year dental student at the Boston University Goldman School of Dental Medicine, where he was recently elected president of the D1 class. Gabriel is also a peer mentor through the DentMent program, which helps current OHS students adjust to the rigor of the program and life in Boston. 
Tell me a little bit about your journey to Boston.
I'm originally from Albuquerque, New Mexico, so a very, very far away place. I'd never been to Boston before I came to OHS. I was looking at different programs, and I was lost, because I didn't know what I was wanting to do in my life. Luckily, I did find the OHS program, and two months later, I packed up my whole car and drove four days to get to Boston, and then I showed up here for the first time. I've loved it every single day.
Where did you do your undergrad? What was your major?
So, I did two years at the Colorado College and then I finished up at The University of New Mexico. I was a major in biology with a minor in chemistry.
What drew you to wanting to do dental medicine?
I started late in dental medicine. A lot of people, if you ask say that they got into [dentistry] pretty early on, maybe [from] a family member or a family friend. I didn't really start looking into dentistry until maybe my last year of my undergrad. So, I did a little shadowing. I really base it back to one of my dentists that I had growing up. He was an amazing person, a light in the community, a great pillar in the community. I look back, and I want to be that same [kind of] person, and be able to give light to not just people who come to my dental office, but people in the community as well.
What drew you to Boston University and the Oral Health Sciences program specifically?
It was kind of funny, too. I don't know what drew me to Boston. I love sports, I love food. I kind of wanted to be on the east coast and try something new.
I was looking at the master's programs on the website because I did apply to Boston University [Goldman School of Dental Medicine]. Unfortunately, I didn't get in the first cycle, but I did stumble upon OHS, and I clicked it. I was like, "What is this? What is this program?" I was reading it, and I was like, "Wow, this is such a great program." I actually attended one of [OHS Program Director Theresa Davies'] sessions for more information, and she was just such an amazing person. She was so energetic. She just loved it. I've just never met someone who wanted people to succeed more than I did, which was insane, too. So, I was like, "You know what, I want to do this program. If I want to pursue dentistry, this is the place I think I need to go."
How has dental school been so far? I heard you were recently elected president of your class.
It's been amazing. It's been a dream come true for sure. It has been busy, but I really enjoy that. I really enjoy the grind of studying and going to class. It's been amazing to me. I was elected the president of the D1 class.
The D1 class stays really connected with the OHS students. Currently, I am on the board of the DentMent program for OHS. What that program does is basically [provide] a mentorship for a lot of those students who are in the same position I was last year, too. It's been very rewarding. I've been able to tutor. I've been able to help students, give advice. I try to run mock interviews, while staying up with the D1 class. It's been amazing. I've been a part of so many great clubs in the dental school in just the first year. I'm a part of the [American Academy of Developmental Medicine and Dentistry], the [American Association of Public Health Dentistry], the Hispanic Student Dental Association, too.
I just found a great environment and great community to be a part of, too. I'm grateful for the opportunities I'm getting, and am thriving.
What are some of your longer-term goals in dental medicine? Is there a specific area of dental medicine that you're most interested in?
Right now, I'm keeping my options open. I'm not too entirely sure what I want to do. I have been looking at general dentistry. I think it's a great path, and I do want to get out there into the community right away. I have been talking to my family, my friends, and especially my girlfriend too. She's so supportive too and wants me to actually pursue a career in pediatric dentistry. You know, if I were to do a specialty, I think it would be pediatrics.
Do you feel that any of your identities have influenced your perspective as a student or future health care worker?
Definitely. I think the one thing that really influenced me a lot too was growing up in such a big family. I have five brothers and sister, and three nephews now. Working with kids has always been one of my dreams. Growing up, I ran a lot of basketball camps. I worked with kids, and that's what I love. It's helping the next generation come up. I personally played many sports growing up, too and had so many coaches and people who were so influential in my life.
To be given those opportunities through basketball as a first-generation student was something so great because my dad barely graduated high school and although my mom tried in college, it just never worked out.  I want to be there for the next generation and help them grow. Teach them to know that everything is possible if they dream big and they work hard enough. I think that is truly what has influenced me, is just my upbringing and the people around me. I want to pass that knowledge on to the next generation.
You mentioned earlier that one of your childhood dentists influenced your decision to pursue dental medicine. Are there other people in your life who have inspired you to pursue this career path?
Yeah, so my older brother, too. Unfortunately, he passed away a couple of years ago due to suicide. He didn't [go to college]; he went to the Marine Corps. He truly told, "If you're going to go do something, you have to go do it." He always talked about how proud he was of me, and how he knew I was going to do something great, too. He truly inspired me because he was the most selfless person. No matter what, he would drop anything to go and help. He would even drop everything just to have lunch with you to talk to you. You know, I aspire to be him one day, too, because of his selfless acts, his huge heart, and his courage in his life, too. He always just had so much courage. If there's one most influential person in my life, it's my older brother. 
What are some of your best memories from your time in OHS?
I always bring it back to the first day, to Orientation. It was definitely one of my favorite days. I [saw] Dr. Davies on Zoom, and now I got to go and give her a good fist bump – because we couldn't hug then. Just going back and being so happy. After undergraduate, I took a year off to pursue just work because COVID was happening. I didn't know really what to do, and everything was really shut down. I remember sitting there, in-person, and being like, "Wow! This is where I need to be. Thank God that I did this." I am just so grateful that I got to be able to come here. So that first day was amazing.
And all the events we organized, too. Unfortunately, I didn't get to go home for Thanksgiving. The flights are just too expensive. I remember having a potluck in the basement of the medical school building, and everybody bringing new things, and I got to make my grandma's famous green bean casserole.
I think that the people and the staff, the faculty and teachers, the professors, everybody in the OHS program, that's what made it so memorable. Everybody believes in each other, everybody boosts each other up, and everybody wanted the same goals for each other. I think that's what's so memorable about the OHS program.
Did you encounter any unexpected challenges along the way? How did you overcome those?
I think the biggest challenge was missing my family. I'm so family oriented, especially with five other siblings. I was so far away for so long. I wasn't able to go for holidays. Even when I did go back for Christmas, it wasn't for the longest period of time because we had to get straight back into the books. This is why you came into the program. You really want to do well to be able to show to the dental schools that you can actually do well there.
Do you have any advice for GMS students who are just starting out, who might be feeling how you were a year or two ago?
I would say, "go for it." I took the leap of faith coming all the way to Boston. I knew zero people in Boston. I had never been here before. Even when I drove up, I was so confused where I was for the first two or three months. I always had to use GPS to get around places.
Make every single second of GMS worth it, every single second count. You never know when you will encounter great opportunities. I was truly blessed to have all these opportunities, and it's just because I went for it. Have the courage to go out and pursue your dreams, no matter what. Take that leap of faith and make every single second count.
What are some things you like to do for fun around Boston?
I'm a huge sports guy. I love going to Boston Bruins games and the Celtics and the Red Sox whenever they come up too. I actually just went to my first New England Patriots game. I'm actually a huge Chicago Bears fan, so it was even better because they won. My favorite thing in Boston with so many great restaurants, is to check out a restaurant once in a while too. I love going to Little Italy and just find little spots where you can grab a cannoli.
Exploring too, I love walking around. One of my favorite places is probably the Boston Public Gardens, to be able to go and sit and watch the duck pond and the full duck boats run around. I think my favorite thing to do is in Boston is exploring because you can never go wrong exploring. You'll always find great things.
Is there anything else you'd like to add?
One thing I do want to mention is just, thank you always to [OHS Program Manager Christina Bowley] and Dr. Davies. They've been amazing in my life. I always tell Dr. Davies and Christina this too, like I owe them my life, so I'll do anything for them. They truly have changed my life and changed my family's life and given me hope. I think when I was in undergrad, coming out of undergrad and not knowing what I wanted to do in my life, I just really was inspired by both of them. So, I just want to thank them so much for all their hard work.
And also thank you to my family and my friends and my girlfriend, Olivia, just for all the great support and love they've given me. I think if I didn't have any of that support, I would never have made it to where I am today.