Equity, Vitality, and Inclusion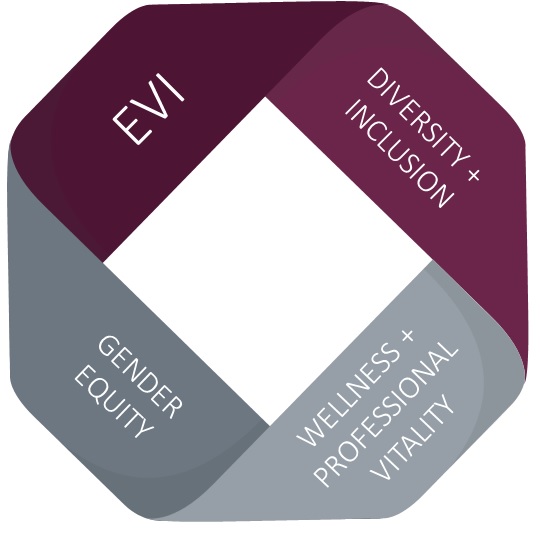 VISION  |  We seek to build and sustain an organizational culture that affirms and values diverse identities, shares power equitably, reflects the diversity of the community we serve, and fosters a healthy and supportive environment where we all can thrive.
MISSION  |  We provide strategic leadership for campus-wide gender equity, racial equity, and professional vitality pursuits. We develop holistic guidelines and practical tools and coordinate initiatives that promote structural change and enhance institutional alignment.
In order to create meaningful culture change, we:
• center experiences of underrepresented and structurally marginalized groups
• promote decision making that incorporates the voices of clinicians + staff
• analyze + interpret disaggregated data to drive actions toward equity and vitality
We are comprised of three faculty-led advisory councils (Diversity and Inclusion, Gender Equity, and Wellness and Professional Vitality) who engage faculty and key stakeholders in inclusive processes to implement effective strategies.
In the News
---
National Recognition
---
Strategic Partnerships
---
| | | |
| --- | --- | --- |
| Equity: The state in which differences in life outcomes are not predicted by one's race, sex and gender, and other dimensions of identity, with specific emphasis on populations bearing the burden of inequities (e.g., people of color, women, LGBTQIA+ people). Equity is both a process and an outcome. | Vitality: Professional vitality is a meaningful and productive work life, where people are able to reach their fullest professional potential. This means creating a workplace that invests in the emotional, physical, and professional wellbeing of its members, where all are supported so they can do their chosen work. | Inclusion: The fundamental and authentic integration of historically and currently excluded individuals and/or groups into positions, processes, activities, and decision and policy making in a way that shares power, values input and engenders belonging. |