Curriculum
The first year of study focuses primarily on coursework in general genetics and counseling skills. Clinical, laboratory, research, and advocacy experiences complement the didactic curriculum.  In addition, students select a Capstone Project topic and begin their research during the second semester.
Semester 1
GMS GC 601 – Professional Issues in Genetic Counseling (3 credits)
GMS GC 603 – Embryology, Teratology, and Prenatal Genetics (3 credits)
GMS GC 605 – Clinical Applications in Human Genetics (4 credits)
GMS GC 606 – Genetic Counseling Seminar (2 credits)
GMS MH 703 – Counseling Techniques and Helping Relationships (3 credits)
GMS GC 700 – Genetic Counseling Fieldwork I (2 credits)
Semester 2
GMS GC 600 – Genetic Diagnosis and Laboratory Methods (3 credits)
GMS GC 601 – Professional Issues in Genetic Counseling, cont.
GMS GC 602 – Clinical Genetics (3 credits)
GMS GC 607 – Genetic Counseling Seminar (continued)
GMS GC 604 – Cancer Genetics (3 credits)
Summer
GMS GC 702S – Genetic Counseling Fieldwork II (2 credits)
Second Year Curriculum
The second year of study focuses on clinical experience and research project development. In addition, the coursework covers more advanced topics in medical genetics, professional issues, and genetic counseling sub-specialties. The number of required credits is decreased during the second year, so as to allow students adequate time to complete their research projects, acquire a robust array of fieldwork experiences, and begin interviews for job placement.
Semester 3
GMS GC 712 – Metabolic Genetics/Advanced Risk Assessment (3 credits)
GMS GC 606 – Genetic Counseling Seminar (continued)
GMS GC 703 – Genetic Counseling Fieldwork III (2 credits)
GMS GC 711 – Advanced Genetic Counseling (4 credits)
Semester 4
GMS GC 607 – Genetic Counseling Seminar (continued)
GMS GC 704 – Genetic Counseling Fieldwork IV (2 credits)
GMS GC 711 – Advanced Genetic Counseling, cont.
GMS GC 714 – Advanced Topics in Medical Genetics (3 credits)
GMS GC 716 – Social, Cultural and Ethical Issues in Genetics (3 credits)
**In addition, each student will take: 1) One BU graduate-level course in research design, research methodology, and/or statistical analysis AND 2) One BU graduate level course in counseling, public health, and/or education.  Together, these two courses should be ≥ 5 credits, for a minimum of 48 total credits.  Students are also welcome to take elective courses throughout BUMC that align with their personal interests and professional goals.
Fieldwork
The clinical and non-clinical fieldwork experience provide students with opportunities to develop their counseling skills in a broad range of settings.  These first-hand experiences familiarize students with individuals and families affected by a variety of genetic disorders.
Students have the opportunity to participate in fieldwork at Boston University/Boston Medical Center (Prenatal Genetics, Pediatric Genetics, Cancer Genetics, Breast Health Program, Huntington Disease Center, Autism Research Center of Excellence, Developmental and Behavioral Pediatrics clinics, Maternal Fetal Medicine clinic, Amyloid Treatment Program, and Sickle Cell Clinic), as well as at most all of the area hospitals throughout Boston and greater Boston. These experiences cover a diversity of clinical experiences at some of the best ranked hospitals in the nation which are on the cutting edge of medical care, genomics, and research. Fieldwork experiences include:
Prenatal Genetic
Pediatric Genetics
General Genetics
Cancer Genetics
Metabolic genetics
Neurogenetics Clinic; Developmental Neurogenetics
Specialty clinics: Down syndrome clinic; Otolaryngology; Mitochondrial disorders clinic; Comprehensive Brain Malformations Program, Congenital Myopathies Clinic, and others
Non-clinical field work including: Research Programs in Genomics; Clinical Research; Genetics Laboratories
Year One Fieldwork
During the first year, students observe in a genetic counseling (or related) clinic for one half-day or full day per week.  The observations include several core clinics at BMC, including prenatal, pediatric,  and cancer genetics, as well as several specialty clinics within and outside of BMC.  During the second semester, students continue to observe in the specialty clinics, but they begin active participation in the core genetics clinics at BMC.  Student participation in counseling sessions includes case preparation, contracting with patients, obtaining prenatal, medical and family history information, and explaining basic genetic concepts to patients.  It is expected that each student will take the lead counseling role in at least two full cases (for a common referral reason) before the end of the first year.  Students are also involved in reviewing patient charts and online medical records, collecting patient literature and testing information, and writing follow-up letters.
Summer Fieldwork
During the intervening summer, each student spends six weeks full-time (or 30 days total) at an external rotation site.  Students are encouraged to brainstorm early about potential cities and/or clinics of interest.  To date, we have arranged clinical rotations in a wide variety of sub-specialties and cities, including San Francisco, Miami, New York, Seattle, Portland (ME), Cleveland, Philadelphia, Houston, Los Angeles, Portland (OR), Washington D.C., San Diego, Anchorage, and Madrid.
Year Two Fieldwork
During the second year, each student completes 4 seven-week rotations at sites within Boston Medical Center and throughout New England.  Each student will intern at a prenatal, pediatric/general, cancer, and non-clinical site.  The non-clinical sites include opportunities in labs, research, industry, public health, and advocacy.  Placements are assigned based on the student's interest and site availability.  Each rotation is approximately two full-days per week, or 14 days total.  Students typically require access to a car for 1-2 of these rotations.  For students who prefer not to own or borrow a car, we encourage them to inquire about Zipcar, a popular car sharing service here in Boston (www.zipcar.com) or take the MBTA commuter rail (when applicable).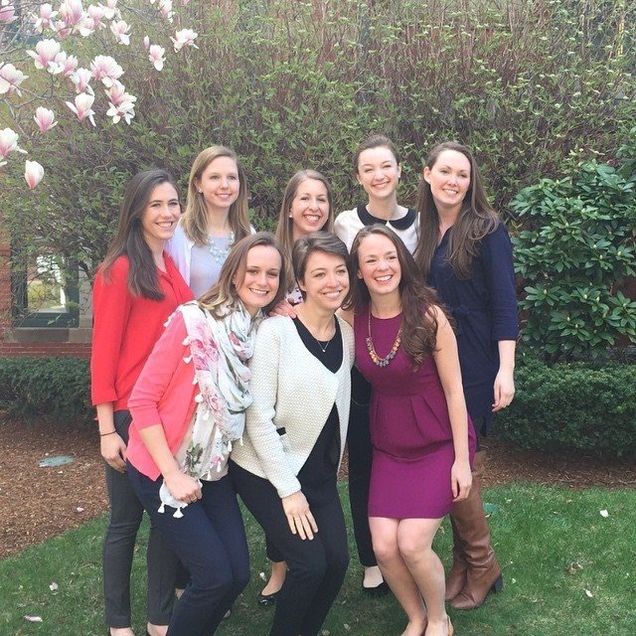 Capstone Project
Each student completes their graduate training with the presentation of a Capstone Project.  The purpose of the Capstone Project is to equip students with the knowledge and skills required to contribute to the field of genetic counseling.  This individualized scholarly work may consist of a detailed case study and literature review, a clinical or laboratory research project, or a clinical application (such as developing clinical practice tools or professional educational programs or creating informational material to benefit individuals and families with genetic disorders).  Students should pick a project that will pique their interests and passions, as well as contribute to the knowledge and/or practice of genetic counseling.
During the spring semester of their first year, each student selects a topic for study that is approved by the Executive Capstone Committee.  Students submit their proposals for IRB approval during the intervening summer and then the projects are executed during the second year of study.  Genetic Counseling Research Seminars are provided throughout GMS GC601 Professional Issues in Genetic Counseling and GMS GC711 Advanced Genetic Counseling.  Each Capstone Project is completed under the guidance of a Capstone Project Committee, which consists of a Project Advisor and a Project Reader, both of whom may be chosen from the primary or adjunct faculty.  Each project culminates in a formal paper and an oral presentation to the department and invited guests.  The paper should be of publishable quality, and each student is expected to present and/or publish their findings.