BMFS Masters Program
Designed to train individuals in forensic sciences with a complementary background in biomedical disciplines related to crime scene investigation and evidence analysis.
Boston Based Program
This program is only the second forensic sciences graduate program in New England and the only graduate program in Massachusetts. This provides a unique opportunity for individuals to pursue graduate level education in forensic science in a city that is home to more than sixty colleges and universities.
Located At a Major Medical Center
This unique program is one of the only forensic science programs in the country that is based at a major medical center, a setting that will provide students and faculty access to extensive resources and facilities. Boston University Medical Center is home to a Clinical Research Center, Center of Human Genetics, the Mallory Institute of Pathology, the Maxwell Finland Laboratory for Infectious Diseases, and the Sloan Epidemiology Unit. The campus contains state of the art lecture halls, seminar rooms, sophisticated computerized teaching labs and Boston's largest biomedical research park. In addition, the campus is in close proximity to the Office of Chief Medical Examiner for Massachusetts and the Boston Police Department Crime Laboratory.
Emphasis on Biomedical Science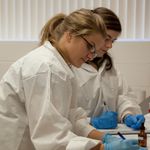 As biomedical specialties continue to provide vital techniques and practices to forensic investigation, there is now a need for broadly trained forensic professionals across the nation. Individuals trained in the basics of forensic science with a strong biomedical background will provide a crucial level of expertise to forensic investigations. The BMFS program curriculum is designed to provide a broad-based learning experience in multiple forensic science disciplines with an emphasis on those areas involving human biological evidence or aspects related to medicine such as toxicology, pathology, DNA analysis, death investigation and bloodstain pattern analysis.  Graduates will be prepared to pursue a variety of career options in crime laboratories, medical examiner offices, law enforcement agencies and hospital or biotechnology laboratories.