By tdavies
We are pleased to announce that the renovation of our office space  is complete!    Please stop by and visit us in L317 .

| | |
| --- | --- |
| | |
| Reception Area | Program Icons Line the Hall |
| | |
| Russek Day Posters and Icons | Renovated Office |
| | |
Please join the Division of Graduate Medical Science at the upcoming Virtual Grad Fair.  Learn about our 26 different MA, MS, PhD and MD/PhD Degrees online while talking to representatives from many of our programs.  Please see details below.

Virtual Biomed Grad School Fair : October 25, 2012
Biomedical Sciences Graduate students–Decide where you want to go to school!
Unique opportunity to meet Admission Representatives from more than 21 renowned Biomed grad schools
Registered Schools Listed Here: http://biomed.careereco.net/virtual-fair/chat-with-organizations/
Connect real-time with schools without leaving your home or office.  Attend the fair online from anywhere!
Register here: http://biomed.careereco.net/students-alumni/virtual-fair-registration/
See BU's Graduate Medical Sciences Profile page here: http://biomed.careereco.net/2012/08/19/bu-medical-sciences/
mode=profile&eid=06418d29d8f8f487a8228722ff0065d9&regid=20ff7d5230a1c729b93198f55fe7eb91&pmode=overview&cf=biomed2012&s=&ss=
What students have said about prior events:
"The Virtual Fair was extremely convenient and useful. I was able to communicate with multiple schools of my interest and ask questions. This Virtual Fair also saved me time and traveling fees if I were to visit the schools' campuses instead."
"I thought the virtual fair was extremely helpful. Chatting with the school representatives helped give me some direction for what I'd like to pursue, as well as some helpful tips/expectations for the application process."
"I feel that this was great concept…It gave me an opportunity to ask questions that may not have been answered on their website and to see other potential students' questions that I may not have thought to ask."
"It was perfect. I loved the fact that school representatives gave out their e-mail addresses and encouraged us to contact them."
"The whole system was very user friendly."
Begin or refine your grad school search at the Biomed Virtual Grad School Fair on September 12th.
Questions: biomed@careereco.com or 770-980-0088
The Boston University School of Medicine, Division of Graduate Medical Sciences Office of Postdoctoral Affairs cordially invites BUMC postdocs, their PI's and Administrative staff who support postdocs to attend the National Postdoc Appreciation Week celebration activities (Sept. 17 – 21) which include "Careers in Communicating Science: Journals, Blogs, Netcasts and Tweets" Talk on Monday, Ice Cream Social on Tuesday, and movie, Losing Control on Thursday.
"Careers in Communicating Science: Journals, Blogs, Netcasts and Tweets" Talk by
Vincent Raceniello and Alan Dove, will take place on Monday, September 17, from
3:00 – 4:30 p.m. in room L-201/203 BU School of Medicine, 72 East Concord Street.
Refreshments will be served. RSVP by email to Yolanta.
The Ice Cream Social will take place at the School of Medicine on the Talbot Green on Tuesday, September 18, 2012, from 1:00 – 3:20 p.m.  In case of bad weather, the Ice Cream Social will be held in the School of Medicine, Hiebert Lounge on the 14th floor. In addition to ice cream, there will be a raffle and giveaways. RSVP online at http://www.bumc.bu.edu/gms/gateway/professionaldevelopmentopdpa/post\-doc/professional-development/upcoming-events/rsvp-ice-cream-social/
The movie, Losing Control will take place at the Keefer Auditorium, 72 East Concord Street on Thursday, September 20, 2012 from 5:30 – 7:15 p.m., 7:15 – 7:50 p.m. Panel Discussion with the movie, Director, Valerie Weiss, and Leslie Zebrowitz, and Barb Cohen whose research and characters were based on and featured in the film.  You may RSVP online at: http://www.bumc.bu.edu/gms/gateway/professionaldevelopmentopdpa/post\-doc/professional-development/upcoming-events/movie-losing-control/
These three exciting events were created to celebrate the contributions and achievements of BUMC postdocs and provide the opportunity to have fun and to meet other members of the community.
We all look forward seeing you in September for the National Postdoc Appreciation Week.
Now available Boston Symphony Orchestra College Cards. Stop by the GMS Office,  L315 (Evans 8 while under renovation ),  to pick one up.  Cards are limited to one per person, first come, first serve.
Register your College Card on the BSO's website to find out what performances are available, as well as to sign up to receive e-mail alerts when new performances are added.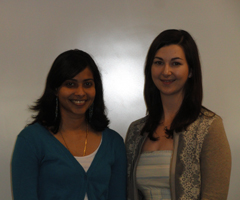 Student Spotlight
Balancing a job and a earning a Master's degree can be a daunting task.  Madeline Brisotti and Tanaya Kunnenkeri, both in the Mental Health Counseling and Behavioral Medicine program, make it look easy.  Working in the GMS Division Office a little every week, they find numerous ways to help their graduate and Boston community.
Why did you decide to pursue a degree in Mental Health Counseling?
Tanaya: I started my undergraduate education at the University of Toronto in Biomedical Engineering.  By my third year, I was more interested in a human-oriented field rather than working with machines.  After switching my concentration to Life Sciences, I ended up earning a Psychology degree.  This eventually led me to pursue an internship in a day treatment center for an orphanage in Bolivia.
Maddy: I received my undergraduate education from BU, and after I graduated, I worked for a behavioral neuroscience lab at Boston University.  After a couple of years in this position, I realized that I really wanted to work with people, rather than animal subjects in a laboratory..  As I was working on projects focused on drug research, I could see how my experience could be translated to substance abuse counseling.
What brought you to BU?
Maddy: I chose BU for my undergraduate education, and I loved the community.  When a job became available after I earned my Bachelor's, I jumped on the opportunity to stay here.  After deciding to go back to school, I did consider other programs, but BU had the exact program that I wanted.  BU has given a lot to me because I have been able to stay in the University community, both on the Charles River Campus and the Medical Campus.
Tanaya: After completing my undergraduate studies in Psychology, it soon became very clear to me that I would need to further my degree in order to move forward in my profession.  I applied to the Mental Health Counseling and Behavioral Medicine program because this program included the behavioral medicine component, and it provided ample opportunity to get hands-on clinical experience.  Another factor that led me to Boston was that I was dating my now husband who is a Bostonian.
Can you tell me a little about the program?
Maddy: The Mental Health Counseling and Behavioral Medicine is a two-year program that incorporates the new direction mental health is going.  What I like most about the program is the small class size.  One of my favorite parts about the program has been getting to know my peers and faculty.  What is particularly unique about BU's program is that it is situated on a medical campus.
Tanaya: The program is completely different from my undergraduate experience.  University of Toronto has 60,000 students, and I was unable to have valuable interactions with all my professors.  Here at BUSM, all the faculty in my program are very involved in our growth as students and budding clinicians.  BUSM offers an intimate educational environment, where your peers have passions similar to yours.  This passion among my classmates and teachers is contagious, and is really motivating.
What is your second year internship like?
Tanaya: My program provides you with the opportunity to complete a full year internship in your second year along with a first-year practicum in the Spring or Summer semester.  Currently, I am placed at Boston Medical Center at the Child and Adolescent Psychiatry Department.  I have always been interested in working with children, and working at BMC has given me more of a clinical experience than my time interning at the orphanage in Bolivia.
Maddy: I am doing my internship at South Boston Collaborative Center, which is a substance abuse outpatient center sponsored by the Boston Public Health Commission.  I primarily work with adults at the clinic, but I do have the opportunity to work in a South Boston high school once a week to work with adolescents as well.  Overall, the experience has been incredibly rewarding, though some days are extremely challenging.  In addition to my internship, I am also taking a full course load.
What do you hope to do after you earn your degree?
Maddy: I like working with adolescents more than I thought I would.  Initially, I had thought about working with adults around substance abuse, but now I think it would be nice to work with adolescents as well, either from a home based or school based setting.  It would be really great if I could find a site that offers both.
Tanaya: Though I love working with children, I am open to gaining more experience with the adult population. After graduation I am looking to pursue a career working with children and families in an outpatient setting.
You both are student workers in the GMS Division office.  What is that like?
Tanaya: The experience has been great.  I have had the opportunity to work on various administrative projects, which has been a nice break from my courses and internship.  Everyone in the office values the student workers, and the work we do.  They try very hard to make us feel like part of the office, and part of the team, even though we only work a few hours a week.  They are always available and open for questions.
Maddy: After I started the program, I was still working in the neuroscience lab.  By the second semester of my first year, I was ready for a change.  My advisor suggested that I work in the Division office.  The GMS office gives me tasks that required organization and structure, and I enjoy that kind of work.  These are qualities that are not always a part of counseling.  I have helped with Admissions, and also helped develop a database for all GMS alumni.
Are you involved in other activities on campus?
Tanaya: Last summer I assisted as a peer mentor for the summer research program offered by GMS.  It was a great experience, because even though all the summer students were researching biomedical sciences, I had the opportunity to learn about their projects and lab experiences.  I also enjoyed the process of watching them grow and mature over the course of eight weeks.
Maddy: Classes, internship, and work take up most of my time.
What do you enjoy doing outside the walls of BU?
Maddy: I enjoy traveling home to Long Island and seeing my family.  It is a great place to recharge my battery and just enjoy being out of the city.  I don't really have much free time right now, though I enjoy imagining what I can do if I ever do have some!  Right now, I am focused mostly on completing my resume and applying to jobs.
Tanaya: I recently got married, and have had the privilege of experiencing the joys and new responsibilities that come as a newlywed.  My husband has been extremely supportive of all my endeavors.  I also really like yoga and dance, though these are the two things I have sacrificed from my schedule for the time being.  I really hope to incorporate yoga into the future clinical work that I do, and I would love to take up dance again when I have the time.  I am also involved with the youth at my church.
What advice can you give other GMS students?
Tanaya: I would highly recommend using the support system in the GMS Office, and taking an initiative to get to know the faculty members in your program.  If I could do it all over again, I would join a student organization, or participate in dance as an outlet during my time as a student.  Using the CRC campus, including the FitRec is a great idea.
Maddy: I would encourage students to get to know the faculty members in their program beyond their advisor.  Take classes outside of the program.  I took a class at the School of Social Work and gained a whole new perspective.  It is good to see all the other courses that BU has to offer.  Counseling and Social Work are   female dominated careers.  I would encourage men to apply to the program.  They would definitely have an edge when it comes time to find a job.
Abstracts are currently being accepted for the 18th annual Russek Student Achievement day.    Information and abstract submission details can be found here.
April 16th is Patriots day and GMS classes are suspended.
Are you looking for a new roommate or an apartment during the upcoming year?  Housing Resources will be hosting a spring Housing Fair  on Friday, June 8, 2012 from 11a.m. – 1p.m. in the Hiebert Lounge to help students find roommates, apartments and/or new tenants.
Local area landlords, property owners, realty organizations and BU offices will be on hand to talk and guide you through the housing search process.  The fair traditionally attracts a substantial portion of the incoming Graduate Medical Sciences class, as well as a few BMC residents and interns.  In the past, the Hosuing Fair has served as a good way for students to meet a number of potential rommates and landlords during a short period of time.
The fair is free and open to the BUMC community.  Light brunch refreshments will also be served.  Please feel free to contact, Mrs. Barbara Attianese, Housing Resources at, ohr@bu.edu  if you may have any questions about the Housing Fair.
Hope to see you there.
Pre-Registration for Summer I and II begins March 1st.    Summer I classes begin May 22  and run to June 29th and Summer II classes begins July 2 and run through August 10, 2012.  For more information and registration please see the Summer II Registration page.