Curriculum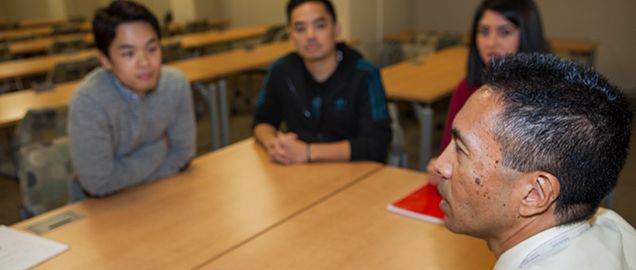 The Health Sciences Education Program offers both a certificate and masters degree. Both program options included a set of core classes (7  for MS and 5 for Certificate) and electives. The electives and individualized practicum completed under a faculty mentor allow students to gain experience in their chosen discipline.
Students have the option of taking courses part-time or full-time. Starting September 2021, all required courses will be offered on-line and in-person to allow flexibility in your unique student experience. All courses are held later in the day/evening to accommodate variable schedules of clinicians.
Master's Degree Program
Students pursuing the Masters  must complete 32 credits:
Certificate Program
Students pursuing the Certificate must complete 16 credits:
complete required courses 1-5 and choose between courses 6 or 7 to earn 16 credits
Required Courses:
1. SED CT 721: Analysis and Design of Curriculum 4 credits
2. SED CT 750: Principles for Curriculum Design and Teaching 4 credits
3. GMS HS 701: Principles of Health Professions Education I 2 credits
4. GMS HS 702: Principles of Health Professions Education II 2 credits
5. GMS HS 704: Fundamentals of Learning and Teaching Modalities In Health Professions Education  2 credits
6. GMS HS 706: Intro to Research Methods in Health Professions Education 2 credits
7. GMS HS 707: Evaluation and Assessment for Health Professions Educators 2 credits
8.  GMS HS 800: Practicum Seminar 2 credits
9. GMS HS 801/802: Practicum 4 credits
Learn more about the required courses.
Elective Courses:
Students can choose from dozens of course options offered through the School of Medicine, School of Dental Medicine, School of Public Health and the School of Education.  Learn more about the elective courses.
Core Curriculum: 
Required Courses:
Masters:
Certificate:
SED CT 721: Analysis and Design of Curriculum (4cr)
Required
Required
SED CT 750: Basic Principles for Curriculum Design and Teaching  (4cr)
Required
Required
GMS HS 701: Principles of Health Professions Education 1 (2cr)
Required
Required
GMS HS 702: Principles of Health Professions Education 2 (2cr)
Required
Required
GMS HS 704: Fundamentals of Learning and Teaching Modalities in Health Professions (2cr) 
Required
Required
GMS HS 706: Introduction to Research Methods in Health Professions Education (2cr)
Required
Required**
GMS HS 707: Evaluation & Assessment for Health Professions Educators (2cr)
Required
Required**
GMS HS 800: Practicum Seminar (2cr) *
Required
GMS HS 801/802: Practicum (4cr) 
Required
Electives (8cr)
Required
*Couse runs the entire academic year

** GMS 706 or GMS HS 707 are required for the certificate

Required