Fourteen Students Join Summer 2023 GMS STaRS Program Cohort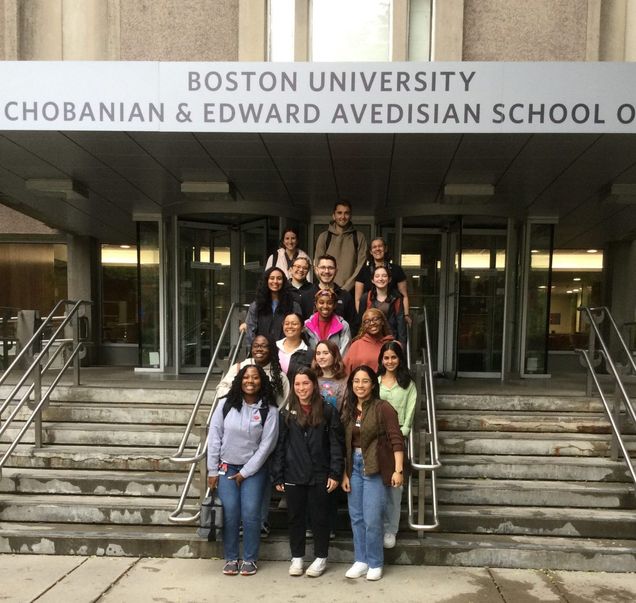 Earlier in June, 14 students arrived to campus to begin their work in the 2023 Summer Training as Research Scholars (STaRS) Program cohort through Graduate Medical Sciences.
The 2023 cohort includes six second-year undergraduates, four third-year undergraduates, two fourth-year undergraduates and two first-year medical students from Boston University Chobanian & Avedisian School of Medicine.
This year's scholars are:
| | |
| --- | --- |
| Mikaili Senwah | Spelman College |
| Matthew Byrne | Georgia Institute of Technology |
| Shira Freilich | Vassar College |
| Chioma Okolo | Howard University |
| Jacqueline Alford | McGill University |
| Malia Cole | University of Massachusetts Amherst |
| Leila Rivera Rosario | Universidad de Puerto Rico at Arecibo |
| Valerie Reyes Ortiz | University of Puerto Rico at Cayey |
| Jessica Bacelar | Brandeis University |
| Arielle Gilliam | Curry College |
| Diana Rodriguez | Bates College |
| Stevia Nanfack Tsakem | The College of New Jersey |
| Elizabeth Puyo | Boston University Chobanian & Avedisian SOM |
| Jonathan Camino | Boston University Chobanian & Avedisian SOM |
"Please join me in welcoming the 2023 STaRS cohort to GMS and BU," said STaRS Director Isabel Dominguez, PhD. "The STaRS scholars are very excited to be here performing research and learning how to get ready for graduate school. I am eager to watch them grow as researchers and learners through the summer."
Founded in 2010, STaRS is a dynamic summer outreach program designed to promote more equitable access to graduate education for students historically underrepresented in science and medicine.
STaRS provides scholars with the opportunity to participate in research and enhances the skills required for successful entrance and completion of a graduate program or an MD/PhD program in the biomedical sciences.
Throughout the summer, each scholar will work alongside a Graduate Medical Sciences faculty mentor and participate in a biomedical sciences research project aligned with the scholars' interests. Over the course of 10 weeks, the scholars will execute their projects and participate in seminars on research competency, career development, graduate school applications and scientific communication.
The scholars' summer will culminate at the GMS Summer Research Symposium, where they will present their independent research projects to Boston University Medical Campus faculty, staff and students. This year's Symposium will take place during the week of August 7. We will update with more specific information as it becomes available.
Welcome to this summer's STaRS cohort! Learn more about the STaRS Program here.
If any GMS students would like to help advise the scholars through the summer, please contact Dr. Dominguez at starsadm@bu.edu.