MS Student Spotlight: Khoa Duong (HPE '23)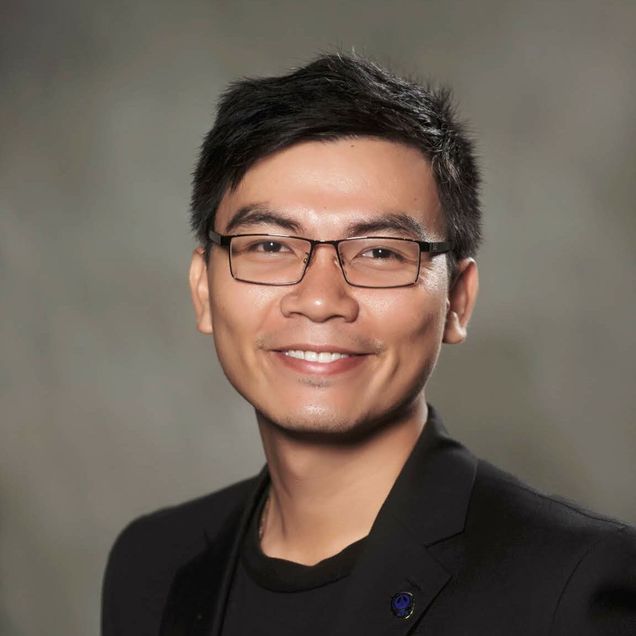 Khoa Duong is a student in the Masters in Health Professions Education program at Graduate Medical Sciences. A pulmonary doctor and medical teacher from Vietnam, Duong was awarded a Fulbright Scholarship to pursue a master's degree in the United States. Khoa attended medical school at the University of Medicine and Pharmacy in Ho Chi Minh City, Vietnam, and received a master's degree in public health from the Universite Paris Sud. Read more about Khoa below!
---
Tell me about your journey to Boston. What brought you to the area?
My name is Khoa Duong. I am a pulmonary doctor and medical teacher from Vietnam. I work at the University of Medicine and Pharmacy at Ho Chi Minh City.  Becoming a medical teacher, I grew a passion for teaching and sharing. I won the Fulbright Scholarship to study a master's degree in the US. This is what has brought me to Boston University, where a very good Master in Health Professions Education program is offered. Between other options, I chose Boston University for its academic performance and also for Boston, the city itself.
Tell me about your educational path.
I went to medical school at the University of Medicine and Pharmacy at Ho Chi Minh City. In Vietnam, we go straight from high school to medical school, and it takes six years to become a doctor. I got my Master in Public Health at Universite Paris Sud with a scholarship from the Association of Francophone Universities. I am proud that I speak French!  I returned to Vietnam and finished my residency in internal medicine and then became a medical teacher at my home university. I later practiced in the field of pulmonary medicine.
Why do you want to work in Health Professions Education?
I love being a doctor. It is such a rewarding profession, that with care, knowledge and due consideration, we can offer patients so much and receive so much in return. As I practice more as both doctor and medical teacher, I recognize that much can be improved in medical education in Vietnam. One of my patients was an older lady with advanced pulmonary fibrosis. She suffered much from shortness of breath. Holding her hand, I consoled her and acted like there was nothing more I could do. I knew at that time that morphine can relieve her breathlessness, but I did not give it to her as it was not a popular practice due to opioid-phobia. I learned that doctors could do more and as a medical teacher, I hope that I could empower my students to do more than just what was taught to better serve their patients. I stepped more into medical education.
What brought you to the HPE program at GMS specifically?
The program is very flexible and offers both full-time and part-time, in person and distance. The Fulbright scholarship requires me to enroll in a full-time, in-person program, and the program at BU could meet everybody's need. The program is also housed in the [Chobanian & Avedisian] School of Medicine, which makes me feel more at home. BU has a good name, which definitely make me very happy to be here.
And then the city of Boston! This city offers a lot: the diversity, the cultural activities, the history.
What does your practicum focus on? 
The same year before moving to the US and beginning the master's program, I witnessed a very sad story of a young gay man whose health outcome was dire partly due to the incompetence of untrained doctors. He died at the age of 25. So, I decided to focus my practicum on integrating LGBTQIA+ health into the medical curriculum of my university. To my knowledge, it may be one of the first ones integrated into the official curriculum in Vietnam. I hope that it could be sustainable. This project aligns with my vision of synthesizing multiple competences including clinical medicine, education, leadership and social advocacy together.
What are your longer-term goals in this field?
My interest in this field of medical education is to promote critical thinking and sense of agency in health professionals through education. This is closely related with leadership and health advocacy competency. This is a very exciting time for medical education in Vietnam, with much innovation going on and the more prominence of competence-based medical education framework.
I hope to become a leader in the field and build more collaboration networks so that we all can make more changes and make them more sustainable. My philosophy is you often do not need an enormous change; meaningful change one at a time is more impactful.
Is there anyone in your life who inspired your decision to pursue this career field?
I want to thank my mother for giving me the freedom to draw my own path in life with full creativity. She just wants me to focus on kindness. At BU, I have met so many professors that share the same trait: a sense of justice and equity. [HPE Program Director Dr. Jeff Markuns] and other professors have those qualities of kindness, service and justice. They also have the ability to see through a system-based lens and go upstream to understand the underlying mechanism of the health and social phenomena. This understanding foster true partnership and empower the patients and the community you are serving.
What are some of your best memories from your time at BU in this program?
Dr. Markuns has written me three letters of support to help me obtain opportunities to advance my formation and my practicum! [Assistant Dean of Master's Programs] Dr. Theresa Davies at GMS always responds quickly to my emails and offers help immediately.
Did you face any unexpected challenges along the way?
I am lucky that I did not have much of a language barrier. However, a new learning style (more engaging, requiring more interaction and preparation) was overwhelming at first. Besides, I also learned that self-care, especially looking after your mental health, is very important. Ask for help when you need it.
I learned to ask for help. Help could come from various sources. One thing about GMS is that help is available through the structure and the people you connect with. Compared to where I come from, I can see that barriers to help are lower here.
Is there any advice you'd give to GMS students starting out on their master's degree or PhD journeys?
Start slowly and talk about your ideas and plans with your advisors, professors and your classmates. They can give advice and clarify your own thoughts. Go slow and do not overburden yourself.
What do you like to do for fun in Boston?
I go to art museums (MFA, Isabella, ICA), concerts (Boston Symphony Orchestra, New England Conservatory, BU College of Fine Arts) and theaters (Huntington, Boston Ballet). I am more in love with Boston now for its cultural richness and diversity. As a BU student, you can go to many of those places for free or with very cheap tickets. I also bike throughout Boston and take commuter rail to travel to greater Boston on the weekend.