STaRS and UROP Scholars Present at GMS Summer Research Symposium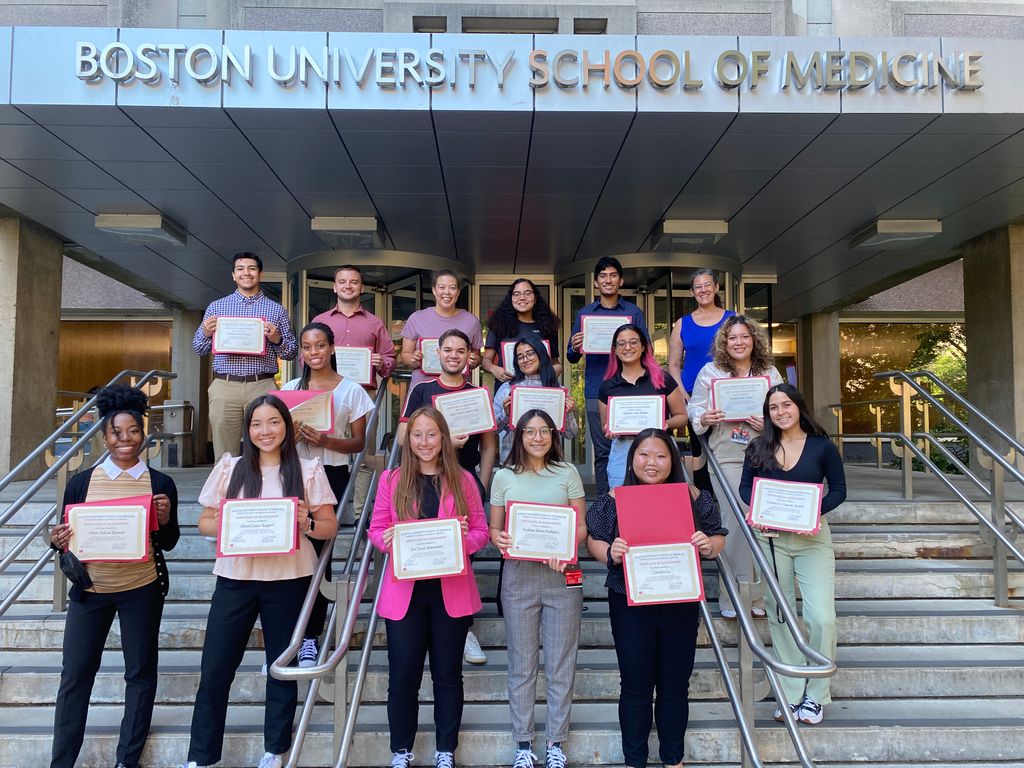 This year's Summer Training as Research Scholars (STaRS) cohort culminated their 10-week onsite internships with the GMS Summer Research Symposium held on August 11, 2022.
Hosted in Hiebert Lounge, the GMS Summer Research Symposium gave the STaRS scholars an opportunity to present their independent research projects to audiences of GMS faculty, BUSM faculty, staff and students. The symposium was open to all summer undergraduate students on campus and it was also attended by three summer Undergraduate Research Opportunity Program (UROP) scholars.
The 2022 scholars are:
Arjun Kumar Batra

Yariann Del Mar Camacho Rosario

Carlos Noel Centeno Velez

Coralys Ivette Cuevas Hornedo

Sophia Karise Ellis

Eli River Engledow

Nusrat Islam

Alexis Kidiani Kiyanda

Christine Le

Zoe Nicole Matacchiera

Alejandra Sofia Medina

Nubaira Zaheen Milki

Karlianie Rivera Rodriguez

Muriel Louise Ruppert

Eduardo David Salazar

Emily Katherine Stein

Carolyn Wilson
The cohort included six second-year undergraduates, seven third-year undergraduates, three fourth-year undergraduates and one Boston University medical student. The scholars come from colleges and universities across nine states and Puerto Rico.
The 2022 UROP scholars presenting at the GMS Summer Research Symposium were:
| | | |
| --- | --- | --- |
| Sanjana Prudhvi | Lydia Bischoff | Eric Ibarra |
The STaRS program was founded in 2010 to promote equitable access to graduate research and education for students historically underrepresented in science and medicine. Each summer, STaRS cohorts participate in faculty-mentored research informed by the scholars' personal research interests.
Over the course of 10 weeks, the scholars execute independent projects, participate in seminars on career development, research competencies and graduate school applications, and receive training on critical scientific communication skills.
Ultimately, the program aims to enhance cohort members' skillsets for eventual application and entry to graduate or MD/PhD programs in biomedical sciences. Each scholar received a certificate recognizing their superb academic research achievements.
This year, the following faculty members served as mentors for the STaRS scholars:
Karin Schon, PhD

Joseph P. Mizgerd ScD

Francesca Seta, PhD

Sarah Mazilli, PhD

Weining Lu, MD (2 scholars)

Rafael Romero, MD

Matthew Layne, PhD

Chris Heaphy, PhD

Isabel Dominguez, PhD

Jessica Levi, MD

Gareth Morgan, PhD

Hui Feng, MD/PhD

Joseph Zaia, PhD

Manveen K. Sethi, PhD

JeanPierre Roussarie, PhD

Jeffrey Siracuse, MD

Esther Bullit, PhD
"The 2022 cohort has taken every opportunity to enhance their research, communication and leadership skills," said STaRS Director Isabel Dominguez, PhD. "It has been a pleasure and a privilege to see the scholars grow significantly and to be empowered to follow a research career path."
Congratulations to this year's STaRS scholars for a summer of successful research and thank you to all participating GMS faculty mentors! Check out a slideshow from the Research Symposium below, and learn more about the program and previous research here.
If you're interested in participating in the STaRS program or advising the next cohort of STaRS scholars, please contact Dr. Dominguez at starsdir@bu.edu.