GMS Faculty Spotlight: Dan Tzizik, PA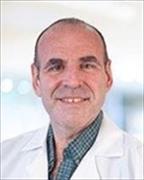 Dan Tzizik is the associate director of didactic education for the Physician Assistant Program.
He has been a member of the New Hampshire National Guard for over two decades and joined the BU PA Program as a faculty member in 2020. Tzizik is also a faculty mentor for the GMS Community Catalyst Center gMAV affinity group.
We spoke to Tzizik about his time in the National Guard, his role at BU, and his recent Innovative Readiness Training Mission to Oklahoma with the NH National Guard.
Are you from the Boston area?
I actually grew up in a town south of Boston called Norfolk. So, originally [from the Boston area], and then sort of went away for a long time, and I came back.
What does your educational and career journey look like? What brought you back?
That's a little bit of a story. Hang in there with me. I'll try to condense it as much as possible.
Straight out of high school, I went into the Army and spent three years on active duty out at Fort Lewis, Washington. So, I moved all the way across the country, and then after I got out of the Army realized that my high school diploma was a little aged.
So, I went to a community college out there and boned up on basics, and then finished my undergrad. I actually came back and finished my undergrad in biology at Worcester [Polytechnic Institute].
And then, I was a researcher at Beth Israel with a physician by the name of Peter Weller. Then, I went to PA school in Iowa, which perennially is either number one or number two in the country. So, when I was offered the place in the class, I jumped at it. It's interesting that Iowa is the only other PA program, besides BU, that incorporates the PA students with the second-year medical students. That's part of the reason why I went.
I live now in New Hampshire. What brought me to New Hampshire was right out of PA school, was my experience working in emergency medicine at the University of Iowa Hospitals and Clinics for close to a year after PA school, and then I got a job offer at the emergency room in Concord, Hew Hampshire and the rest is history.
I also saw on your faculty profile that you have an MPH from [Johns Hopkins Bloomberg School of Public Health].
I do. I just I just finished that a year and change ago. It was a such a great experience, walking around Bloomberg and seeing Nobel laureates just sort of walk by. It was quite the experience. Public health is a passion of mine.
Did you always know you wanted to end up in a health care-related role?
No. Absolutely not. Early on, to be honest with you, I wanted to be a biochemistry PhD and sort of go into bench research, which I did at Beth Israel as a research assistant. But a lot of the research that my boss, my P.I., did was clinical. So, I got exposed to that, and I thought, "Hey, you know what? It's kind of cool seeing people and doing research like this, as opposed to sitting in a lonely lab." One thing sort of led to another, and that's how I got into it. Once I got into it, there was a strong affinity.
What does your work in the New Hampshire Army National Guard Medical Detachment entail?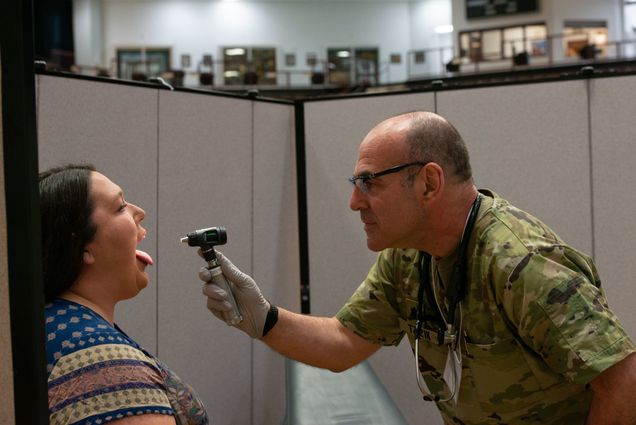 In the detachment itself, I actually just relinquished command of that unit. I was the first physician assistant commander in the state ever. So, I was the commander of that unit for about two and a half years, and so the role of that, to be honest with you, is everything. It's from planning to operations to coordination to briefing generals, etc.
As a physician assistant practicing as a physician assistant, our main goal is to provide medical readiness, in other words, make sure that the rest of the state is medically qualified and handle certain case management and medical concerns.
That's when we're in garrison. When we're in the field or when we do annual training, then we provide medical care, or with this most recent mission, we provide medical care to civilians. It's a very varied role.
It sounds like a lot of really impactful work.
I like to think so. I've been with the unit now for 21 years. I've been to El Salvador four times on medical missions where we do somewhat similar things, for example, set up an ad hoc clinic at a school on a hillside in El Salvador or down in central San Salvador, not the safest place in the world.
We've been to Native American reservations as well in Northern California, in the past. We backfilled a unit in Germany about three years ago. We were over there for three weeks doing that at Landstuhl.
What drew you to moving into PA education?
A couple of things. One had to do with the Army, because one of the roles that I didn't mention of PAs, NPs, and physicians is to act as educators for medics.
That was sort of thrust upon me, as I didn't think about teaching at that time. When it was first thrust upon me, I thought, "You know, I think I'm actually sort of good at this, and I like it." So, I sought out opportunities to teach. Then I precepted a couple of students in the emergency department from different programs, felt that I liked it, talked it over with my wife and so forth, and made the plunge.
What do you like about teaching?
There are two big things that I really like. There are many others, but these are the two big ones.
One is the epiphany. When you're explaining something to a student, particularly when they may be a little confused, and all of a sudden, there's that sort of "aha!" moment. When there is that epiphany, I know that I've made an impact, done my job and affected their professional life positively.
The other thing that I really, really like is meeting students on their first day in the program, when they are just beginning on that professional adventure, and then revisiting that when they graduate and seeing just how polished they are. It really is an amazing feeling of accomplishment you know, on their part, as well as ours, and it gives a lot of satisfaction.
What do you like about teaching within the BU program specifically?
 A bunch of things stand out from the BU PA program. First of all, such a collegial, close-knit faculty I really, really like. We are a really good team, and I really like that collegiality.
I also really like the support that GMS, as well as the Medical School, gives the Program. There are a lot of other programs that don't get that support, and it really does create a tenuous situation.
The quality of the students that we recruit here is just amazing. As a matter of fact, a couple of us joke that if we had to apply all over again, and we applied to BU, maybe we'd get in. Maybe. So, they are really some smart cookies.
Last, is the fact that the students do mix in with the medical students. Again, that feeling when they graduate, and how polished they are is due, in part, to the tremendous teaching that they get there. Those are the main things.
What drew you to taking on a role as a C3 faculty mentor for the gMAV network?
I've spoken with a lot of medical folks in the military, particularly in the New Hampshire and Massachusetts areas, particularly medics. The role of a PA in the military, particularly in the Army, is much different than the role in the civilian world. Yes, there still is physician oversight; however, a lot of times PAs find themselves in positions where they're very close to the point of injury, like really frontlines. They have to provide care. They have to be autonomous and independent at that scene. So, a lot of the medics are exposed to that, and they aspire to be a PA.
But there can be some roadblocks to veterans getting into PA programs, partly because they spend so much time in service. As I told you before, when I got out of active service, I realized that I didn't have qualifications which were directly applicable to the civilian world. I had to start all over. That's the way a lot of veterans feel.
So, part of my motivation to get involved with C3 was to try to encourage and facilitate the inclusion of the veteran population in the community here. I think it's worked a little bit but the effort is still in its early phases; I think we still have a ways to go. Also, for those veterans who have already matriculated, to give them support. Because, as a veteran who was older than a lot of my classmates when I was an undergrad, and, to a lesser extent, as a graduate, you have a lot of life experiences, and sometimes that makes you feel sort of marginalized. You don't have as much as in common with everybody else, and so just to give them that support you know? To let them know that someone understands their perspective.
Is there anything else you'd like to highlight?
One thing I would like to reiterate, is that, as far as the mission in Oklahoma goes, these innovative exercises, they pop up here and there occasionally, depending on funding and state requirements, etc. goes. A lot of people who aren't in the military have this sort of vision of people in the military, particularly providers in the military, only being involved with war time scenarios, etc. These sort of innovative exercises really highlight the fact that that is absolutely not the only thing we do.
In Oklahoma, we took care of a lot of marginalized populations and got them connected with care, particularly, to be honest with you, the undeclared Hispanic population that was there. We saw a lot and got them connected with resources that they would not have otherwise.
There are also the roles military providers serve in times of national disaster relief.  So, I wanted to highlight that providers, particularly in the military, do a lot more than take care of somebody who gets injured on the battlefield. We give back to the Community and the civilian population directly.
I also forgot to mention the National Guard's role in the COVID-19 vaccination effort last year.  I was the medical control officer overseeing the medical side of operations and treating emergencies for the outside Londonderry drive-thru site, which eventually went indoors at the Rockingham Mall.  We spent the coldest months of the year (January to April) outdoors with a month inside at the end of my time on orders.  It was makeshift at best in a bus terminal parking lot, a trailer and two tents.
Everyone connected with the effort, including civilian volunteer vaccinators, did amazing work.  Some days, it was so cold, the vaccine froze in the syringes. When the system was refined, we would see over 1500 to 2000 people a day.  All the sites throughout the state of New Hampshire did unbelievable work during unpredictable ever-changing guidance.