GMS Welcomes 17 Students into 2022 STaRS Program Cohort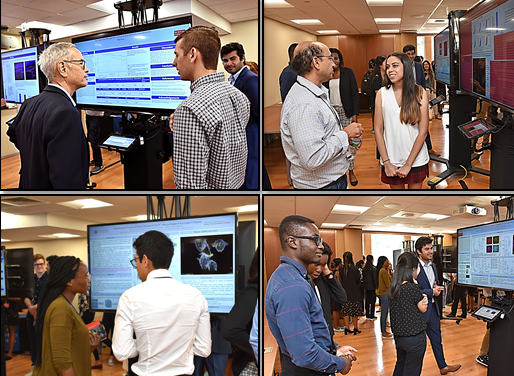 This week, Graduate Medical Sciences will welcome the 17 students who make up the 2022 Summer Training as Research Scholars (STaRS) program cohort.
STaRS is a program designed to promote more equitable access to graduate education for students historically underrepresented in science and medicine. Throughout the summer program, the STaRS cohort will have the opportunity to participate in research and enhance the skills required for successful entry into, and completion of, a graduate or MD/PHD program in biomedical sciences.
Each STaRS scholar will be mentored by faculty and lab members from GMS. They will be placed in a biomedical laboratory that represents their personal research interests, where they will develop and execute independent research projects. In August, each scholar will present their work during an end-of-program symposium held to recognize their academic research achievements.
This year's cohort includes six second-year undergraduates, seven third-year undergraduates, three fourth-year undergraduates and one Boston University medical student. The scholars come from the following colleges and universities:
Binghamton University
Boston University
Brandeis University
Johns Hopkins University
Miracosta Community College
Spelman College
Union College
University of Michigan
University of Oklahoma
University of Puerto Rico at Aguadilla
University of Puerto Rico Bayamón Campus
University of Puerto Rico Mayaguez
University of Puerto Rico – Rio Piedras Campus
University of Puerto Rico in Ponce
William Jewell College
Winona State University
Alongside their research, scholars will also participate in career development seminars. They will receive training on scientific communication skills, like oral communication, writing abstracts, preparing and presenting posters, basic research principles, responsible conduct of research and applying to graduate or MD/PhD programs.
STaRS scholars will also have the chance to engage with GMS through a variety of enrichment and professional development opportunities, like science talks and department-specific journal clubs.
Welcome to this year's STaRS cohort! Learn more about the STaRS program and view previous STaRS Symposium research presentations here.
If any GMS student would like to help advise the scholars, please contact the STaRS Director, Isabel Dominguez, Ph.D, at starsdir@bu.edu