Student Spotlight: Greg Cello, MS'22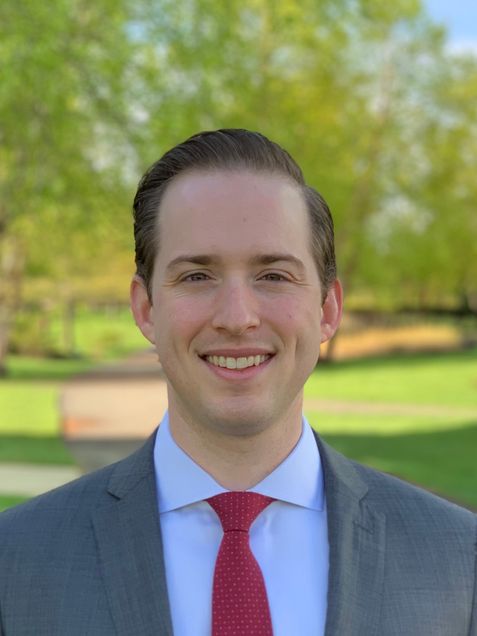 Greg Cello is a Masters' student in the Medical Sciences (MAMS) program, a U.S. Army veteran and a mentor for the C3 Community Catalyst Center gMAV Network. He will graduate in May 2022. 
Whether it's for his family, his soldiers or his future patients, service to others is the entire fabric of Greg Cello's (MS'22) life.
That service is ultimately what drew the May 2022 degree candidate to Boston University two years ago. In just a few weeks, he'll graduate from Graduate Medical Sciences' MS in Medical Sciences (MAMS) program.
---
A Legacy of Service
Born into a military family in Fayetteville, N.C., Cello completed his childhood education in upstate New York before pursuing a Bachelor of Science in Biology from Providence College in Rhode Island.
At Providence, Cello was a full-time ROTC scholarship cadet and an NCAA Division I varsity swimmer for the Friars. His father, a dentist, and his great-uncle, an MD, both attended Providence and served in the military, too.
Cello's ROTC scholarship required him to serve four years full-time as an Army officer upon graduation, but he chose to serve for almost nine years – a decision known as "doing your full eight."
His years in military service brought him across the country and the world: first to Fort Lewis in Seattle, Wash., and then to Fort Sill in Lawton, Okla., Fort Benning, Ga. and Fort Bragg, N.C. From there, he deployed to Afghanistan for nine months before spending his remaining three years at Fort Stewart-Hunter Army Airfield in Savannah, Ga.
By the time he completed his service in 2019, Cello had advanced from leading a platoon of 30 soldiers at his youngest to taking charge of almost 250 people, supporting 30 organizations and 3,500 soldiers worldwide and managing a $55 million asset account and a $5 million annual operating budget.
It was his ultimate goal in the military: to command a company.
---
A Journey Back to Medicine
Cello's leadership prowess and dedication to his community only continued upon his return to civilian life.
His years as a commander building relationships with his soldiers – several of whom had significant medical issues – and a particularly emotional experience for his family reinvigorated his passion to pursue medicine once his military service ended.
In 2016, Cello's mother-in-law was treated for a glioblastoma at Brigham and Women's Hospital in Boston. She ultimately succumbed to the tumor.
In an email, Cello wrote, "I spent several weeks of leave while in the army in that hospital while she was being treated, and it left such an emotional impact on me that I determined that the best place to begin my journey into medicine was right where it began."
Today, Cello works as a graduate research student and clinical research coordinator under Dr. Linda Bi's skull-base tumor lab at Brigham and Women's Hospital – a position he plans to continue once he graduates in May.
His graduate thesis, which he completed in April, highlighted his work at the Bi Lab.
It focused on identifying high-risk meningiomas – ones that are more likely to occur early, with higher potentials of malignancy. Cello explored telomerase reverse transcriptase promoter (TERTp) mutations and the loss of trimethylation of lysine 27 on histone 3 (H3K27me3), both of which have been associated with more aggressive meningiomas.
Following rigorous months of systematic review and meta-analysis, Cello confirmed that trimethylation loss of H3K27me3 was implicated in poorer prognosis, specifically those seen in lower grade meningiomas, and that a likelihood of a higher level of early reoccurrence and aggressiveness is typical, although institutional variation in immunohistochemistry technique in determining so exits and must be standardized in order to be considered a reliable biomarker.
DNA sequencing results of TERTp mutations were not finalized in time to be included in the thesis, but Cello is continuing the research at the Bi Lab to be reported in future publications.
---
The Path to Boston University
Long before Cello's thesis had ever crossed his mind, however, he had to decide where to continue his education. Ultimately, the rich history of the MAMS program, its affiliation with Boston Medical Center and the BU Center for Military Health drew him in.
The Center for Military Health works to improve the health of veterans and service members in the BU community through research, clinical innovation and military medical programming. Starting in his second year at BU, Cello worked alongside the Center's director, Dr. Glenn Markenson, MD, to promote the university's interest in supporting military members and encourage them to consider BU for their continued education.
However, coming back to graduate school after 10 years away from college was no small feat for Cello. It brought with it a host of challenges; among them, several physical ailments brought on from years of military service.
An avid athlete, Cello found it difficult to perform several activities he loves, like swimming, running, lifting and hiking. Balancing treatment for these ailments with his schoolwork and family life was time-consuming, and it began to take a toll on his mental and emotional health.
Cello worked alongside physical medicine and rehabilitation clinicians at the Jamaica Plain VA Medical Center to restore his physical faculties. His time there has inspired him to consider pursuing physical medicine and rehabilitation in his future medical school career.
"The doctors I worked with and the physicians really drew me to really aligning with how special that is, to help someone regain their bodily functions," Cello said. "It brings to light the quality of life that you can really lose when you lose the ability to do things you love."
Cello credits his BU advisers, the perseverance he developed in service and his family for helping him overcome the challenges he faced once he returned to school. Cello and his wife of almost six years, who works full time to support their family, have two children together: a 22-month-old daughter born at the beginning of Cello's first semester in MAMS and a seven-month-old son born at the beginning of his second academic year.
Of his wife, Cello said, "I wouldn't have been able to do it without her."
---
Building Community at BU
There is another important side to graduate school that extends far beyond the classroom and the lab: a strong community of students and mentors.
For Cello, whose military background is atypical compared to most graduate students in his program, finding that community presented another major challenge. Cello described feeling isolated, especially when he couldn't meet with others in person during the COVID-19 pandemic.
It was Cello's adviser, Dr. Vickery Trinkaus-Randall, who connected him with other veterans in the MAMS program to help him build that network at the beginning of his studies. Dr. Trinkaus-Randall described Cello as "a natural leader" with "a real drive" for learning.
"He's one that really wants to give back to the community," she said.
That's what inspired Cello to take on a mentorship role in the gMAV network through the C3 Community Catalyst Center at GMS. gMAV, which stands for "military-affiliated and veteran students," works to promote a deeper sense of belonging and recognition for these individuals by providing resources and hosting events and workshops.
Knowing how difficult it can be to connect with others as a member of a unique community, Cello immediately jumped on the opportunity to help make his classmates' transition to graduate school smoother. Through gMAV and the Center for Military Health, he has worked alongside Dr. Markenson and the Physician Assistant Program's Associate Director of Didactic Education Dan Tzizik, both of whom Cello described as "phenomenal people, leaders and mentors."
"I think [the C3 Center] does a wonderful job," Cello said. "I think that once we continue to move beyond this pandemic, it's really going to flourish."
Cello has also served as the physiology tutor coordinator throughout his second year in MAMS, where he works with Associate Professor Dr. J. Fernando Garcia-Diaz to place first year MAMS students with second year MAMS students for tutoring. This experience has allowed Cello to provide first-year students with advice and mentoring and connect with his fellow second-year classmates even better than before.
---
What's Next?
Cello has a three-fold plan following commencement.
He'll continue his work at Brigham and Women's Hospital. He'll begin to shadow physical medicine and rehabilitation physicians at the Jamaica Plain VA Medical Center – the same physicians who have helped Cello restore his own physical faculties since leaving the military.
But above all, he'll spend the next year gaining some valuable time back with his family before he kicks off his journey to medical school.
As for where that journey will begin? While Cello has plans to apply this year, he already has one school in mind. "Boston University [School of Medicine] would be wonderful," Cello said. "I'd love to stay here and continue to build upon what I've already started."
Ultimately, the value of the last two years in the MAMS program – overcoming challenges, finding academic success, and working to build strong communities of fellow students and veterans – is not lost on Cello.
As rigorous as the time was, Cello found fulfillment in seeing just how far he could push himself and realizing that it is entirely possible to pursue his dream. He'll use what he's learned up to this point – in the military, in the classroom, in the lab, and in service – to shape a medical career built on compassion, understanding and humility.
And with just a few weeks left in the academic year, he offered the following advice to incoming students, especially those with similar experiences and backgrounds:
"To come through it to this point was rewarding," he said. "I think that if anyone's that passionate about going after something medicine-wise, and they come from somewhere so different, […] it's entirely possible."