Russek Student Achievement Day 2017
23rd Annual Henry I. Russek Student Achievement Day
April 21
Keynote by Professor Carla J. Shatz, Departments of Biology and Neurobiology, Stanford Neurosciences Institute
"Synapses lost and found: developmental critical periods and Alzheimer's Disease"
Abstract and Award Packets  are CLOSED: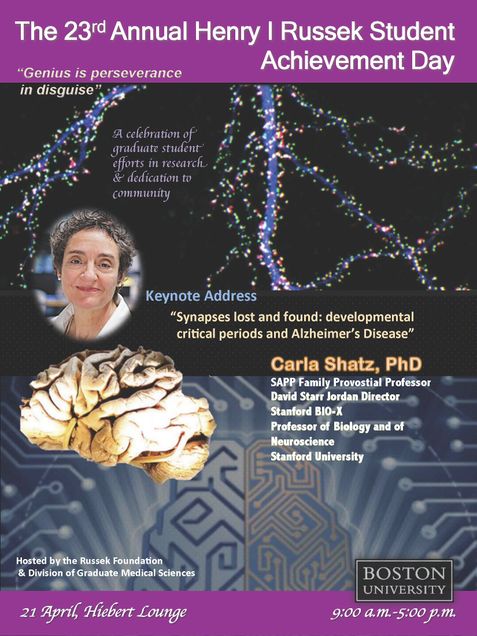 Dear Students and Faculty,
I am excited to announce that our morning Keynote Speaker on April 21st, 2017, for the 23rd HIR Student Achievement Day will be Professor Carla Shatz. Dr. Shatz has played a major role in the development of modern neuroscience and is past President of the Society for Neuroscience.
 
In addition, from 2000-2007 she was Chair of the Department of Neurobiology at Harvard Medical School and the Nathan Marsh Pusey Professor of Neurobiology. Dr. Shatz has received many awards including the Gill Prize in Neuroscience in 2006. In 1992, she was elected to the American Academy of Arts and Sciences, in 1995 to the National Academy of Sciences, in 1997 to the American Philosophical Society, in 1999 to the Institute of Medicine, and in 2011 she was elected as a Foreign Member of the Royal Society of London. Dr. Shatz was awarded the Gerard Prize in Neuroscience from the 40,000 member Society for Neuroscience, and in 2015, the Gruber Prize in Neuroscience. In 2016, she was the recipient of the Champalimaud Vision Prize, and the Kavli Prize in Neuroscience for the discovery of mechanisms that allow experience and neural activity to remodel brain circuits."
CLOSED for 2017:  This year all poster abstracts (submitted electronically) and award packets (submitted to the respective department or program office) will be due on April 3rd at 5 pm.

Wishing everyone a wonderful Spring! See you soon.
 
Shelley
Shelley J. Russek, PhD
Vice-President Russek Foundation
Professor of Pharmacology and Experimental Therapeutics
Professor of Biology
Director, Graduate Program for Neuroscience