Meet the Mentor: Sarah Rowan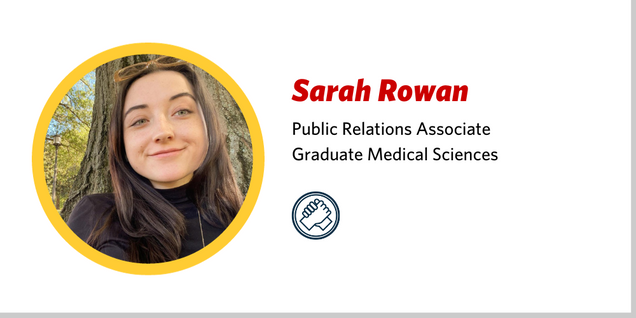 Contact: srowan@bu.edu
Gender Identity & Pronouns: Female – she/her/hers
Affinity Groups: Disability Support Group
Race/Ethnicity and/or Nationality: White/Caucasian
Languages: English, Spanish
Hometown: Dublin, Ireland & Baltimore, MD
Education: BA in Foreign Languages (minor in Political Science), Towson University; MPH candidate (Community Assessment, Program Design, Implementation and Evaluation), BU School of Public Health
Industry Interest: Global health, maternal & child health, mental health, harm reduction, asset-based community development, health communication
Personal Facts/Hobbies:
I was born in Dublin, Ireland, and moved to Baltimore, Maryland, when I was eight years old. I spent most of my childhood and early adulthood there, but I've also lived in Canada (PEI and Ontario). I am the second oldest of six kids, and I have an identical twin sister (but I'm a minute older — so the "second oldest" thing still counts). I have a cat named Arlo, who I adopted when I was in college.
I moved to Boston in April 2022 to join the marketing team at GMS. My role mostly involves writing content for the website and social media, maintaining and updating webpages, and supporting and facilitating GMS/C3 programming. You'll probably see me running around with a camera at various events through the year. I have successfully overcome mental health and ADHD-related challenges in my academic and professional career and am eager to offer mentorship and advocacy to those experiencing similar obstacles as a Disability Support Group mentor.
I graduated from Towson University in 2019 with a BA in Foreign Languages, concentrating in Spanish language and literature, and a minor in political science. While pursuing my undergraduate degree, I had the opportunity to study in Antigua, Guatemala. After I graduated, I worked as a high school Spanish teacher for one year before moving into the world of marketing and communications. I am currently pursuing my Master of Public Health (MPH) at BU School of Public Health, where my primary research interests center on reproductive justice, mental health, harm reduction and community-centered approaches to health care program design. 
Outside of work and study, I like to write, read, cook, and attend weekly trivia at spots around the city. I am currently trying to perfect my focaccia recipe, so let me know if you have any tips to share! I also enjoy camping and hiking, as well as traveling to see family in Maryland, Canada, and Europe. I love languages, and in my spare time, I'm brushing up on my Spanish and learning German. I'd like to pick up American Sign Language and French, too. 
My office is in L-317 — feel free to stop by and say hello! My door is always open.