Meet the Mentor: Margarita Perales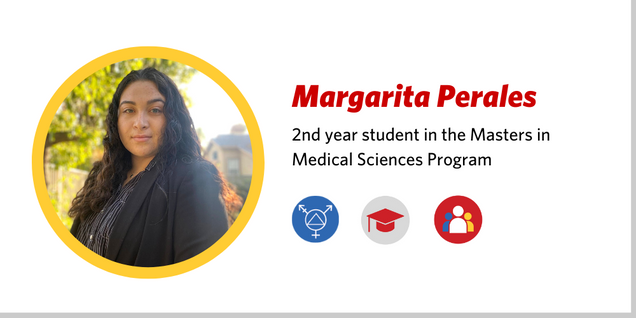 Contact: maabpera@bu.edu
Gender Identity & Pronouns: Female – she/her
Affinity Groups: gPLUS, gFIRST, gSOC
Race/Ethnicity and/or Nationality: Hispanic/LatinX
Hometown: Mission Viejo, CA
Education: Master's in Medical Sciences (current)

Personal Facts/Hobbies:
Since I grew up in California my favorite things to do are hiking, camping, going to the beach, or anything outdoors really. I have a cat named Binx who keeps me company on long study days. Spending time with friends, reading, and binge-watching TV are also some of my favorite things to do. I am now a second-year MAMS student here at BUSM. Moving from California to the other side of the country while adjusting to the rigor of grad school was incredibly challenging. Although I struggled, having the support of my peers helped me adjust and stay motivated. Through mentoring, I hope to help create a supportive academic community.