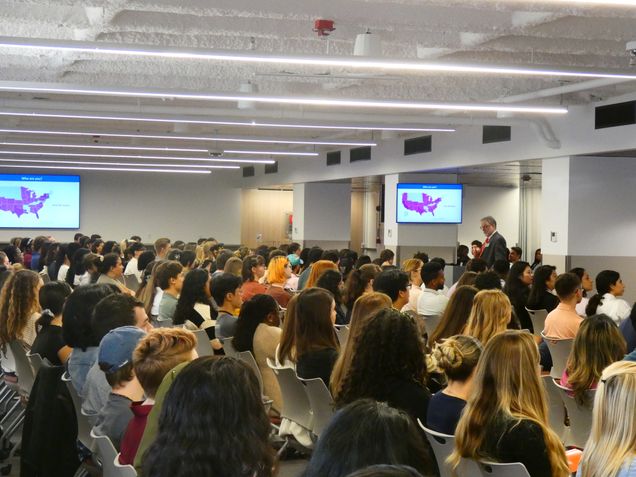 Welcome to Fall 2023 at Graduate Medical Sciences!
This semester, we are welcoming 459 new students to GMS, including 408 master's students and 51 PhD students. These students represent 16 master's programs and six PhD programs. The cohort comes from 17 different countries and 40 states. They attended 215 undergraduate institutions.
This semester's new students received a warm welcome to GMS at Fall 2023 Orientation on Friday, Sept. 1.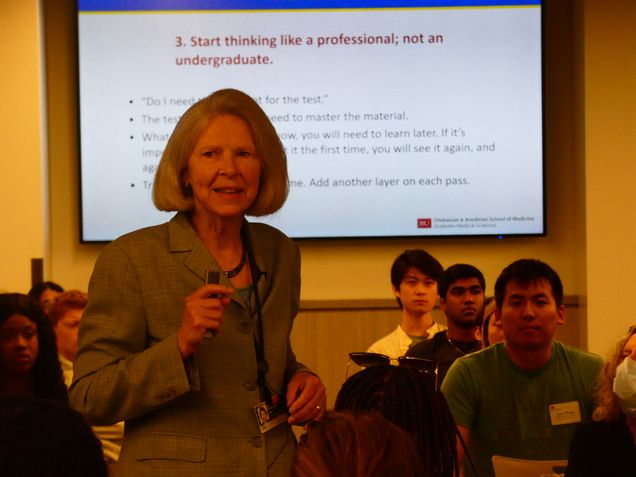 Throughout the day, the students heard from several members of the GMS, Chobanian & Avedisian School of Medicine and greater Boston University community, including Associate Provost and Dean of GMS C. James McKnight, PhD, and BU Medical Campus Provost and Chobanian & Avedisian School of Medicine Dean Karen Antman, MD.
Students enjoyed breakfast and had the chance to mingle before the day's events began. Following the main GMS Orientation session, the group moved to Talbot Green, where GMS and BU School of Public Health co-hosted the Fall 2023 Resource Fair.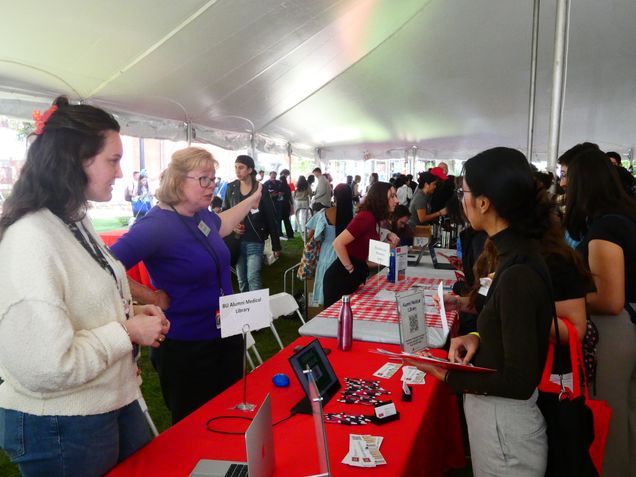 The Resource Fair included tables from a host of GMS and BU-wide organizations, groups and resources, like the Community Catalyst Center (C3), the Newbury Center, BU Public Safety, Student Financial Services, the Minority & International Student Organization (MISO), and more.
Whether you're new to GMS this semester or a returning student, we encourage you to take advantage of the social events, professional development and academic enrichment opportunities coming your way this year. Below, you'll find a list of events from GMS, C3 and several co-sponsors to add to your calendar!
---
Thursday, September 7: Welcome Back BBQ
Talbot Green, 4 to 6 p.m.
Kick off the new semester with your peers and enjoy lawn games, music and Southern comfort food catered by the South End's Darryl's Corner Bar & Kitchen. This event is co-sponsored by GMS and BU School of Public Health and is open to new and returning students.
---

Sept. 11 to 16
Sponsored by the GMS Community Catalyst Center (C3), Gear-Up Week is full of food, fuel and fun to help you get the semester started. Check out the full event schedule below:
Monday, Sept. 11: C3 Sip N' Study Raffle
C3 Suite, L306 | 11 a.m. to 2 p.m.
Enter this raffle for a chance to win a $50 Barnes & Noble gift card or a $10 Peet's gift card. You'll also have the chance to learn more about C3's gSOC, gMAV, gFIRST, gPLUS, gGLOBAL and Disability Support Group affinity group mentors as well.
Tuesday, Sept. 12: Explore the South End Walking Tours
L-Building Lobby | Tours offered at noon and 4 p.m.
Sign up for an hour-long walking tour of our historic South End neighborhood, led by seasoned C3 Peer Mentors. You'll explore local parks, restaurants, coffee shops and historical sites in the area!
Wednesday, Sept. 13: Swag and a Snack
C3 Suite, L-306 | 11 a.m. to 2 p.m.
Stop by the C3 Suite to pick up some brand-new C3-themed swag, enjoy a quick snack and mingle with your GMS peers!
Thursday, Sept. 14: Thriving, Not Just Surviving, in Graduate School: A Real-World Guide to Effective Studying
L-311 Classroom | Noon to 1:15 p.m.
Join Dr. Aaron Young, C3 Faculty Mentor and Pharmacology, Physiology & Biophysics faculty to learn strategies for making the most of your time in Graduate Medical Sciences. Lunch will be provided for this event!
Thursday, Sept. 14: Newbury Center Virtual Graduate and Professional Student First-Gen Orientation
Zoom | 7 to 8 p.m.
Are you a new first-generation graduate or professional student? Join the Newbury Center to learn about upcoming events and mentoring opportunities and start building your Terrier F1RSTS community!
Friday, Sept. 15: Fall Kick-off Pizza Party
Talbot Green | Noon to 1 p.m.
Close out Gear-Up Week, spend time with your classmates and get ready to take on the semester with pizza, games and music on the lawn!
---
Wednesday, Sept. 27: Fall 2023 Naloxone Administration Training
Hiebert Lounge | 5 to 6:30 p.m.
This free training will be facilitated by trainers from Overdose Lifeline, a nonprofit organization dedicated to increasing access to overdose prevention and education services, removing the stigma of addiction and providing proper care and access to treatment for those at risk. Their curriculum will teach you how to recognize the signs of an opioid overdose and how to administer the opioid overdose reversal drug Naloxone, as well as discuss the role of harm reduction in the opioid epidemic.
The event is co-sponsored by the Community Catalyst Center, BU Graduate Medical Sciences Student Affairs, BU School of Public Health Graduate Student Life and BU Goldman School of Dental Medicine Student. Dinner will be provided.
---
Keep up with all our semester events by checking out the GMS Calendar. You can also subscribe to our bi-weekly newsletter, The GMS Press, by filling out this form. As always, please stop by the C3 Suite in L306 for swag and resources or visit the GMS team in L-317.
We're looking forward to seeing you on campus this semester!