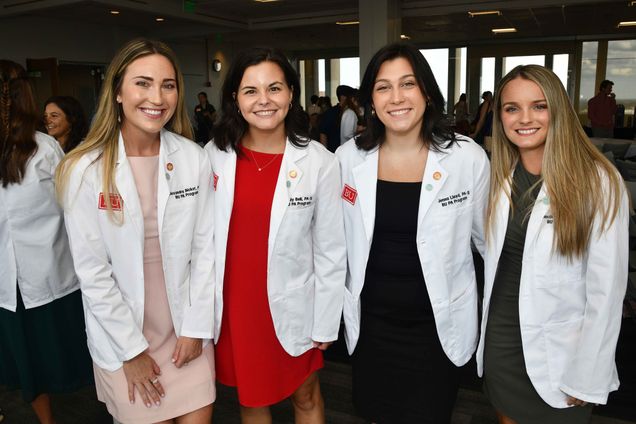 The Class of 2026 Physician Assistant students officially marked their entry into the professional study and practice of medicine during their Aug. 1 White Coat Ceremony.
The cohort's 20 students comprise the tenth class of the Chobanian & Avedisian School of Medicine Physician Assistant (PA) program, which graduated its first students in 2016. Since then, the program has graduated more than 200 students.
During the ceremony, students were addressed by PA Program Director Susan White, MD, and Graduate Medical Sciences Assistant Dean of Master's Programs Theresa Davies, PhD. Robert Lowe, MD, associate professor of medicine/ gastroenterology, delivered the keynote address.
"Congratulations as you receive your white coats," Davies said. "It's amazing, and you should be very proud. Congratulations as well to your parents who have supported you to this point. You should be so proud as well. …You have incredible faculty serving you, and you have bright futures. We will be celebrating you and your program all year."
Davies concluded by encouraging the cohort to "explore Boston; be a student, grow and learn."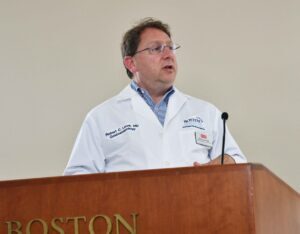 In his keynote speech, Lowe described the White Coat Ceremony as the start of a great journey and an invitation to work hard throughout what will be a challenging, but worthwhile, curriculum and career.
"Nothing that's worthwhile is easy," Lowe said. "The program is tough. When you're done, it's still tough. But you're going to step up and do it."
Ultimately, Lowe said, the white coat is a symbol. The values instilled in each student still exist, whether they are wearing the coat or not.
"You will be the person to help when needed," Lowe said. "On the days you're not wearing [the white coat], you'll still be the person to step forward."
In return, the new cohort will have the opportunity to work with an incredible set of colleagues and "gain a perspective on life that many people don't have," he continued.
"The things we do are incredible, but an incredible privilege."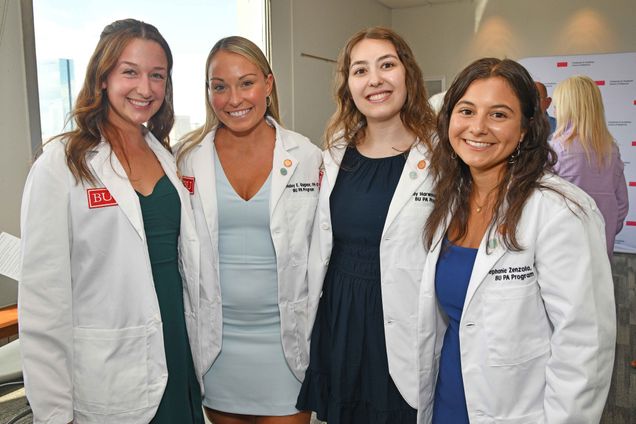 Following the keynote speech, each student joined the PA faculty individually to receive their white coats. Associate Director of Clinical Education Michael Smith, MS, PA-C, read each student's name. Students were coated by Dan Tzizik, MPAA, MPH, PA-C, and Robert O'Brien, MHS, PA-C, both associate directors of didactic education for the program.
Once all students had been called, they recited the Physician Assistant Professional Oath, led by Class of 2024 President Elise McIntosh, PA-S. The oath summarizes the students' professional and ethical responsibilities throughout their careers as physician assistants.
"Congratulations on taking your first step to joining the PA profession," White said. "You are our tenth class, and this is a wonderful milestone for us. We are very happy to have you here and look forward to getting to know you."
See the Facebook album.