GMS Program Spotlight: MS in Biomedical Research Technologies
At the heart of a career in biomedical sciences is the application of constantly evolving instrumentation and biotechnology. Now more than ever before, a strong demand exists for scientists trained across a wide spectrum of biomedical technologies.
The Master of Science in Biomedical Research Technologies program at Boston University Chobanian & Avedisian School of Medicine exists to prepare students for exactly that: a career as an expert in the biological technologies necessary to answer today's – and the future's – most pressing scientific research questions.
The program is co-directed by Katya Ravid, DSc, and Louis Gerstenfeld, PhD. Ravid is a cardiovascular medicine expert and the founding director of the Evans Center for Interdisciplinary Biomedical Research. Gerstenfeld is a professor of orthopaedic surgery who has studied skeletal biology for over 30 years.
The mission of the program, according to Ravid, is "interdisciplinarity." Ravid and Gerstenfeld developed the program with the vision that students need training in more than one technology. Integrating knowledge in several cores will ultimately allow students to apply more technology, pose better scientific questions, and get better answers.
The centerpiece of the Biomedical Research Technologies program revolves around the Biological Core Technology-Practicum, an eight-credit course that spans three semesters.
During the first semester of the practicum, students complete two eight-week research practica in two different c ore technologies. In the practicum's second and third semesters, students will either complete a capstone project or a library-based thesis.
Students have the option to choose from a wide array of training research cores, including micro- and nanoimaging, micro-computed tomography, flow cytometry, cellular imaging, a transgenic core, and more. A full list of training research cores can be found here.
Cohort sizes within the program are kept small in order to give students as much access as possible to the available technologies. The program is also unique in that it can be completed full-time in one year, making it one of the only year-long master's programs of its kind, according to Gerstenfeld.
"We, from the get go, thought [the program] served a purpose of allowing students to immediately come in, do a master's in one year, and have the same quality of practicum experience of a second year of doing a thesis," Gerstenfeld said.
Graduates from the program have gone on to a variety of career paths. Some have gone into biotechnology, some continue on in academia, and some immediately move into positions as research technicians.
One such alum is Allen Yen, MS, a 2018 graduate of the MS in Biomedical Research Technologies program who is currently a PhD candidate in the Department of Genetics at Washington University School of Medicine.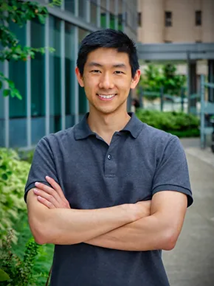 Yen is a two-time BU graduate. He earned his BS in Biomedical Engineering with a nanotechnology concentration in 2013, having worked in the lab of Professor of Medicine, Physiology and Biophysics Victoria Bolotina, PhD, in his junior and senior years. He continued to work full-time in the Bolotina Lab after earning his bachelor's degree and matriculated part-time into the MS in Biomedical Research Technologies program in 2016.
Yen saw the Biomedical Research Technologies program as an ideal way to segue his ongoing work in engineering and biomedical science with the eventual goal of performing independent research.
"There are some assays that have been around since the fifties that haven't really changed," Yen said. "But as science [and] the data get bigger, we're generating more data, and new instruments and new technologies are coming up. I thought that this would be a good program to supplement my research too."
At Washington University, Yen is expanding his interest and understanding of how development processes are programmed into genes, and how disrupting these systems can lead to neurodevelopmental disorders. To Yen, the Biomedical Research Technologies Program was fundamental in preparing him for a successful career as a PhD student and beyond.
"If I had a scientific question, I knew what I needed to do in order to answer those questions," Yen said. "[The program] definitely gave me the methodology and the foundational knowledge that I need in order to answer the question. It also prepared me well to carry [experiments] out myself."
Riley Pihl, MS, is a 2017 graduate of the MS in Biomedical Research Technologies program. Having completed a BA in Biochemistry and Molecular Biology at BU in 2016, he matriculated into the one-year master's program that same year.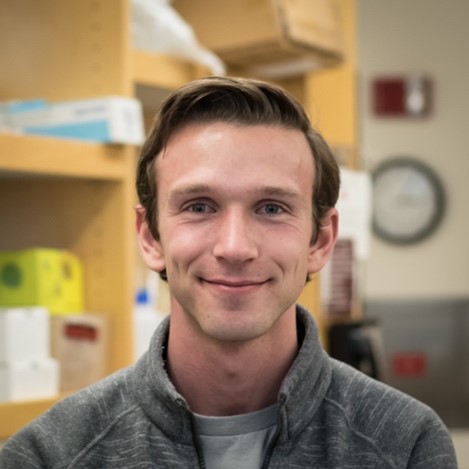 Pihl is currently a PhD candidate in the Molecular and Translational Medicine program through the BU Program in Biomedical Sciences (PiBS). He matriculated to his doctoral program in 2020 following research work with Assistant Professor of Pathology & Laboratory Medicine Anna Belkina, MD, PhD, and Assistant Professor of Virology, Immunology & Microbiology Jennifer Snyder-Cappione, PhD.
Pihl decided to apply, and eventually enroll, in the Biomedical Research Technologies master's program, to build a more competitive academic profile for a career in research. Pihl, who had started his undergraduate degree on a clinical pre-med track, realized late in his undergraduate career that he was more drawn to a career in biomedical research.
"I think the BRT program was a good option for me both because I didn't have any experience in [scientific research], so it was both a way to explore it and make sure it was something I wanted to do," Pihl said. "You also get to prove your salt taking graduate-level courses, which was also important for me."
For Pihl, the chance to experiment with several core technologies ultimately led him to discovering that his third-choice rotation – flow cytometry – was one that he loved. Following his graduation from the program, he joined Belkina and Snyder-Cappione as a research technician, and later a research specialist, in the Flow Cytometry Core Facility.
"It's great, because you get the chance to try things you think you like, and try things you might not, and then end up loving," Pihl said. "A lot of the key points in my life, the things I've ended up liking and doing really well were actually my third or fourth choice, and I'm glad I was exposed to them."
The importance of maintaining supported research cores is both crucial and central to the mission of the Chobanian & Avedisian School of Medicine, according to Ravid. The research cores not only serve current investigators and researchers, but they also serve an important purpose for training current students at the school. Without these cores, Ravid said, "our master's program would not exist."
To Gerstenfeld, allowing students to rotate through the core facilities is a "structured, formalized way for students to get to work with high quality instrumentation."
"By learning how to use [these technologies], you can walk into any research setting in any kind of medical discipline and do research," Gerstenfeld said.
Learn more about the Master of Science in Biomedical Research Technologies here.