C3 Hosts First Ice Cream Social of Summer 2023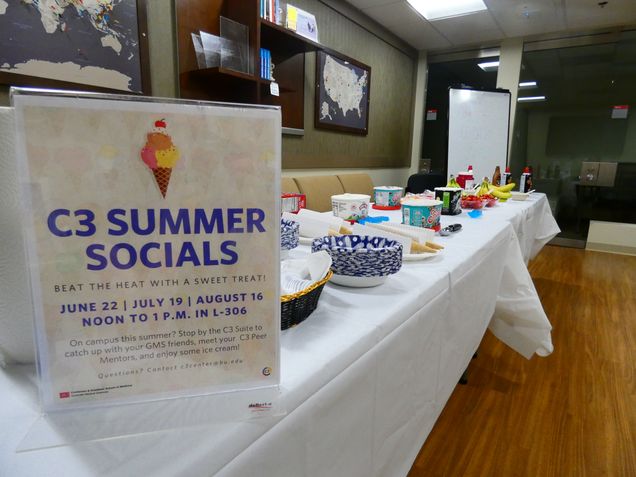 The GMS Community Catalyst Center brought its popular Ice Cream Socials back for Summer 2023!
C3 hosted the first social on Thursday, June 22 in the C3 Suite (L-306). Students on campus for the summer — as well as GMS faculty and staff — gathered to take a break from the work day, catch up, and enjoy a sweet treat. The social featured four kinds of ice cream, as well as a toppings and fruit bar.
The social was well attended by students across GMS Master's and PhD programs.
The next two Ice Cream Socials will take place on Wednesday, July 19, and Wednesday, August 16. Both will be located in the C3 Suite from 12 to 1 p.m. You'll have the chance to meet your new C3 Peer Mentors for the upcoming academic year — students chosen to be a point of contact for incoming and current students and help GMS to continue its mission of student community, engagement, and learning. 
Check out some more photos from the June social below!