PhD Student Spotlight: Emilie Mausser '23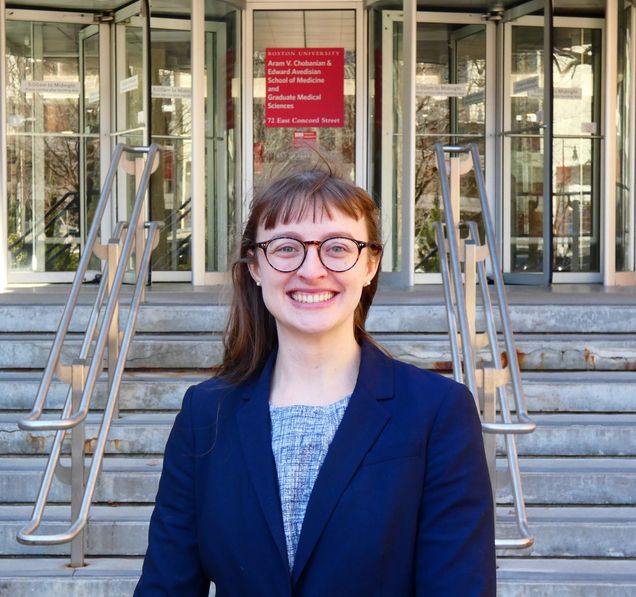 Emilie Mausser is a PhD candidate in the Molecular and Translational Medicine program through the Program in Biomedical Sciences (PiBS). Emilie's research in the lab of Professor of Medicine Deborah Anderson, PhD, works on developing a nonhormonal, on-demand contraceptive product. Emilie successfully defended her dissertation in March 2023 and will graduate in the upcoming May 2023 Commencement exercises. Read more about Emilie below!
---
What did you complete your dissertation research on and how did you settle on that topic?
In the lab of Dr. Deborah Anderson, we are developing a nonhormonal, on-demand contraceptive product. The human contraception antibody (HCA) specifically binds a sperm membrane protein and causes them to clump up within seconds of adding the antibody. HCA is undergoing clinical development but appears to be safe and effective after a Phase I trial. As about half of all pregnancies are unintended, developing new contraceptive products that are easily assessable and nonhormonal could be largely beneficial to people with an unmet contraceptive need. As part of the pre-clinical development, my dissertation research investigated how antibodies like HCA interact with vaginal tissues. There are many different proteins and immune cells that antibodies can bind to help clear pathogens or, in our case, sperm. Determining which of these functions can occur in the female reproductive tract can help us decide which variant of HCA will be most effective in a contraceptive product.
Why did you choose to do a PhD?
Doing a PhD in biomedical science allowed me to refine my scientific skills and learn many new techniques to prepare myself for a career in research.
What is one of your best memories from the time in your PhD?
One of the best memories from my PhD is from successfully completing a very difficult assay. It took hours to set up all the dilutions and plates with our limited volumes of patient sample and many more days to run all the assays. I was overjoyed when we finally got the results, and the data was even better than we had hoped.
Did you face any unexpected challenges during your time in your program?
An unexpected challenge for me during my PhD was the COVID-19 pandemic and subsequent lockdown. Basic lab supplies like gloves and pipette tips were difficult to source. Additionally, a key part of my dissertation required patient samples which was significantly delayed due to COVID restrictions.
What are your next steps and your plans for your future?
I am hoping to continue my career in a drug discovery position in a pharmaceutical company, using my training background in immunology and microbiology. Though it may be difficult to continue to work on the development on novel contraceptives, there are many other orphan diseases and conditions that I hope to contribute towards treatments and cures.
Do you have any advice for future PhD students or anything else you would like to share?
During my first year, an older student told me: "you are a good scientist, and you deserve to be here". A PhD is filled with many ups and many more downs which can make it hard to see the end goal. No matter what impostor syndrome tells you, you are not defined by failed experiments and rejections.
What do you like to do for fun in Boston?
One of my favorite things to do in and around Boston is experiencing the wealth of art, musical performances, and historic sites available. With so many events and things to see, there is always something new to learn and enjoy.