PhD Student Spotlight: Keshia Pitt '23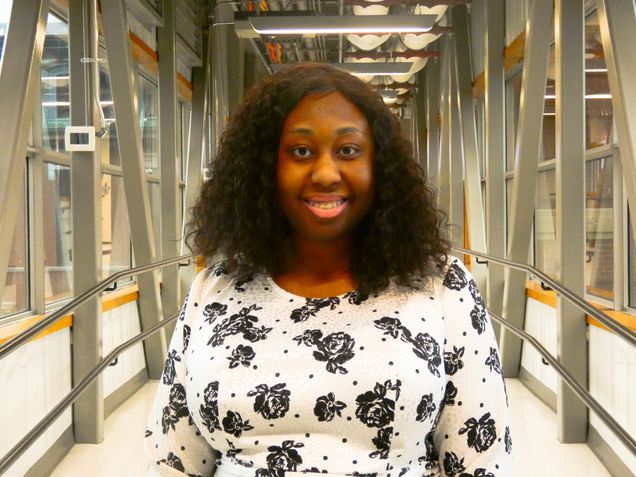 Today, we're highlighting Keshia Pitt, a May PhD candidate in the Molecular and Translational Medicine program through the Program in Biomedical Sciences (PiBS). Keshia's dissertation, which she successfully defended in March 2023, studied the effect of the p63 gene on the acceleration of epithelial cancer. During her time at BU, she has worked under Associate Professor of Molecular & Cell Biology Makoto Senoo and Clinical Assistant Professor of Molecular & Cell Biology Yoshiyuki Mochida, PhD, DDS. She will graduate in the upcoming May 2023 Commencement exercises. Read more about Keshia below!
---
What did you complete your dissertation research on? How did you settle on that topic?
My dissertation was about the effect of the p63 gene on the acceleration of epithelial cancer. p63 is a transcription factor that governs epithelial stem cell maintenance and proliferation, so we hypothesized that a mutant version discovered by my PI, [Dr. Senoo] almost 20 years ago would worsen tumorigenesis. I came to [Boston University] wanting to do transplant science or immunology, but I followed the great advice to prioritize working with a PI that I really clicked with over being picky about a specific research topic. I became fascinated by the project after he described it to me, especially the stem cell elements.
Why did you choose to do a PhD?
I'd wanted to do an MD since I was a child, but after working in a hospital for a short while after undergrad, I realized the constant staff and patient interaction would be too overwhelming. A PhD allowed me to contribute to the scientific field in a way that better suited my personality.
What is one of your best memories from the time in your PhD?
I got to go to Greece for a stem cell conference in late 2019 with our lab's senior scientist. It was wonderful to hear her speak, to learn from the other presenters, to notice several collaborations with labs at BU, and to explore Crete. I even stood in the pink sand at Elafonissi Beach!
What are your next steps and your plans for your future?
My immediate next step will be to have a well-deserved, low intensity summer! I highly enjoyed writing and editing manuscripts during my time in the lab, and I am planning to find work either with a journal in that capacity or in industry doing medical writing. Perhaps further down the road I might become involved in public health and science communication, especially in the sphere of outreach to marginalized communities.
Is there anyone in your life who inspired your decision to pursue this career path?
My close friend, Mona. I did odd jobs for a couple of years before I took the GRE, unsure of what I could do with my biology degree if not medical school. Where I grew up, kids didn't really know that graduate school was even an option. She relentlessly campaigned for me to apply and encouraged me to believe I could do it. The rest is history!
Do you have any advice for future PhD students or anything else you would like to share?
Ask for help. Ask for help, ask for help, ask for help. Channel the "pleasure to have in class" energy that got written in your elementary school notebooks and don't be embarrassed to ask for the support you need – academic or otherwise. Also, clean your fishbowl. You are now a goldfish, and you breathe what is in the water around you. If your surroundings, social groups, or even your lab are rife with cattiness, overly competitive behavior, or outright toxicity, you will absolutely internalize it. Protect your mental health, and do not let those around you muddy your water at a time when you need it clear the most. Clean your fishbowl!
What do you like to do for fun in Boston?
I am a big homebody whose hobbies involve tabletop games and reading, but I do love getting hot pot in Chinatown and strolling Boston Common with friends.