With Commencement fast approaching, we would like to take a moment to highlight the four students who have been selected to speak at this year's Graduate Medical Sciences ceremonies.
Three students were chosen to speak at the Master's Ceremony, and one student was chosen to represent GMS at the MD, PhD & MD/PhD Ceremony. All speakers were nominated by their programs, and finalists were selected by a committee of GMS representatives.
Meet each speaker below:
---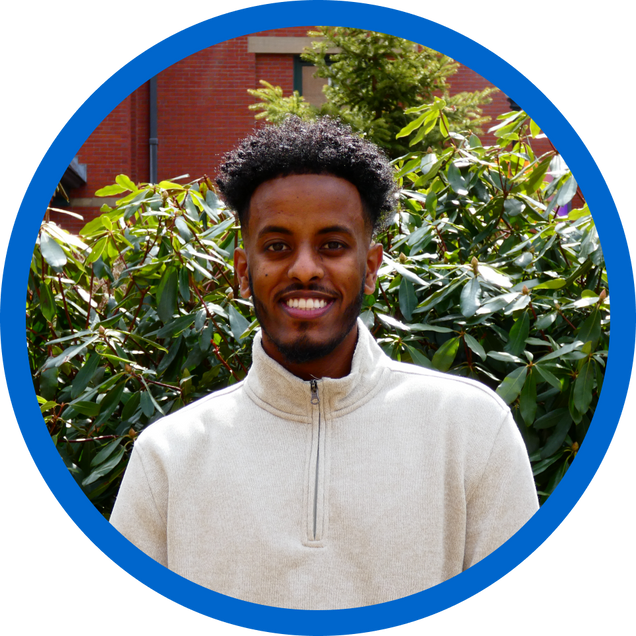 Eaba Beyene
Masters in Oral Health Sciences Program
Eaba was born in Addis Ababa, Ethiopia, where he lived for the first seven years of his life. He then moved to Toronto, Ontario for four years before moving to Calgary, Alberta.
Eaba moved to the Boston area to matriculate into the GMS Masters in Oral Health Sciences program in 2022. Earlier this academic year, he was accepted into the DMD program at Boston University Henry M. Goldman School of Dental Medicine, where he will continue his path toward a career in dentistry in July.
Eaba told us that some of his best memories from his time at BU have come from meeting new people and sharing similar experiences with the people in his program. He also credits his OHS program leaders with facilitating a successful year in the program.
"I have noticed that every BU faculty member that I have spoken to has had this trait of [genuineness] and kindness," Eaba said. "These traits provide comfort and allow for organic conversions to transpire when speaking with faculty. I hope that our graduation class remembers that these traits go much further than we imagine at time."
If there was one piece of advice Eaba would give to other GMS students pursuing a similar path, it's this:
"There is no growth in comfortability."
---
Darilyn Mahoney
Masters in Genetic Counseling Program
Originally from Beltsville, MD, Darilyn moved to Boston in the fall of 2021 to join the Genetic Counseling Program's 11-person class of 2023.
Darilyn told us that what she loved most about her time at BU were the connections she made within the tight-knit genetic counseling community at GMS.
"I never expected to form the friendships and bonds I have with my program," Darilyn said. "The amount of support and warmth is insurmountable."
Following Commencement, Darilyn is returning home to the Washington D.C. area. She has accepted a position as a pediatric genetic counselor in the Rare Disease Institute at Children's National Hospital in Washington D.C.
Darilyn told us that if she were to give advice to other GMS students, it would be that "the process is far from easy, but be your honest, authentic self throughout the entire process, and you'll land exactly where you need to thrive."
---
Erika Minetti
Masters in Medical Sciences Program
Erika was born in Milan, Italy. She moved to the Boston area in 2015 to attend Boston University for her undergraduate studies and matriculated into the MAMS program in 2021. There, she has found great success as a student and a researcher.
Erika is a recipient of a 2023 GMS Outstanding Student Achievement Award, specifically awarded in the Master's Research Achievement category.
Following Commencement, Erika will continue her research on vascular endothelial health in type 2 diabetes in the vascular biology section at the Chobanian & Avedisian School of Medicine.
Erika credits her classmates with providing some of her best memories at BU.
"I loved learning with my classmates," Erika said. "Everyone was incredibly motivated, and my class had a great energy."
Offering advice to other GMS students pursuing a similar path, Erika encourages them "to remember that we have amazing mentors around us who are always willing to help."
---
Michael Breen
PhD in Microbiology, Program in Biomedical Sciences
Michael is a proud Massachusetts resident from Bolton, MA.
He matriculated into the Program in Biomedical Sciences before joining the Microbiology program for his dissertation research. He defended his dissertation, "Extravascular B Cell Populations in the Influenza A Virus Experienced Lung," earlier in the academic year and graduated in January 2023.
"Boston University has given me the freedom to research topics I was passionate about," Michael said. "It also provided me with an excellent mentorship team that helped me develop numerous cutting-edge skills that are required for the advanced world of science today."
Michael has accepted a scientist position at the Cambridge-area vaccine company Tiba Biotech. There, he plans to put all of the skills he gained during his time at GMS to work helping the company improve the lives of patients in the future.
Michael credits the friends he has made at BU with making his experience memorable and told us that he looks forward to all of their successes.
One piece of advice Michael would give other GMS students? "Put yourself out there, follow whatever path excites you and have fun doing it!"
---
Congratulations to our Commencement speakers! We look forward to seeing each one of you take the stage in a few short weeks.
The 2023 Commencement exercises will take place on May 18 at the BU Track & Tennis Center, located on the Charles River Campus at 100 Ashford Street.
The Master's Ceremony is first at 10 a.m., followed by the MD, PhD and MD/PhD Ceremony at 3 p.m.
For more information on 2023 Commencement, click here.