Join Us for "Interracial Trust in Mentoring Relationships" on March 29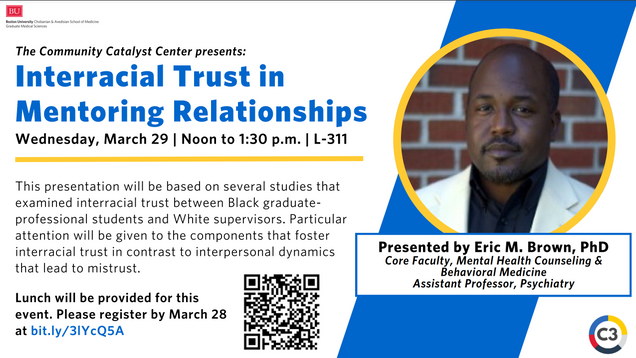 Please join the Community Catalyst Center for an upcoming seminar, "Interracial Trust in Mentoring Relationships," presented by Eric M. Brown, PhD, on Wednesday, March 29 from noon to 1:30 p.m. in L-311.
Dr. Brown is an assistant professor of psychiatry and core faculty in the Mental Health Counseling & Behavioral Medicine Program at Graduate Medical Sciences. His presentation will be based on a few studies that examined interracial trust between Black graduate-professional students and White supervisors. Particular attention will be given to the components that foster interracial trust in contrast to interpersonal dynamics that lead to mistrust.
Lunch will be provided for this event. Please click here to register in advance by March 28.
If you have any questions, please reach out to c3center@bu.edu