Assistant Dean for Admissions, Diversity & Inclusion Shoumita Dasgupta, PhD, Presents on Genetic Essentialism at Feb. 1 C3 Seminar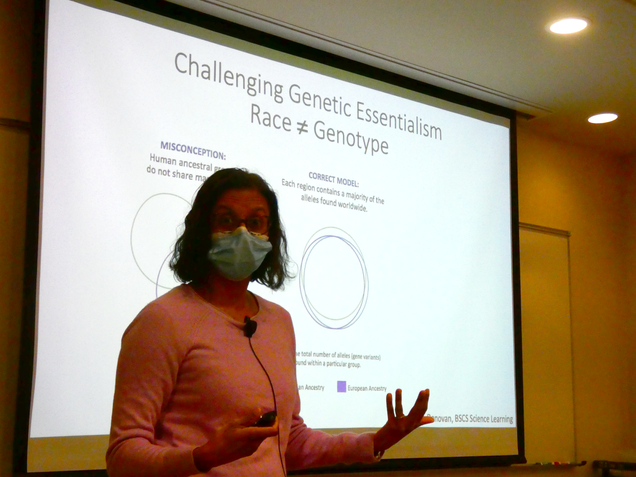 The Community Catalyst Center welcomed Assistant Dean for Diversity & Inclusion Shoumita Dasgupta, PhD, to present on "Histories and Futures of Genetic Essentialism: On Bias, Its Origins, and Its Harms" during a Feb. 1 seminar held in the Instructional Building.
Dr. Dasgupta's seminar explored the history of eugenics and discussed its echoes of oppression in the current and future practice of genomic science and medicine.
By integrating historical archives, scientific data, present-day case studies and real-world examples, the seminar demonstrated the pervasive influence of eugenics on 21st century science and offered several recommendations for challenging genetic essentialism and promoting the ethical practice of contemporary genomic medicine.
Forty people – including students, faculty and staff from GMS – attended the seminar.
Dr. Dasgupta currently teaches a Graduate Medical Sciences course called "Deconstructing Systemic Bias: Where Biology Ends and Bias Begins," which explores the relationship between race, ethnicity, ancestry, sex, gender, ability status and identity. The course also examines underrepresentation in scientific studies and cases in which scientific racism and bias have harmed marginalized groups.
Dr. Dasgupta also serves as the Assistant Dean of Admissions, Diversity & Inclusion and the Founding Director of the Genetics and Genomics Graduate Program at Boston University Chobanian & Avedisian School of Medicine. Much of her work focuses on training students how to appropriately and ethically use rapidly advancing genetic science in clinical and scientific environments, and to consider the ethical implications of these advancements.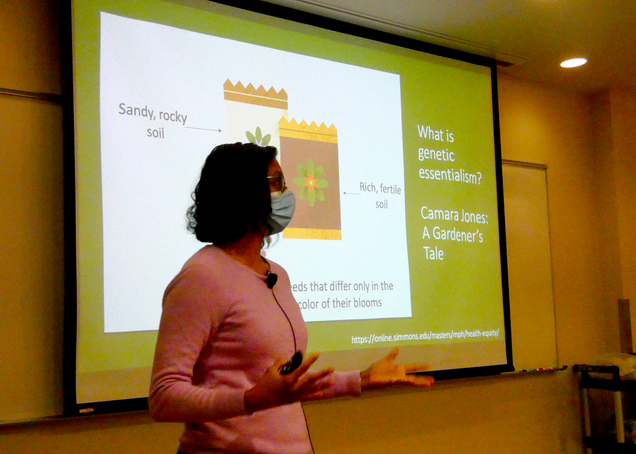 She has presented nationally and internationally on genetics and the importance of applying inclusive educational approaches to basic science curricula. In 2020, Dr. Dasgupta received a Fulbright Specialist Program award from the U.S. Department of State and the J. William Fulbright Foreign Scholarship Board, awarded on the basis of her impressive academic and professional achievements and leadership in her field.
Learn more about Dr. Dasgupta's work here.