Cheers to a Successful Fall 2022 Semester at GMS!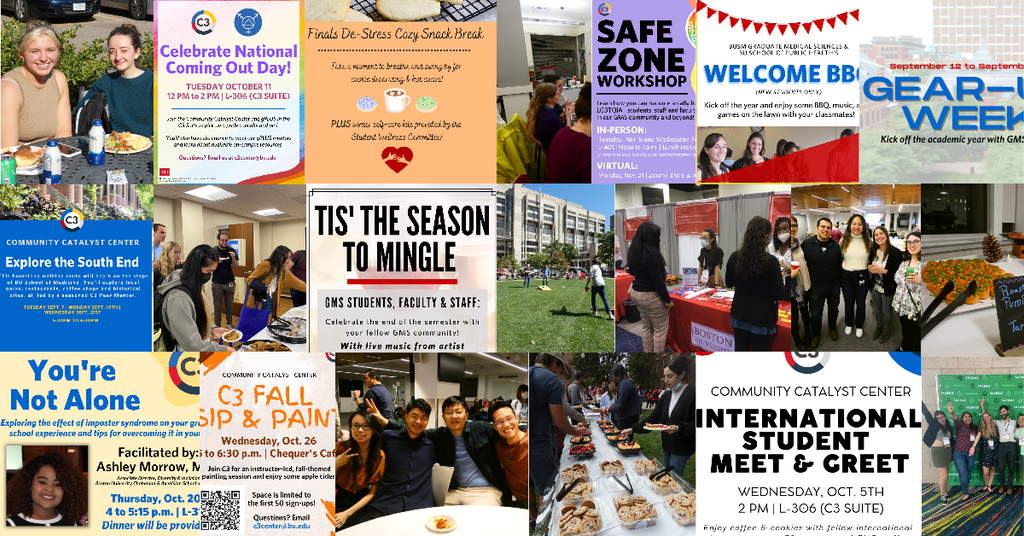 To the GMS Community:
Congratulations on closing out yet another successful semester at GMS! It has been a busy few months of classes, campus events, research and activities, and we have been thrilled to share it all with you. GMS truly thrives on the hard work, dedication and collegiality of each member of this special community, and we are proud to continue watching you make a difference in your work each and every day.
Through the Community Catalyst Center, GMS Student Affairs and our many cross-campus partnerships, we hosted a wide variety of events this semester aimed at professional development, community building and academic growth. We kicked off the semester with the Fall Resource Fair and Welcome BBQ events to welcome our first-year students to campus following Fall 2022 Orientation. Throughout September, C3 Peer Mentors from across our five affinity groups hosted walking tours of the South End, which was a great way for our new students to get to know the vibrant community surrounding the Medical Campus.
At the same time, C3 also hosted Gear-Up Week, full of events to get students excited about a brand-new academic year at GMS. Between the Sip N' Study Barnes & Noble's gift card raffle, Dr. Davies' Studying for Success at GMS workshop, the Newbury Center's First-Gen Orientation, Swag and a Snack and a Fall Kickoff Pizza Party, the week was a perfect way to prepare for the busy semester that lay ahead.
Toward the middle of the semester, we welcomed Associate Director of Diversity & Inclusion Ashley Morrow, MPH, for "You're Not Alone: Beating Imposter Syndrome," a student-only event that explored the effect of imposter syndrome on the graduate school experience and how to overcome it in day-to-day life. In October, we also celebrated National Coming Out Day with a Pride cupcake and pin pick-up, which gave students a chance to mingle with C3's gPLUS mentors. The same month, we hosted an International Student Meet & Greet in the C3 Suite, complete with coffee, cookies, and C3's gGLOBAL mentors. GMS Marketing & Communications Specialist Mike Bloom also led students through a fall painting scene during the C3 Fall Sip & Paint event as we approached Halloween.
In November, OHS Program Manager Christina Bowley facilitated several Safe Zone workshops, which explored ways to become a stronger ally for LGBTQIA+ students, faculty and staff in our GMS community and beyond. November also marked National First-Gen College Celebration Week, and the Newbury Center celebrated with several events held both on the Medical Campus and the Charles River Campus. Finally, we rounded out the semester with our "'Tis the Season to Mingle" mixer, which brought together over 100 students, faculty and staff for an energetic evening of live music, appetizers, drinks, games and a raffle.
We celebrated the brand-new Chobanian & Avedisian School of Medicine renaming with a free T-shirt giveaway for all students. Throughout the semester, Student Affairs also co-sponsored monthly Third Thursday Arts events on the Medical Campus, hosted by the BU Arts Initiative. Student Affairs' Fall into Self-Care event, as well as the Midterms and Finals De-Stress Snack Break events, gave students a chance to unwind and take a well-deserved rest in the middle of stressful studying semesters. Additionally, GMS donated highly needed items to Cradles to Crayons during the Make a Difference Annual Donation Drive, and students had a chance to win one of several books on a list of Recommended Reads for Intersession.
As winter intersession begins, we are endlessly grateful for the semester past and the semester ahead. It has been a busy, yet rewarding semester at GMS, and we look forward to watching you all continue to grow as students, researchers, future clinicians and members of our community in the year to come. Best wishes for a peaceful holiday season, and have a happy New Year! We'll see you back on campus again in 2023.
---