Student Spotlight: Natalia Lopez (MSCR '23)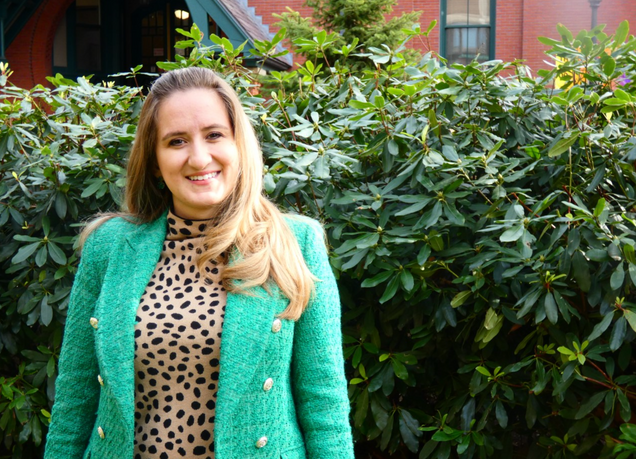 Natalia Lopez is a student in the Graduate Medical Sciences Masters in Clinical Research program. She also works full-time as a Senior Clinical Trial Manager for Moderna, where she manages a global Phase I oncology trial. Natalia graduated from Boston University Sargent College with a BS in Health Science in 2014 and will graduate from GMS in May 2023. Learn more about Natalia below!
Can you tell me a little bit about your journey to Boston?
I'm originally from Miami, Florida. I moved up to Boston in 2009 because I got accepted to [Boston University]. I got my BS in Health Science from Sargent College, and then after graduation, I've been working in biotech. So, that's kept me here for over 13 years.
Besides your time at Sargent and GMS, what other connections to BU do you have?
I'm a teaching assistant at the [BU] School of Public Health for a Design and Conduct of Clinical Trials course. It was through [MSCR Program Director Janice Weinberg, ScD]. Janice is one of the two professors that run the MS in Clinical Research program. In that program, we have a similar course, but it's more comprehensive, because it also covers other types of clinical studies that go beyond clinical trials. But this course through the School of Public Health is just focused on clinical trials, and Janice needed a TA. So, she reached out, and I figured it was a good fit, not only because I had taken a very similar course, but also because of what I do for work.
What drew you to the clinical research field and wanting to pursue it for your Master's degree?
I knew in undergrad that I wanted to do something that was health related, and I didn't know if that meant public health. I didn't want to be pre-med anymore, so I figured there was an area in research that I could become a part of. I actually got my first job in the industry through the BU Career Portal, and that was a few months after I graduated back in 2014, and I've just stayed in the industry ever since. It almost happened by accident, but it was actually everything that I was looking for because it's a cross section of science, medicine, and technology.
What drew you back to BU to join the MSCR program at GMS specifically?
I'm a Clinical Trial Manager, so I get to interact with folks from many different departments. But at the end of the day, I'm still siloed, so to speak, in the clinical operations department. I figured where I was in my career, being that I've been doing this for almost nine years, it was a good time to just be better rounded. That's why I looked at degrees, and I thought that this degree was the perfect fit, because I get to learn more about biostatistics, regulatory compliance, and things of that nature. So, I think this program is a great fit for what I was looking for.
Can you tell me about your work in industry?
I'm actually at Moderna. I've been there just shy of a year, and I manage a global Phase I oncology trial. We have sites in the U.S. and abroad, and we're looking at one of our mRNA technologies in combination with another drug that's already on the market for patients with solid tumors and Non-Hodgkin's lymphoma. I've been managing clinical trials in oncology for the last five and a half years.
How do you hope to integrate your degree in clinical research with your industry career development and longer-term goals?
I feel like I'm already applying what I've learned in the degree. I think one way is really understanding all of the different submissions that we have to make to the FDA throughout the year for very different reasons. Given that I now have that background, I really understand the reason why we're submitting certain things at certain intervals. So that's one thing. And the second thing, because I've taken so many of my credits in biostats, I'm understanding the analysis that we're doing with the patient data that we're getting every day.
Who have been some of your greatest mentors throughout your career journey?
I would say the best mentors that I've had in the industry have been fellow Clinical Trial Managers. Earlier in my career, I couldn't grasp how somebody like a CTM could manage so many things at the same time and do it well. I think I've really relied on them to give me advice on how to manage time, how to manage multiple projects across many different time zones. I think many CTMs have been my inspiration.
How do you balance working full time with being a graduate students?
I have to be very efficient with my time. How I manage my schedule is when I'm at work, I put in my eight hours. I am not studying. I am not checking my personal email. I am there fully. Once I log out earlier on Tuesdays to be a TA, I am fully in the classroom. When it's time for me to take class right after, I am fully present. I'm just kind of running my life like a well-oiled machine, and in that way, it's actually allowed me to have time not only, let's say, to grade papers for the class I am a TA for, but also exercise and have a social life. It might not seem possible from the outside, but it is if you manage your time wisely.
What advice would you give to GMS students who are also working full time?
I think the best advice I would give is to start with a plan, and if that plan doesn't work, it's okay. I can tell you, my first semester I had class on Mondays and Thursdays, and I would do my homework for the Monday class on Sunday and on Wednesday for the Thursday class. It was just too much. It just didn't work for me, being back and forth, working during the day and doing school work at night.
I had a moment about midway through the semester where I panicked because I had thought about this plan in great detail, and then I realized it just wasn't working. I had to pivot. That's when I said, "Monday through Friday, I'm only doing work. Weekends are strictly for school." Once I figured that out, I haven't deviated in a year, and it's worked well. That would be my advice. Start with a plan, and if it doesn't work, don't be afraid to pivot to something different.
What do you like to do for fun in Boston?
I'm part of a bowling league that meets every Wednesday. I've been doing that for a greater part of a year. I also like to do paint nights. So, I go to Assembly Row do that. Something else that I love to do is walk along the Esplanade. I've gotta get there earlier now, because it's getting dark early, but I truly do love the Esplanade, as well as the Public Gardens. In the spring, they have the tulips. Now, all the leaves look very different colors. Those are my top three activities in Boston.
Is there anything else you'd like to mention?
I'm part of the Alumni Board for Sargent, so I've been part of that for two years now, since 2020. Through the Alumni Board, I've been able to talk to the students every year since I graduated. They have an annual event where they have Sargent graduates come in and talk about their experience. I've been able to coach students on interview skills, LinkedIn, things of that nature, and then working with the Alumni Board on different activities and ways we can reach out to our fellow alumni.