Student Spotlight: Jhonatan Henao Vasquez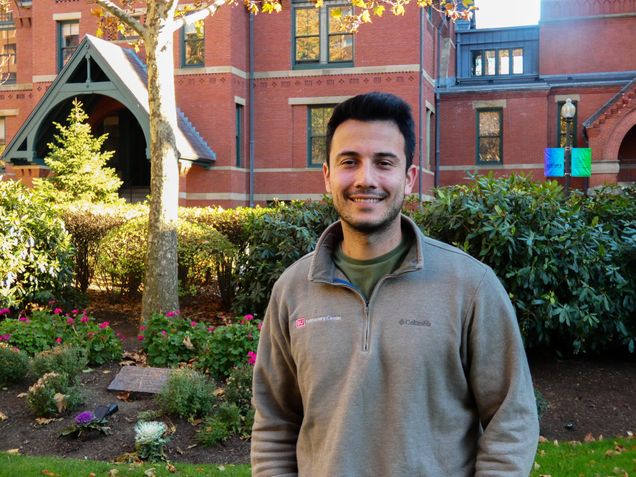 Jhonatan Henao Vasquez is a fourth-year PhD candidate in the Graduate Program in Molecular and Translational Medicine (MTM). Henao Vasquez entered Graduate Medical Sciences (GMS) through the Program in Biomedical Sciences (PiBS). He currently works in the Pulmonary Center, researching MIWI2 positive multi-ciliated cells.
---
Fourth-year PhD candidate Jhonatan Henao Vasquez is keeping his options open, but he knows that he sees himself returning to industry work.
Originally from Colombia, Henao Vasquez and his family immigrated to New Hampshire when he was 2 years old. After earning a chemistry degree from College of the Holy Cross, Henao Vasquez was on the fence about heading straight to graduate or medical school.
First, he decided to work at several area biotechnology companies, starting with positions at Lonza Biologics and Vertex Pharmaceuticals before moving to Moderna.
"Industry is something I've had the goal in mind to do," Henao Vasquez said. "I want to learn what's new in science and how to gain those critical thinking skills that you get from a PhD education, but then incorporate that into a business aspect as well."
That's what led Henao Vasquez to apply to, and ultimately enroll in, PiBS.
He liked that the program's first year was rotational, letting him explore varied interests in virology and infectious diseases. Ultimately, he chose to specialize in molecular & translational medicine, landing in the Pulmonary Center under Associate Professor of Medicine Matthew Jones, PhD, and Professor of Medicine Alan Fine, MD.
His research studies a sub-population of multi-ciliated cells in the lung airway that exacerbate influenza, according to initial findings. These cells express the MIWI2 gene, and Henao Vasquez's specific project examines how this gene could contribute to viral pathogenesis and disease.
This research earned him the Ruth L. Kirschstein Predoctoral Individual National Research Service Award, an F31 grant awarded through the National Heart, Lung and Blood Institute of the National Institute of Health.
Despite the challenges that come with completing his rigorous program, Henao Vasquez has found support within his cohort and lab members both in and out of the lab.
Whether it's hiking in the White Mountains, exploring Boston's breweries, or playing video games, it's that friendship that stands out as key to his time in the program.
"That's been one of my favorite memories, getting to know the people and knowing that you're not in it alone" Henao Vasquez said. "Everyone is together; I like that camaraderie."