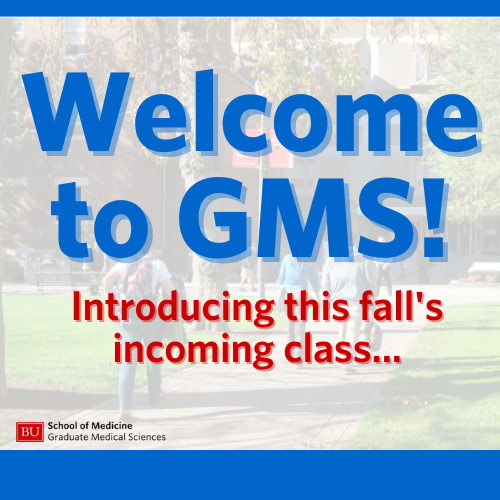 Welcome – or welcome back – to another year at Graduate Medical Sciences!
Our campus is quickly filling up with students once again as we prepare for classes to start in just over one week.
This year, GMS is welcoming a brand-new class of 425 new students – master's, PhDs, and MD/PhDs – to campus.
Our newest class comes from 24 different countries and 40 different states. They're entering GMS with undergraduate degrees from 212 different colleges and universities around the world.
This year's incoming masters' students represent 15 different programs across GMS, with an additional six programs represented by incoming PhD students. We can't wait to watch this class succeed as members of our community during their time here.
Whether you're new to GMS or a returning student, we encourage you to take full advantage of all of the social events, enrichment and professional development opportunities, as well as resources campus has to offer. Take a look at what events GMS and the Community Catalyst Center (C3) have planned to welcome you to campus and kick off the new academic year!
---
Friday, September 2: 2022 Orientation & Resource Fair
All GMS Orientation (9AM to 10:45AM)
All GMS programs have Orientation on September 2 with classes starting September 6. Learn more here!
Program-specific orientations will be held according to the agenda found here. These orientations may be either in-person or virtual. Please check with your program for details.
BU-wide Resource Fair (11AM to 1PM; Hiebert Lounge and 11th Floor Testing Center)
Learn more about all of the resources, student clubs and activities available across GMS, the Medical Campus and the Charles River Campus! More information here.
---
Friday, September 9: Welcome BBQ
GMS & SPH Welcome BBQ (3PM to 5PM: Talbot Green)
Kick off the academic year and enjoy some BBQ on the lawn with classmates and friends from GMS and SPH!
---

Kick off the academic year with a week of fuel, food and fun, sponsored by the GMS and the C3 Community Catalyst Center!
Monday, 9/12: GMS Sip N' Study Raffle
C3 Suite, L306 | 11AM to 2PM
Enter this raffle for a chance to win a $50 Barnes & Noble gift card or a $10 Peet's gift card!
Tuesday, 9/13: Studying for Success with GMS

L-311 | 4PM to 5:30 PM | Dinner provided
Join Dr. Davies for a workshop to learn more about enhancing your study & time management skills! You'll discuss topics like: how to study according to your learning style, how to successfully manage your time, how to beat test-taking nerves and more.
Registration is required for this event. Please click here to register by September 12.
Wednesday, 9/14: BUMC First-Gen Student Orientation
Hiebert Lounge (14th Floor) | 5PM to 6:30PM | Refreshments provided
Join the Newbury Center to learn about resources, upcoming events and mentoring opportunities for first-generation graduate and professional students on the Boston University Medical Campus, plus meet your fellow first-gen peers!
Registration is required for this event. Please click here to register by September 8.
Thursday, 9/15: Swag and a Snack
GMS Suite (L-317)| 11AM to 2PM
Stop by the GMS C3 suite in L306 to pick up some C3-themed swag and enjoy a quick snack!

Friday, 9/16: Fall Kickoff Pizza Party
Talbot Green | 12PM to 1PM
Enjoy pizza, games and music on the lawn with GMS friends and peers to close out Gear-Up Week!
---
Check out a full calendar of upcoming GMS events by heading over here. You can also always stop by the C3 Suite in L306 for swag and resources, or visit the GMS team in L317 to chat.
We're looking forward to seeing you on campus this year!