Faculty Spotlight: Kim Zayhowski, MS, CGC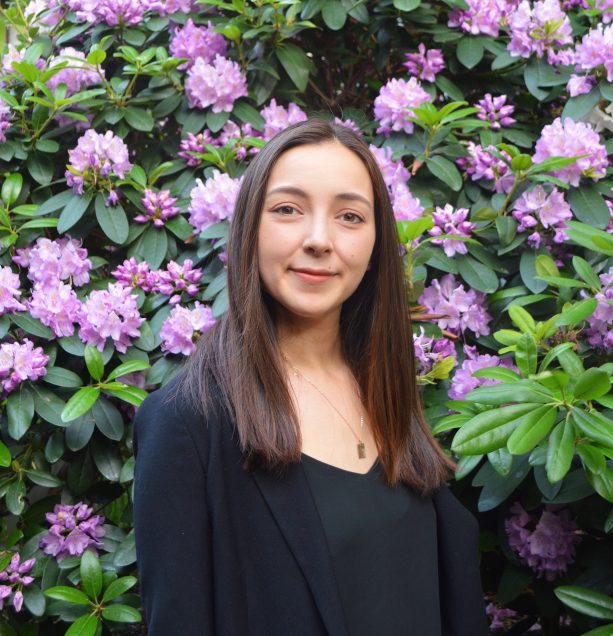 Kim Zayhowski, MS, CGC, is a cancer genetic counselor and clinical researcher at Boston Medical Center. She is also an assistant professor in the Department of Medical Sciences and Education and teaches within BU's Genetic Counseling Program. Much of Kim's current research within genetic counseling focuses on improving care for LGBTQIA+ patients, specifically focusing on the trans community and the intersex community. 
Are you originally from the Boston area? What did your educational journey look like?
 I grew up in Massachusetts, born and raised here. I went to Brandeis University for my undergraduate degree, and then for graduate school I went to Stanford School of Medicine for Human Genetics and Genetic Counseling. My whole community is here in Boston, so I ended up coming back. I came to BU a few years after I started working. I now have a mixed role – I am a cancer genetic counselor and clinical researcher at Boston Medical Center. I also am an assistant professor in the Department of Medical Sciences and Education and teach within BU's Genetic Counseling Program.
Growing up, did you know you always wanted to work in STEM and/or medicine?
Growing up, I thought I wanted to be a high school math teacher. I always knew I wanted to go into teaching. I eventually learned about genetic counseling because my undergrad had a genetic counseling program. I was majoring in neuroscience, biology and psychology; all of my interests really collapsed onto genetic counseling. I came across it by accident, but it was a happy accident.
What is so exciting about genetic counseling for you?
I am most excited about the ethical aspects of, and advocacy in, genetics and genetic counseling. Unfortunately, genetics as a field has historic roots in eugenics practices. I really wanted to enter the field as someone who is passionate about activism, disability activism, LGBTQIA+ activism. The vast majority of genetic counselors are very passionate and empathetic, and want to ensure our practices are ethical. Our field has so much to do in unpacking our history for the disability justice movement, and also in addressing systemic racism and cisheteronormativity in medicine. It's a really exciting time to be a part of the genetics field as we continue to improve our understanding of the genome. I really believe that we can push this field forward as technologies continue to advance to make sure that we're practicing in an ethical way.
Is this kind of work what drew you to BU?
Yes. I was initially drawn because of Boston Medical Center. For me, it's really important to be in an environment that's not just serving the white and wealthy; and unfortunately, because of systemic injustices in our health care system, many hospitals are mostly serving the white and wealthy, genetics clinics especially. To get to genetics clinics, often you have to know to ask, you have to have a lot of resources. I was really drawn because of the mission of BMC, to provide 'exceptional care without exception,' and to the safety-net aspect.
As a queer and multiracial person – my mom is an immigrant – it was really important for me to work with immigrants, to work with folks who are systemically excluded from the health care system. I was also thrilled to be able to teach in BU's Genetic Counseling Program. The students and faculty here really internalize BMC's mission. I feel like I'm on the ground with a bunch of accomplices in this mission to really unpack the injustices that are pervasive in medicine. I feel like our program is really working to celebrate diversity and innovation that comes with having new perspectives.
You touched on some of your advocacy and activism work, but to dive deeper – what are you working on now? Do you have a specific focus with your clinical work and research?
 Most of the research I've been involved with is trying to figure out how we can do better by the LGBTQIA+ community in genetics care and also in our profession. Unfortunately, queer people have really been excluded from the health care system in a number of ways – we are not accounted for, we are discriminated against, we are pathologized. We also have not been included as providers because of some of the same issues. Ultimately, my goals mostly stem from hoping to uplift LGBTQIA+ community members' voices in medicine.
Much of the research I'm doing is trying to figure out, in genetic counseling, what areas can we improve care for in our LGBTQIA+ patients, specifically focusing on the trans and the intersex communities. Mostly trying to think how we've really done these communities harm, and how we need to go beyond using appropriate and inclusive language – which of course we need to do. For example, in the cancer setting, how does gender affirming care impact cancer risk assessment in genetics? So, if someone has been on exogenous hormones for several years, how does that impact their cancer risk? How does a gender affirming surgery, like top surgery, impact chest cancer or breast cancer risk? Separately, how can we counsel on intersex traits, as many have genetic links, while simultaneously empowering intersex people rather than pathologizing them?
So, trying to figure out how we can better educate genetics providers on some of these more tangible differences, again, beyond just inclusion and language, and thinking about the actionable things we need to change in clinic. If we're not inclusive to others in our own profession, we can't expect to be inclusive of our patients. So, we are exploring how we can better support queer or LGBTQIA+ students in genetic counseling. Beyond inclusion, how can we make people feel like they actively belong and they can be authentic, and that they don't have to hide key parts of themselves in order to conform to professionalism?
What are the most exciting things you done in your career, whether personally, in research, in clinical work, etc.?
When I entered the field, I was really interested in researching how genetic counselors can do better by the trans community. And at the time, there were no publications on this. I think something that's really exciting is, from getting involved in this research and publishing in this space, I feel like I've been able to be a part of starting a larger conversation about how we can really do better by the gender diverse community. And so, for example we're seeing an uptick in papers on how to address cancer risk with trans patients. I think that's really exciting to just be a part of these grassroots efforts to start these conversations and be involved in lectures and conferences talking about this. Whereas, before, I feel like a lot of it was just like, "how do you make your language better?"
Something that motivates me is being able to meet queer applicants, students, and colleagues. I run a queer process group for genetic counselors and students – one is for BIPOC queer folks specifically, one is for any LGBTQIA+ person. Being able to help create those networks has been really fulfilling. When I entered grad school, I didn't know a single other queer person in genetic counseling, because it's such a small field, and because a lot of these social media groups weren't as common. I think it's just very cool to help people to make these connections and to mentor students as they navigate the field. I think those are the two things that I've been most excited about.
How do you think your identities have played a role or influences your perspective as a clinician and educator?
Being queer has really impacted the way I give health care and the way I communicate with students, because a lot of queer culture is celebrating self-determination and diversity and questioning societally imposed norms. Like, questioning why something is viewed as normal versus abnormal, for example – I think that also really ties into the disability justice movement –  to challenging power dynamics that institutions impose on people because certainly systems have imposed great amounts of power on queer people throughout history.
Being multiracial has also influenced my perspective. I'm white and Asian. My mom immigrated from Vietnam. My dad is from New York. I think with that comes a bicultural lens, and thinking about, certainly no one can ever become 'culturally competent.' There's this huge movement in medicine toward cultural competency, but that implies that someone can ever become competent in someone else's culture. I think being a part of two different cultures, and feeling like I myself cannot speak to all aspects of my own cultures, it really helps me be humble about thinking about people's cultures and thinking about differences that exist in cultures, whether that's individualism versus collectivism, how people make decisions, etc. Both of these perspectives influence my drive toward activism in the field.
What do you like to do for fun in Boston?
I love the fall in Boston. I really love to hike and explore the nature. I love rock climbing. There's also a really great brewery scene in Boston. So, my favorite thing to do is go on a hike and then sit outside at a brewery and enjoy time with friends.
This interview has been edited for length and clarity.