GMS Hosts 28th Annual Henry I. Russek Student Achievement Day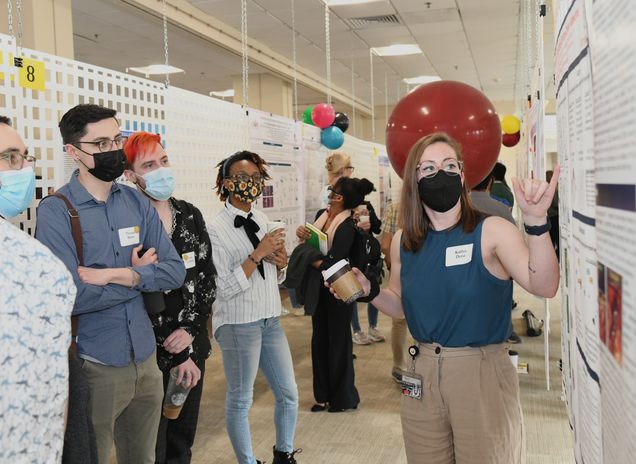 Students from across Graduate Medical Sciences presented their research at the 28th Annual Henry I. Russek Student Achievement Day on Friday, May 6, 2022.
It was the first in-person Russek Day since 2019. The event was first held in 1994 in memory of Dr. Henry I. Russek, a prolific physician and scientist whose research and clinical work revolutionized modern cardiology as we know it. This year's event was also dedicated in memory of Dr. Russek's wife, philanthropist Mrs. Elayne Russek.
Dr. and Mrs. Russek's daughter, Dr. Shelley Russek, organizes the event each year at GMS. She is a professor of pharmacology & experimental therapeutics, the director of the Graduate Program for Neuroscience Program and the vice president of The Russek Foundation, which distributes awards to students presenting high quality scientific research.
"The whole idea of this award started 28 years ago," Russek said. "We honor not only outstanding research, but we also honor those really unique individuals who can balance their outstanding research with a service mission."
Hosted in the Hiebert Lounge, Russek Day featured poster and oral presentations, as well as a keynote address from Dr. Eric Alm, a professor of biological engineering at Massachusetts Institute of Technology and the Broad Institute.
Alm presented on "The Human Microbiome in Health and Disease," drawing from his expertise in microbial ecology, personalized medicine, environmental surveillance and epidemiology during his hour-long guest lecture.
Following Alm's lecture, students moved into a three-hour poster session, which included a catered bag luncheon. Award winners, selected by their departments and the R, displayed stickers on their posters throughout the event.
In lieu of a poster presentation, first-prize recipients gave oral slide presentations of their research during the afternoon. This year's first-prize recipients were:
Katherine Babcock, Department of Anatomy & Neurobiology
Jacob Beierle, Department of Pharmacology & Experimental Therapeutics
Joseph Kern, Department of Biochemistry
Emily Lewkowicz, Department of Physiology & Biophysics
Anna Marin, Behavioral Neuroscience Program
Thomas Morin, Graduate Program for Neuroscience
Megan Snyder, Program in Genetics & Genomics
Yuhei Uda, Orofacial & Skeletal Biology Program
Anthony Yeung, Graduate Program in Molecular & Translational Medicine
Mengji Yuan, Nutrition and Metabolism Program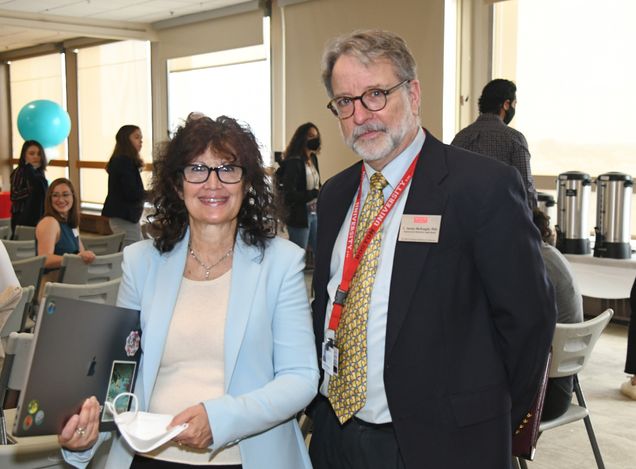 At the end of the day, Russek recognized each award recipient one-by-one on the stage. Earlier in the program, she recognized Shen Ning, in the Graduate Program for Neuroscience, with the Student Innovator of the Year Award. She also recognized Sandra Grasso, assistant director of academic and student programs for GPN, and Karin Schon, assistant professor of anatomy & neurobiology, with the Diversity Commitment Award, for their ongoing work in diversity, equity, inclusion and justice initiatives.
Russek Day is an opportunity to celebrate the fantastic achievements of our students and the hard work they put into their programs each and every year. The program would not be possible without Dr. Russek and The Russek Foundation's unwavering dedication to advancing scientific research and service within the GMS student community and beyond. GMS Administrative Coordinator James Mazarakis, students like BUSM's Alison Tipton and several other members of the GMS faculty and staff also made this year's Russek Day a success.
Ultimately, the day recognizes the spirit of Dr. Henry Russek's life, who, according to Dr. Russek, always believed success is "not only a brilliant mind, but it's really perseverance and dedication to what makes you passionate about living in this world and giving back."
You can find an archive of past Russek Day programs and abstracts here.