GMS Gathers to Celebrate the Retirement of Dr. Deborah Stearns-Kurosawa, former Associate Provost and Dean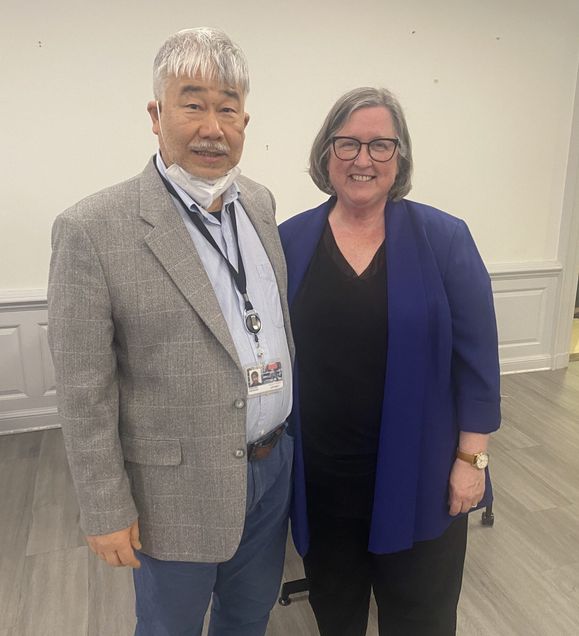 Faculty and staff from across Graduate Medical Sciences and the Boston University Medical Campus gathered in the Robert W. Wilkins Boardroom on April 27 to celebrate the retirement of Dr. Deborah Stearns-Kurosawa and Dr. Shinichiro Kurosawa.
Dr. Stearns-Kurosawa and Dr. Kurosawa joined BU in 2008, relocating their research from Oklahoma to New England. They currently serve as associate professors in the Department of Pathology & Laboratory Medicine.
Dr. Stearns-Kurosawa also served as Associate Provost and Dean of Graduate Medical Sciences ad interim from September 1, 2019, to December 31, 2021, guiding faculty, staff and students through the many transitions brought on by the COVID-19 pandemic.
"Thank you for stepping up and leading GMS over such a crazy period of time," said Dr. Theresa Davies, assistant dean of master's programs at GMS, "[Dr. Stearns-Kurosawa] gracefully led us all each and every day, even though we didn't know what each day would bring."
On January 1, 2022, Dr. C. James McKnight assumed the role of Associate Provost and Dean for GMS. At Wednesday's gathering, he said, "I aspire to someday be the Associate Provost and Dean you were."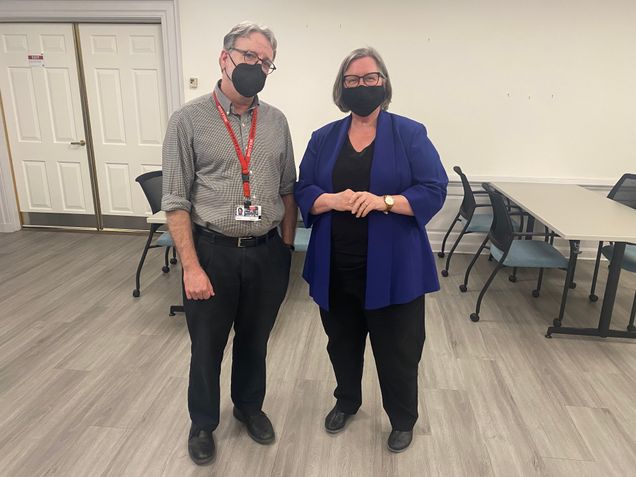 Dr. Stearns-Kurosawa's tenure at BU is one marked by incredible scientific prowess and an unwavering dedication to the over-1,000 students within the BU Medical Campus community.
She maintained a thriving research lab, serving as principal or co-investigator on several NIH and organizational grants, and holds multiple patents. She also served as a faculty member of the BU Faculty Innovation Network, supporting student entrepreneurs through the Innovate@BU initiative and designed a seminar course to connect the worlds of business and biomedical sciences.
"Clearly, she has the wellness of our students at heart," said BU School of Medicine Dean Dr. Karen Antman.
Dr. Daniel Remick, chair emeritus and professor in the Department of Pathology & Laboratory Medicine, joined the gathering via Zoom and spoke highly of Dr. Stearns-Kurosawa and Dr. Kurosawa's dedication to "the three I's: intellectual integrity and initiative."
As researchers, professors and members of the GMS community, they never shied away from asking tough scientific questions and always stepped up to support the medical campus, even before they were asked.
Dr. Christopher Andry, chief and chair of the Department of Pathology & Laboratory Medicine, described Dr. Stearns-Kurosawa and Dr. Kurosawa as "generous with their scientific knowledge", and expressed gratitude for being a "witness to their scientific precision and thought processes."
"You gave your all to the Department and the University, and I thank you," Dr. Andry said.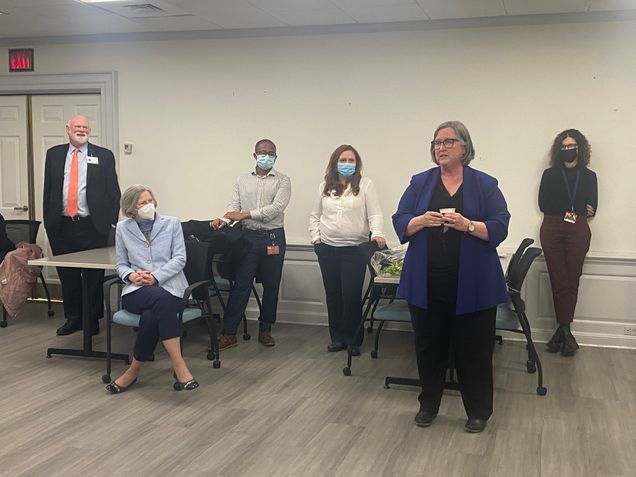 After such a successful and impactful career, what's next? Dr. Stearns-Kurosawa and Dr. Kurosawa will be moving to a lake in the Ozark Mountains of northwest Arkansas, with plans to spend their retirement outdoors sailing, hiking and gardening.
"It's a little bittersweet to retire, but it's nice," said Dr. Stearns-Kurosawa.
Fittingly, they're settling down in a section of the Ozarks called the Boston Mountains – a daily reminder of their time at BU, even 1,500 miles away.
Congratulations, Dr. Stearns-Kurosawa and Dr. Kurosawa! Thank you for your years of service to GMS and the entire BU Medical Campus, and best wishes for your retirement.