GMS Pathology Students Help With COVID-19 Research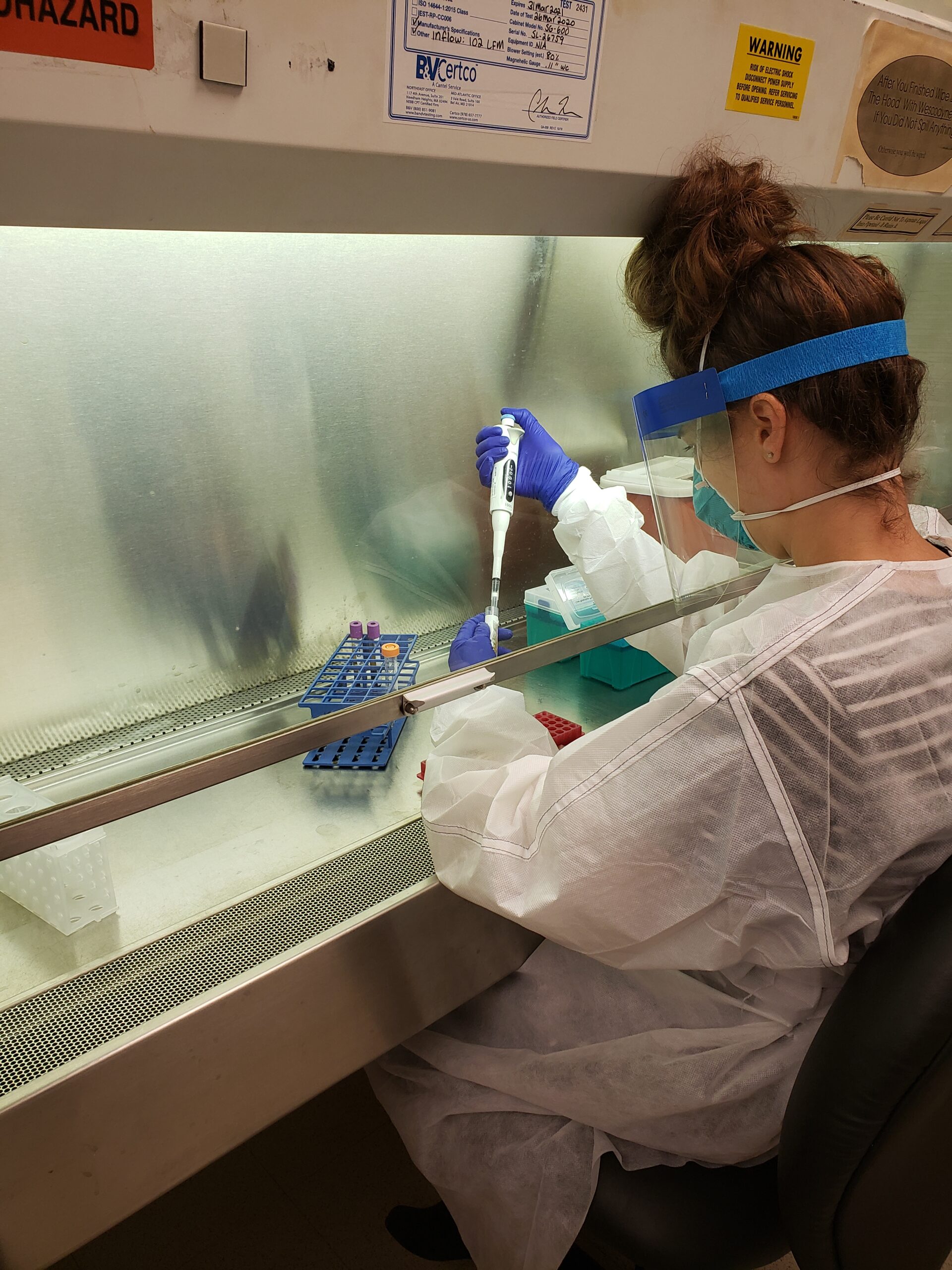 During the 2020 SARS CoV-2 pandemic Pathology & Laboratory Sciences graduate students past and present stepped up to support the department in a major way. Manisha Cole (GMS 2021) and recent graduates Kyle de la Cena (GMS 2020), Carolina Lyon de Ana (MS 2017, PhD candidate) and Morgan Thompson (2017) were instrumental in setting up and supporting the BMC-BU Covid 19 biobank initiative, led by faculty member Assistant Professor Elizabeth R Duffy (GMS 2009).  This team has processed thousands of discarded human biospecimens to ensure that sufficient Cov-2 related material is available to research scientists.  Some of this material was also used by the BU SARS CoV-2  testing laboratory during set up and validation of their test.  In addition, this team is supporting a longitudinal study of patients with Covid infection funded by the Mass Consortium on Pathogen Readiness (PI Nahid Bhadelia, MD).
Additionally on a project led by Assistant Professor in Pathology & Laboratory Medicine and student mentor Yachana Kataria, PhD, Liz Duffy, Manisha Cole and Kyle de la Cena prepared, initiated and led two hospital wide SARS Cov-2 seroprevalance studies called SIG-COV (PI Yachana Kataria) and STOP (PI Karen Jacobson). Over 1,700 employees registered to have their blood drawn and antibodies tested. Along with members of the BMC and BU pathology department students Richard Darko (GMS 2021), Victoria Gibson (GMS 2021) and  Tochukwu "Nola" Ihejirika (GMS 2021) supported the initiative during an intense two week period of recruiting and collecting from volunteer subjects.
Cheryl Spencer (GMS 2007) received special recognition at the 2020 graduation awards ceremony for her outstanding work supporting the autopsy service during the surge. Morgan Thompson (2017) also supported the SARS Cov-2 pcr testing during the pandemic surge.