GMS HPE Alumnus On COVID-19 Frontlines at BMC
Alumni Spotlight: Alex Sheng, MD, MHPE
Dr. Sheng is the Associate Residency Program Director in the Department of Emergency Medicine at Boston Medical Center and Assistant Professor at Boston University School of Medicine. He received his Master's degree in Health Professions Education from Boston University Graduate Medical Sciences in 2019.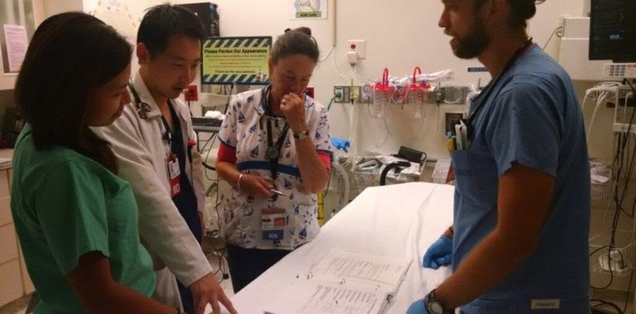 Q: Why did you decide to become a clinician educator and earn a Master's degree in Health Professions Education at GMS?
A: Physicians are natural teachers. We're always educating patients about their disease and treatment options. We're often called upon to raise awareness about public health issues, from cardiovascular disease, to mental health, to obesity. This is especially the case now in the age of COVID-19. Throughout medical school and residency, my best mentors have always been the "clinician educators". They are physicians who not only take care of patients, but who are also passionate about teaching. Walking in their footsteps, their dedication to patients and trainees alike shaped my own path to becoming a clinician educator.
Q: Why did you choose GMS?
A: Even though physicians are natural teachers, most have received little or no training on how to teach. As a result, medical education has been slow to integrate evidence-based educational interventions and practices. Considering how busy and often overworked medical students and residents are, I wanted to ensure that our teaching and training techniques are evidence-based and high yield, so as not to waste learners' time. GMS was a natural fit since I was working on the Boston University medical campus already. As an employee of Boston University, I did receive significant tuition remission to offset the cost. The program directors for GMS Masters of Health Professions Education were very open to ensuring the coursework was customizable to my goals and fit manageably into my existing schedule. I ended up taking two years to complete the graduate program part-time.
Q: Can you tell me about working as an ER doctor?
A: At times, it can be every bit as exhilarating as the TV shows make it to be. But it's not exciting all the time. Cardiac arrests, heart attacks, strokes, gunshot wounds happen more often than we'd like to see, but fortunately they only make up a minority of patient presentations to the emergency department. More often, we're taking care of more mundane issues: dizziness, abdominal pain, sprained ankle, and primary care needs.
While we as emergency physicians, along with our team of nurses, social workers, etc., take pride in doing the best we can for anyone, anything, anytime, those of us at Boston Medical Center are passionate about caring for the underserved and work to address social determinants of health in our patients and local communities. However, there's only so much we can do when the most vulnerable in society are chronically neglected and oppressed. Downstream results can only be prevented by changing what happens upstream. Our experience as emergency physicians position us well to be advocates for change and to work to improve society for the better.
Q: Can you share some of the challenges you faced over the past few months while treating patients with COVID-19?
A: The initial challenge when dealing with the pandemic had to do with the lack of testing. Fortunately, testing capability improved to a point where we have been able to test more freely and now the result would return in as fast as two hours.
From a clinical standpoint, the toughest part was not having a cure for this novel but deadly disease. We tried many things, from hydroxychloroquine, azithromycin, to remdesivir, and now steroids. While there are many things we can do from a critical care standpoint to support a patient's breathing, there is not yet a clearly effective treatment.
In terms of volume, as a result of outpatient and elective procedures being cancelled, as well as the statewide shutdown, our emergency department initially saw a significant drop in volume. For a time, there were no longer any patients in the hallways and those awaiting admission didn't have to wait hours to get a bed upstairs like they did before the pandemic. However, with our need to protect ourselves and patients, evaluation of every patient, especially those with viral or respiratory symptoms, have become far more time and resource intensive. The burden of sanitizing every surface, donning and doffing Personal Protective Equipment (PPE) feels heavier on our shoulders and have become more tiresome. As the state has re-opened and patient volumes return to normal, our hallways are packed with patients and folks are waiting long hours to be admitted once again; all the while COVID-19 continues to loom large.
Q: How do you feel your work makes/will make a difference?
A: I know that my work is impactful because within months, I see a tangible difference in my students' and residents' ability to better care for patients. And within years, I see them step up into the roles of attending physicians in charge, teachers and role models for those who come after, faculty at esteemed institutions, leaders in research, advocacy, global health, or even state representatives. Knowing that I had a hand in shaping their future career and practice is al the reassurance I need that I'm making a difference.
Q: Do you have any advice for current students?
A: I went straight through school, never taking a break between kindergarten, to graduating medical school. I studied under the assumption that everything could potentially be important someday, perhaps to the life of a patient. There was so much to learn. At times it was difficult to focus or delve more deeply into an interest. While that assumption helped me succeed academically, my experience with GMS was different. I started the program after four years of residency training, and several years of working as a full-time physician and Assistant Professor at Boston University School of Medicine.
The experience was very much that of an adult learner. I found the course directors to be especially respectful of students' prior experience and future goals. They worked collaboratively with me to build a course of study that met my learning needs. In many ways, I felt like I got more out of the GMS program than previous courses of general study. My advice for current students is to leverage your past experiences to shape your GMS HPE program into a form that works best for your existing practice, your schedule, and your career goals.