Meet Dr. Brady: Faces of Diversity
Associate Professor in the Department of Psychiatry
---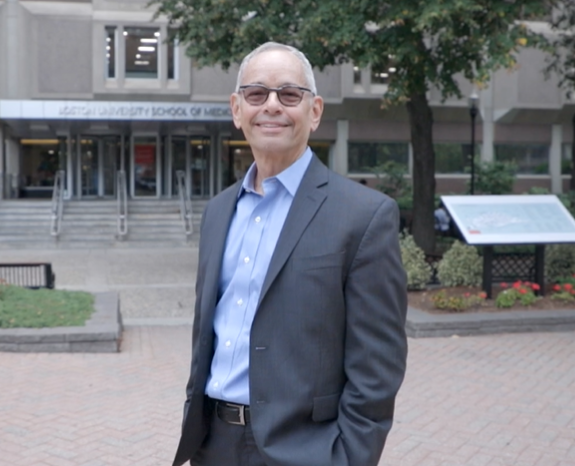 What led you to pursue a career in mental health counseling and in particular why academia?
I have been interested in the field of mental health for a very long time. When I finished my undergraduate degree in Sociology with plans to go to Law School I wanted to take a few years off to earn a living. I had the opportunity to work at a new forensic center for sex offenders close to the University of Florida where I was an alumnus. I simply feel in love with the intellectual challenge of the work and the desire to help others. I also had a great experience of mentorship as there were two psychologists who invited me sit in on various forms of group treatment and they subsequently indicated I would make a "good Psychologist". I seemed to have an ability to project myself into the client's reality but keep enough distance in order to assess their risk and to facilitate treatment." I think I'm naturally pretty good at that and was very fortunate to have a mother who was very empathic and everyone turned to for advice.  indeed my mom passed away this Spring had left a letter for me in which she indicated  I had the profession she would have loved to have had if she had more opportunities as a young working class woman.
In terms of clinical psychology, I was trained in what was referred to as a scientist practitioner model.  I've always been interested in research as well as clinical practice. It's this idea that you could be a scholar, researcher, practitioner and that was always very exciting to me…. that you can do many different things which I have done throughout my career. I've had opportunities to be a senior administrator, to be a psychotherapist, develop graduate programs and lead or participate in various federally HIV and substance abuse projects. The fact that I like change and at the same time am very affiliative has allowed me opportunities to make changes but be part of BU faculty for 30 years. The eclecticism of my career suits me well.
 Does your clinical work focus on a specific area?
Yes, beginning with my dissertation I have been interested in serving the gay community. My early scholarship focused on the relationship of psychological health and well-being and coming out as LGBTQI. I've always been interested in the issue of reconciling identity as important for successful human development. I have a small clinical practice where for over 30 years I have worked primarily with gay men in areas germane to promoting their development and mental health.
Some of my commitment to LGBTQI issues was also the result of being a graduate student in Southern California at the very beginning of the AIDS crisis. As a young gay man I was a witness to the devastation of the epidemic in our community. At that time there was a great need for providers who wanted to see people with HIV as everyone who was infected died so as a therapist you bore witness more than anything. This is another aspect of development that is key for my work; we are briefly here on this earth and we have to make meaning and nurture relationships and bare witness.
When I came to BU's faculty in 1990 I was a clinical administrator overseeing programs for people with severe and persistent mental illness. Almost immediately we observed that a lot of the behavior of this vulnerable population predicted an increased risk for HIV. My colleagues and I were some of the first people in the world to start writing about the risk of HIV disease for people with serious mental illness. The SMI are more likely to have unprotected sex, more likely to have transactional sex, more likely to be sexually abused, more likely to have other sexually transmitted infections. One colleague in particular and I (Elaine Carmen) started to present our observations at conferences, describe the risk in journals and really took a leadership role in this area. Since this very early work epidemiologic data was quite clear that the rates of infection among people with serious mental disorders was much higher than the general U.S. population. I subsequently led efforts to develop protocols for HIV prevention and had a number of federally funded projects exploring SMI and HIV.
 What particularly drew you to Boston University?
I grew up in the south and lived in California and Boston always seemed to me a mecca for people that wanted a life of a mind. It's an extraordinarily and unusual place that we take for granted sometimes. I like being around people that are interested in the empirical world and knowledge and education. It's a great place to build a career. BU is an integral part of this world and has had a strong history of service and progressive values which of late are being resurrected.
 Have your unique identities played a role or influence your perspective as a clinician and educator?
Yes. I think feeling different as a young gay child was a gift because I intuitively understood what it felt like to be different. I have always wondered if part of the reason I was a first-generation college student was because of a desire to escape from a working class Southern environment where roles were extraordinarily prescribed and limited and I didn't want that life. Part of the reason why I didn't want it is because I sensed I was different and if I wanted a life where I was less likely to be discriminated against. This wasn't conscious, but my way out was through education. I also think if you're an LGBTQI person you are exposed to tremendous diversity within the community across socioeconomic status, education, race and ethnicity. It's really like being part of a small club or community, you're more likely to meet very diverse people within the cohort. I think that's interesting and fascinating.
 Over the course of your career, have you seen a change in attitude towards the LGBTQ+ community in academics?
Tremendous. I remember my first clinical rotation was in the prison system. I thought I did a credible job and all the feedback I had received was positive. However I was not asked back as my peers were for a 2nd semester. I was perplexed until one of my closest friends in the cohort reported that he overheard the people deciding they couldn't have somebody "like me". A number of years ago a faculty at an open meeting equated gay identified relationships to allowing animals to be married.
In contrast, I think (for the most part) gay people in the U.S. get to take up more space in the world as other counterparts.
Mental health counseling has got to take an emotional toll at times. How do you balance your work life?
This is the fortieth year I've seen patients. I think in any career that has longevity you have to find ways to be mindful. I do some form of exercise virtually every day; running, swimming, yoga. I think that's essential for mood management and equilibrium. I'm someone who is pretty good at having boundaries regarding my work and personal life. The nature of the business is it's confidential, what happens stay with patients, and I think I'm so trained not to share that this creates a barrier which I think is a good thing since I'm not talking about clinical issues with my spouse and friends.  A mindful life is also about managing nutrition, not abusing alcohol, not using drugs, getting good medical care, and being disciplined about taking time off. I also think communication technology makes it much more difficult than it used to be. I also have never been a full time clinician so having a position where I have variety of things to do is also helpful.